The Northern Ireland Ambulance Service (NIAS) is investigating whether a delayed response contributed to the deaths of eight people in recent weeks.
All eight deaths occurred between 12 December and the start of January.

The NIAS is treating four of the deaths as serious adverse incidents, which is defined as an incident that led to unintended or unexpected harm.

The remaining four deaths are being investigated to see whether they meet that criteria.

The patients' identities have not been disclosed, but it is understood one of the eight people was a man who waited more than nine hours for an ambulance in mid-December.

The man's condition deteriorated and he died before paramedics arrived.

The BBC's Nolan Show reported on the man's case last month.

Ambulance staff have been under severe pressure for months.

A delay in offloading patients to emergency departments is a major problem because ambulances are not able to go on to the next call.

Some patients have been waiting up to nine hours in ambulances outside EDs as they await admission to hospital.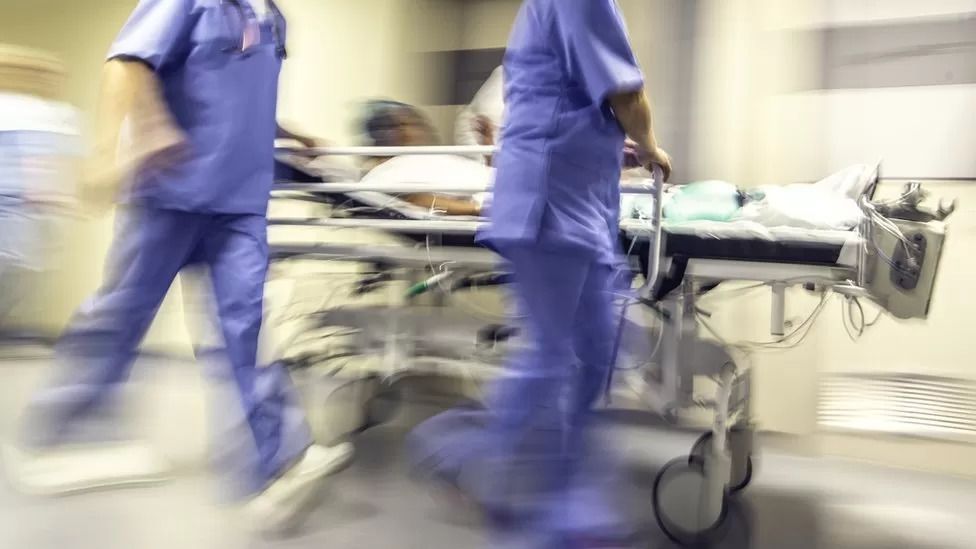 Demand for emergency care services is outweighing capacity, say health officials
The NIAS has also confirmed that in five of the eight cases, the response was not within the recommended timeframe.
The delays are a cause of "great concern," but there is "no end in sight to the pressures we are facing," according to the ambulance service's medical director Nigel Ruddell.
'Exhausted workforce'

He said the ambulance service conducts an internal review whenever "there is a delayed response to the call and a poor outcome from the call" to see whether delays contributed to a death.

"That process involves liaising with the family and being open and clear with them about what happened on the day - whether it was because of pressures and demand on the day or whether there was something that, potentially, we could have done better."

Mr Ruddell said from 12-24 December there were five reported cases where a patient died after a delayed response and then three more cases since Christmas Eve.

He added that ambulance service staff were "doing everything to prioritise the most critical cases but that is leading to a poor experience for some patients".

"I recognise the frustration of patients and families who are ringing us but I have to recognise a tired and exhausted workforce, who are coming back from one call and immediately going out to the next emergency and then possibly sitting many hours outside a hospital ED waiting to hand over that patent, knowing that more calls are waiting."

At one point on Wednesday morning 27 ambulances were queued outside emergency departments in Northern Ireland.

There were 422 people awaiting admission to hospital.

The Department of Health said hospitals were "under severe strain" as "demand for services outweighs capacity".

It said the spread of flu, Covid-19 and other respiratory viruses were contributing to that pressure.

"It remains vital that services are used responsibly and that hospital discharge processes are followed when people are deemed well enough to leave," it said.

'Extremely worried'

The NIAS inquiry comes as an emergency department nurse said he would be worried if any of his loved ones had to seek treatment there as staff continued to be overwhelmed.

Stephen McKenna, who spent the Christmas period working on the frontline, described conditions as "absolutely horrific".

All of Northern Ireland's health trusts are failing to meet emergency department waiting time targets.

They do not have enough beds available due to difficulty discharging patients.

Many beds are being used by people who need to secure social care arrangements in order to leave hospital.

"I would be extremely worried to the point where I would probably want to be with them every step of the way," said Mr McKenna, a member of the Royal College of Nursing's emergency nurse network.

"I can see why people want to be there [with their relatives]," he told the BBC's Good Morning Ulster.

"I would be really worried about leaving a grandparent, a mother, a sister, a brother in an emergency department for fear that they're going to be lying somewhere potentially distressed by other patients, potentially not getting the care they need because the staff are just completely overwhelmed."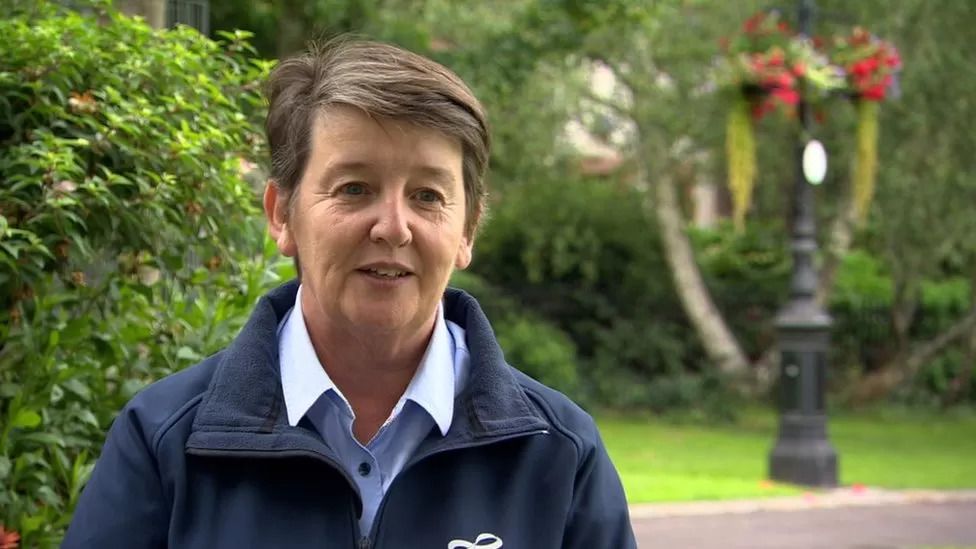 Linda Robinson of Age NI says a shortage of social care staff is contributing to the problem in hospitals

Mr McKenna said medical staff were "now looking after people in corridors" and that some people were being "nursed head to toe, top to tail, side by side, crammed into spaces".

"Across all emergency departments I have worked in in the north there are people literally lying and sitting side by side in conditions that would otherwise have been completely unacceptable just five years ago."

'Invest in social care'

The charity Age NI has said the shortage of health workers in Northern Ireland's social care sector must be addressed to relieve pressure on hospitals.

The charity's chief executive said staff shortages in hospitals were the "tip of the iceberg" compared with the situation in social care.

Linda Robinson said staff retention in the social care sector was a real problem and the rates of pay were "appalling".

Shortly before Christmas, Northern Ireland's health trusts announced new measures aimed at freeing up beds faster to accommodate the sickest patients.

On 19 December, a 48-hour time limit was introduced to discharge patients who were deemed medically fit to leave hospital.

Health authorities asked patients and families to work with staff so that hospital beds and ambulances could be reserved for those most in need.

However Ms Robinson pointed out that deeming a patient medically fit for discharge did not necessarily mean that they were healthy and well.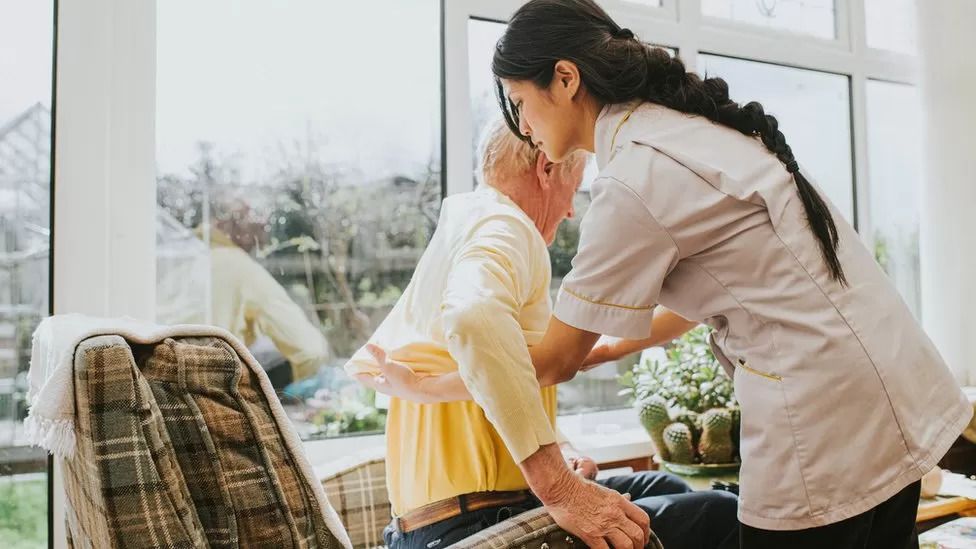 Retaining staff in the social care sector is a big problem, says Age NI

Many older patients are extremely frail and some families are unable to care for loved ones who have complex or around-the-clock care needs.

She said that returning to contingency measures using during the Covid pandemic could be looked at as a short-term solution.

"During Covid we made significant steps in changing things," she said.

"If we don't have enough staff to deliver one-to-one care in the community is there something in going back to the models that we had when we looked at [discharging patients to] hotels?

"We built a system in the Odyssey [Arena] to take that pressure out of those hospital beds.

"Lots of solutions have got to come forward."

At midday on Tuesday, there were hundreds of people waiting for treatment in EDs across Northern Ireland - 376 of whom had waited longer than 12 hours, which is a breach of health service waiting time targets.
Hospital staff feel overwhelmed, says emergency department nurse