Almost a quarter (23.3%) of pupils in England were out of school last week, the latest official attendance figures show.
This means there were 1.7 million pupils absent, up from 1.5 million the week before.

The latest figures include over a million off for Covid-related reasons, but only 47,000 actually had Covid.

In secondary schools, the absence rate was nearer a third (32.7%) of pupils, while in primaries it was 17%.

Some 661,500 pupils out of the total were absent from school for unspecified non-Covid related reasons.

These figures show a snapshot of the situation in state schools last Thursday - before changes introduced from 19 July, which are intended to reduce the numbers having to be sent home.

There has been speculation that many families may have chosen to take their children out of school early so isolation rules do not interfere with holiday plans.

'Begrudgingly isolating'

While others, including some teaching unions, have highlighted the impact of the pandemic on pupil engagement and mental health.

Elaine Blowers and her family in Hampshire are among many hundreds of thousands of families affected by having to self isolate.

She says each time it happens, the mental health of her daughter Gracie and son Harley is affected.

Mrs Blowers, a mum of two young, primary-aged children in Andover told how her son and daughter had to isolate due to one person in their class testing positive. Both children took a PCR test and were Covid-negative.

Her son, Harley, has special needs and has missed out on the additional help he gets in school and has not really got on well with home-learning. And sAhe explained how her daughter, Gracie, experiences anxiety every time she has to isolate - developing nightmares and stomach pains.

"What is frustrating is that it is not the first time this has happened," she says.

"Every time we have always been negative and felt very frustrated that my children have had to be locked up and I've had to lose an income unnecessarily."

Elaine runs her own business as a childminder working from home, so every time her children need to isolate, it impacts her business.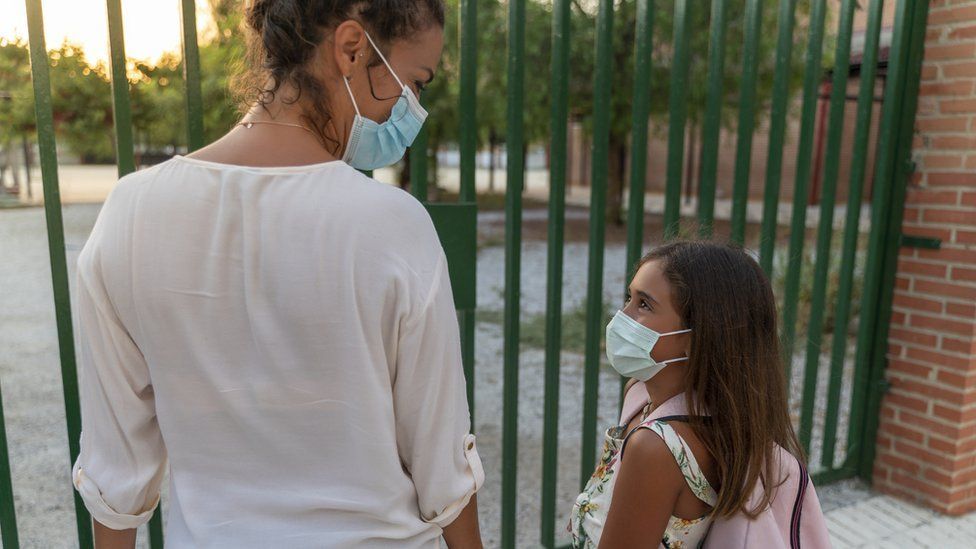 She said the current situation was tricky for parents.

"I know some parents have approached schools to keep children off so not to affect holidays. But other parents are still choosing to keep children in school.

"We've stuck to the rules but begrudgingly."

Elaine says both her children have really suffered by not being in school, but she does not blame the school which she says has been "fantastic" in offering support.

"The prime minister needs to get a grip and allow for people that are contacted to get a PCR test and if negative return to work or school. This needs to change now - 16 August is too late," she says, referring to the date when Covid self-isolation rules are expected to change.

"It is having such a negative impact on businesses and people's, including children's, mental health."

'Grim end'

A Department for Education (DfE) spokesman said: "Our priority is for schools and colleges to deliver face-to-face, high quality education to all pupils as we know that being out of education causes significant harm to educational attainment, life chances, mental and physical health.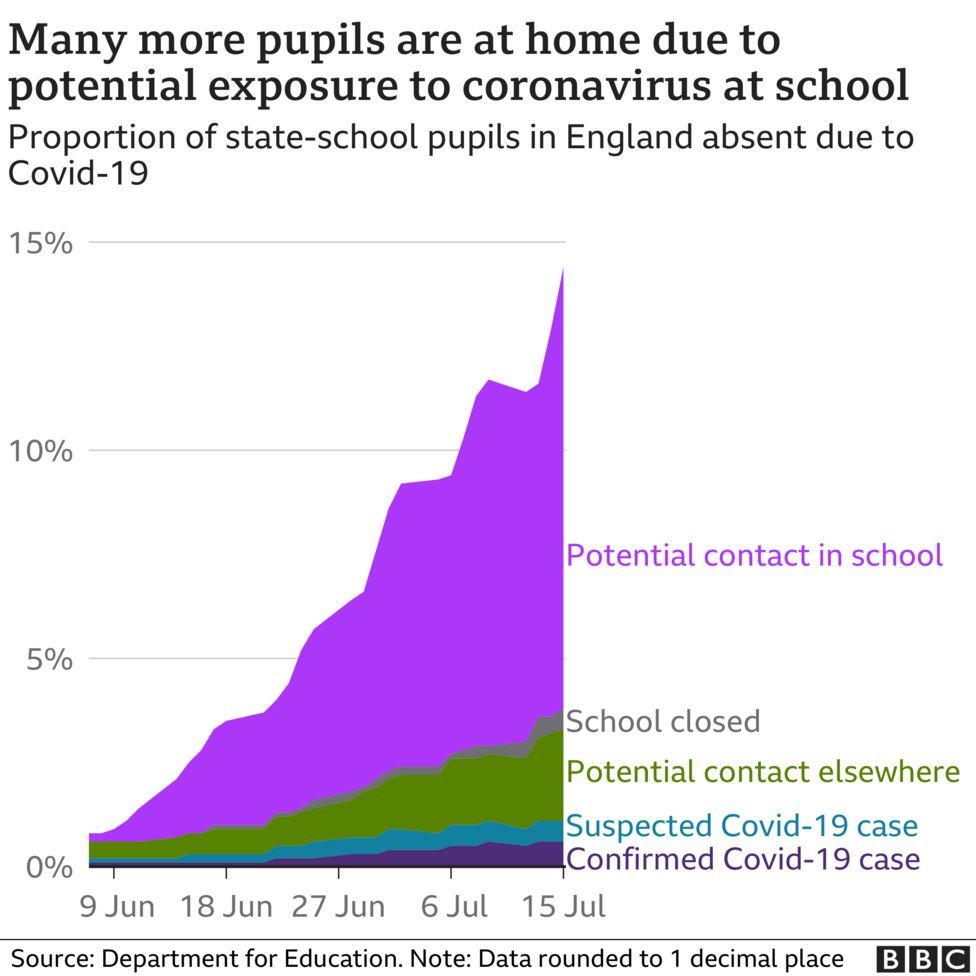 "Where children have needed to isolate, they must be offered immediate access to high-quality remote education."

He added that the DfE had now removed its system of grouping pupils in "bubbles" to restrict transmission, and that self-isolation would not be required next term for pupils coming into contact with positive cases.

The National Association of Head Teachers' general secretary Paul Whiteman said the government's decision to end "bubbles" and school isolation requirements was intended to stop so many missing school.

But he warned that rising case numbers would mean more disruption, unless there was action to prevent transmission in schools.

"The government's own modelling predicts that the number of cases among children and young people is only going to get worse by the start of next term," he added.

Recovery effort

Geoff Barton, general secretary of the Association of School and College Leaders, said the latest figures "bring a year of unprecedented educational disruption to a grim end".

He said schools and colleges needed substantial financial and practical support for on-site testing for students and ventilation systems

"This work cannot be done on the cheap and the government needs to stop counting the pennies and address the situation with a proper injection of support and funding," he added.

Natalie Perera, chief executive of the Education Policy Institute said the stark figures on pupil absence underline the importance of education recovery programmes.

"Supporting pupils through this crisis has to be a number one priority for the government," she said. "We need to see far more ambitious and better-targeted education recovery policies which address the scale of this challenge."