Hospitality staff say frustrated customers have left them demoralised and upset with some at "breaking point".
The sector is facing staff shortages, with travel restrictions causing more people to holiday in the UK.

Some staff in Cornwall said they were worn down by being sworn at and threatened with violence when restaurants were full or food delayed.

UK Hospitality "urged all customers to treat staff with respect".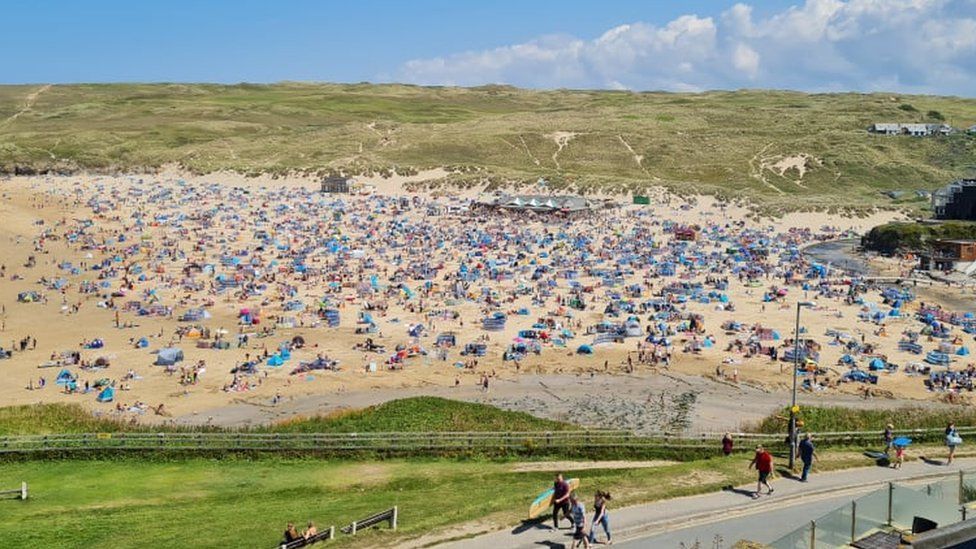 Visit Cornwall estimated there were about 30,000 more visitors to the county this season than the usual peak of 180,000

Emily Gimblett, 20, a Newquay waitress, pleaded on social media for "common decency" after she said a customer made her cry.

"She was really, really moody and I just cried.

"I had already been reduced to nothing that day... It's like a lose lose situation," she said.

"I have never seen it this busy, it is ridiculous... The amount of staff we have can't cope with the influx.

"What you say to someone can ruin their whole day. We're still a person... We're tired."

Ms Gimblett said customers were angry and she had "reached breaking point".

She said people on holiday were annoyed that "everywhere is fully booked every night" while staff were worn out working long shifts.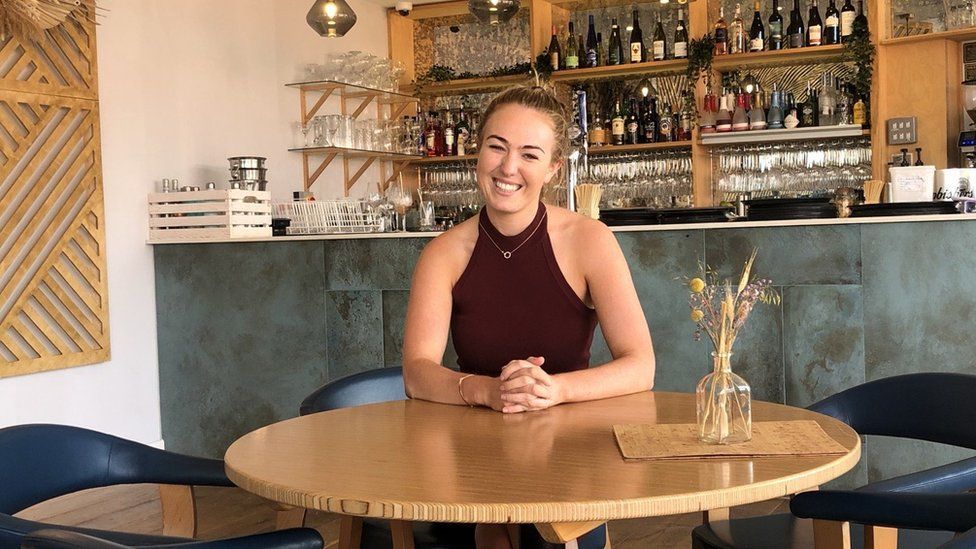 Ms Gimblett's employer Steve Young, owner at the Quintrell Inn, said it was the "busiest ever season" in his eight years there, and while many customers were polite and patient, abuse had "gone up an octave".

He said it was a combination of some tourists as well as some locals that were "difficult".

"A vile group of blokes came in and one just flipped out and tried to attack me when I told them we couldn't fit them in," he said.

Industry bodies say one in five hospitality workers have left the sector during the coronavirus pandemic, with further shortages caused by workers being "pinged" and told to isolate by the NHS app.

Catering businesses in some UK tourist resorts are experiencing further pressure, with reportedly busier seasons due to restrictions on travelling abroad.

'Customers have cabin fever'

Jamie-Lee Job, owner of The Summer House restaurant overlooking the beach in Perranporth, said customers since the pandemic were "a lot more aggressive" and it was "demoralising".

"Customers at the moment have a cabin fever about them.

"People seem to have lost their sense of humanity.

"No-one wants to work in hospitality at the moment - it's relentless."

Staff shortages have meant they have had to close until 28 August when they will be open for drinks.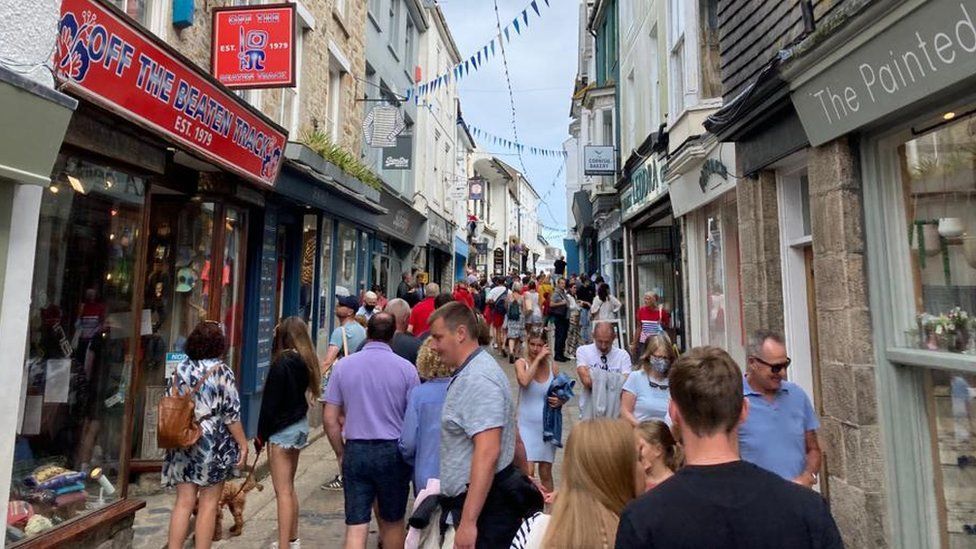 But one Newquay man, who wished to be anonymous, said eating out had become more stressful for customers, and that abuse "reflects both ways" in the town.

"We have had awful attitudes from some staff.

"No matter what the reasons, courtesy should be given at all times," he said.

Visit Cornwall estimated there were about 30,000 more visitors to the county this season than the usual peak of 180,000.

In Devon, Brian Todd, who was on holiday in Woolacombe, told the BBC he was disappointed to queue for more than one hour to buy pizza.

"There's either a lack of food or a lack of staff... It's all pre-bookings... But you've just got to get on with it," he said.

'Rushed off our feet'

Tegan Cluett, 21, a holiday park waitress in Cornwall, said: "We've had people waiting for one hour and 20 minutes for food.

"I feel bad for them, but we've had some really threatening people.

"We've had people shouting loudly... One man knocked over all the drinks on the table on purpose," she said.

"I can't stress how rude some of them are and we are rushed off our feet.

"They swear at us and I think thank God I am wearing a mask as I am going bright red in the face... I have felt like crying," she said.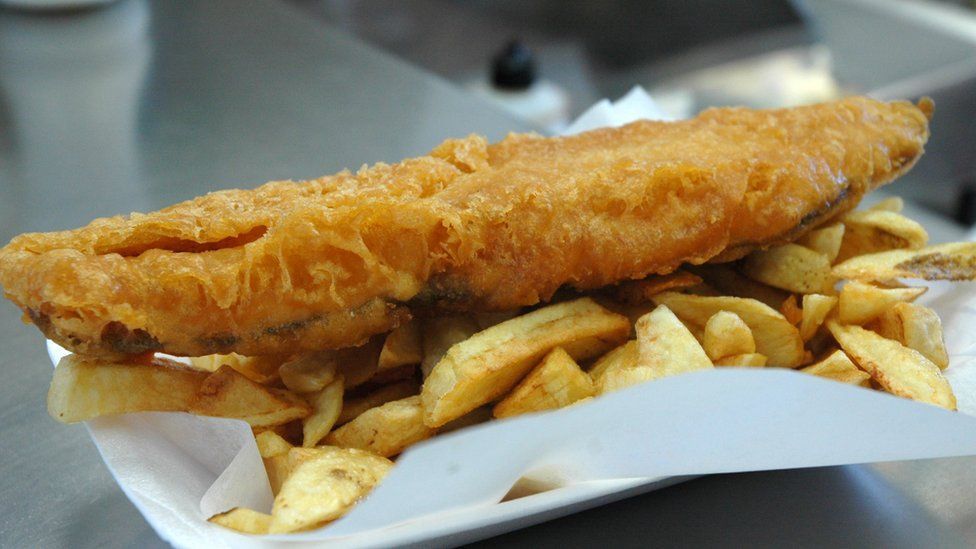 Malcolm Bell from Visit Cornwall said: "The peak weeks have been more challenging with staff shortages and staff being off with the virus or being 'pinged'".

He urged visitors to "plan and book ahead" and have "understanding, tolerance and respect" for staff.

Mr Bell pointed out there are a "stunning" range of quieter places to visit in Cornwall outside the main resorts.

Kate Nicholls, chief executive of industry body UK Hospitality, said: "After such a difficult 18 months for staff in the hospitality sector, this behaviour is shocking and completely unacceptable.

"I urge all customers to treat hospitality staff with respect."

Jo Causon, CEO of The Institute of Customer Service warned customer-facing workers who receive abuse "often end up taking time off sick or leave the industry".

"Businesses can help by communicating openly and honestly and training service staff to deal with the different scenarios they are likely to face," she said.

"Customers must also take responsibility for not letting frustration boil over into hostility or abuse."