The legendary studios are opening to the public for one week only. Stephen Dalton got a sneak peek
A musty aroma wafts from inside a cramped, windowless room in leafy North London. Considering its legendary reputation, this former air raid shelter looks oddly mundane close up. A handful of free-standing cylinders loom out from the murk, former sewer pipes later repurposed as makeshift acoustic barriers. But there is no magical buzz, no ghostly alchemy, no lingering trace of musical genius.

The echo chamber at Abbey Road's fabled Studio Two may have revolutionised the sound of 1960s rock, notably on a run of groundbreaking Beatles and Pink Floyd albums, but it stills feels like a charmingly shambolic storage cupboard. Like most of Abbey Road, it is a living testament to the ingenuity of recording engineers in the lo-fi, cut-and-paste, pre-digital age. Behind the faint whiff of rising damp, you can smell the history in here.

Abbey Road's subterranean chamber of secrets has almost never been open to public view before. But that changes this week, when around 2,000 ticket holders will have free run of the landmark St John's Wood complex for a rare Open House tour, part of the 90th birthday celebrations for the world's first purpose-built recording studio. For the rock tourists and hardcore Beatles fans who throng the world-famous zebra crossing outside, this is the musical equivalent of winning a golden ticket to Willy Wonka's chocolate factory.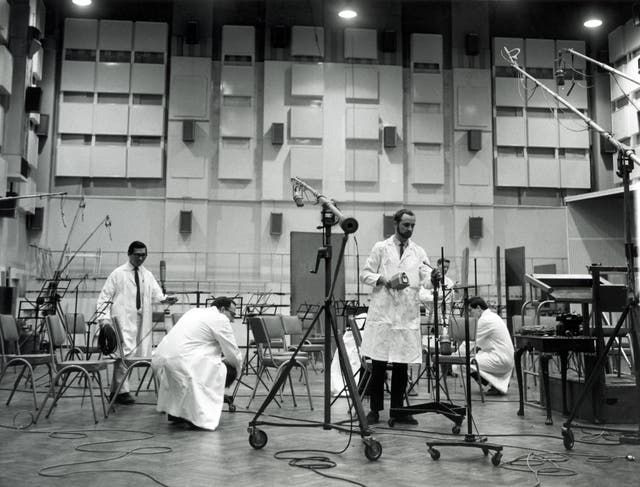 Engineers at work at Abbey Road
All along the rambling corridors at Abbey Road, the studio's rich 90-year past is inescapably present. Antique instruments and vintage studio equipment fill every spare corner. Over here: the gorgeous wooden celesta keyboard heard on the Harry Potter film scores. Over there: the legendary "Lady Madonna piano", a battered-looking 1905 Steinway that Paul McCartney still likes to play as a party trick during recording sessions. "I don't think anyone wants to repair that," laughs Jack Franklin, Abbey Road's head of events. "They lacquered the hammers to give it a really bright sound. It's still recorded on a lot."

The photos crowding the walls of Abbey Road tell their own stellar saga, from Edward Elgar and Paul Robeson to Cliff Richard, Mick Jagger, Adele, Kanye West, Amy Winehouse, Harry Styles and more. Chic founder and superstar producer Nile Rodgers has been an Abbey Road regular since the mid 1980s, and currently serves as the studio's chief creative advisor. He believes this historically rich recording facility will always have a special allure for artists.

"Musicians are superstitious," Rodgers claims. "When they walk into Abbey Road, they know that some degree of magic is gonna happen, you know? And because they believe it's going to happen, it does."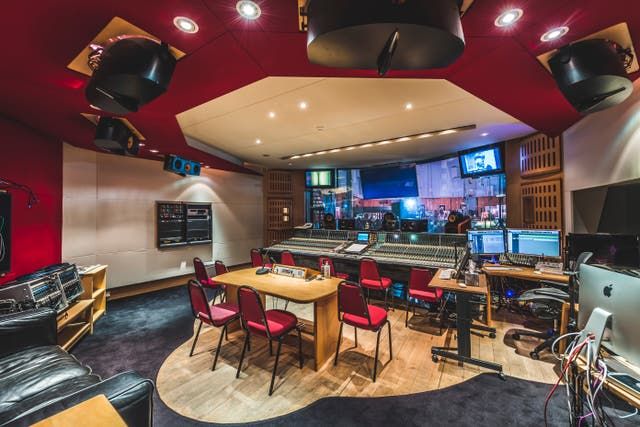 Behind the scenes at the Abbey Road Studios

The Open House tour begins in Studio Three, the smallest and most futuristic of Abbey Road's three main rooms, whose mammoth 96-channel analogue mixing desk radiates strong Starship Enterprise vibes. Pink Floyd, Deep Purple, Frank Ocean, Tony Bennett and Lady Gaga have all recorded here.

But for most Open House visitors, the holy grail will be securing super-rare access to the legendary Studio Two, a cavernous sound laboratory where the Beatles made most of their albums, with a little help from genius producer George Martin. Instantly recognisable by its iconic staircase and towering acoustic screens, this room is sacred ground for rock connoisseurs.

"This is the one most people will be crying to get into," nods Franklin. "In fact we've had quite a lot of people crying when they get in here, touching the floor. The people coming to Open House, we know at least 50 per cent of them will be coming because of what happened in this room in that 10-year block, early 1960s to early 1970s."

Over the past 50 years, Studio Two has hosted hundreds of sessions by the likes of Kate Bush, David Bowie, Radiohead, Muse, Florence Welch and Ed Sheeran. Like Oasis, who were once ejected from a late-night Abbey Road party for blasting out Beatles albums at roof-raising volume, some artists must surely book this historic space for its Fab Four associations. "A small number," says Mark Robertson, Abbey Road's communications chief. "Mainly I think it's about the acoustics of the room, and the quality of the engineers. But you will get artists who come back for that. Florence, on her last album, came back to Studio Two because, as she put it, you can feel something in the walls. She felt it made her up her game."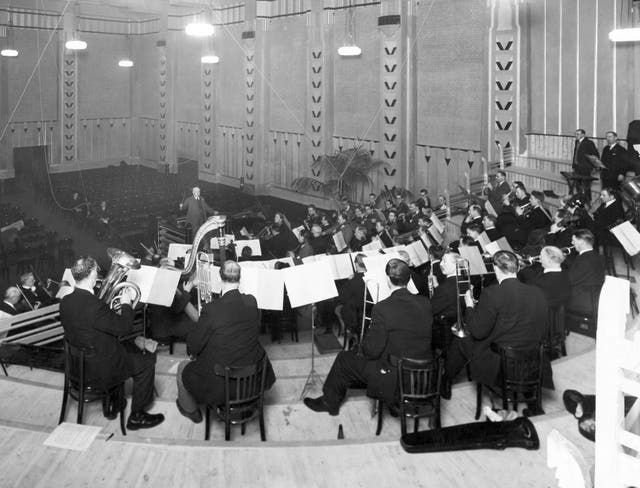 handout

The Open House tour concludes with what Franklin calls "a crescendo moment" in Studio One, Abbey Road's grandest space. With room for a 100-piece orchestra, this palatial Art Deco ballroom remains the world's largest recording studio by volume. Elgar and Stravinsky once performed here to live audiences. More recently, Kanye and Kylie recorded orchestral sessions here. The polished parquet floor remains unchanged since 1931. "We did clean it a few years ago," Robertson says. "A few composers were concerned about what it was going to do to the sound of the room."

Studio One has had a bumpy history. In the mid 1970s, with demand for classical recordings waning, the room almost fell into disrepair. "Pink Floyd drove their cars down the ramp and parked in here," Robertson grins. "I think somebody came and did an MOT on one of their cars. People played badminton in here, down the side. There were even plans to turn this into a car park."

Thankfully, former Beatles sound engineer turned Abbey Road boss Ken Townsend had the genius idea of transforming Studio One into a world-leading recording facility for orchestral film scores. Since 1980, most of the Star Wars, James Bond, Harry Potter and Marvel superhero films have been scored here, plus countless Oscar-winners including Gravity, The Shape of Water and 1917.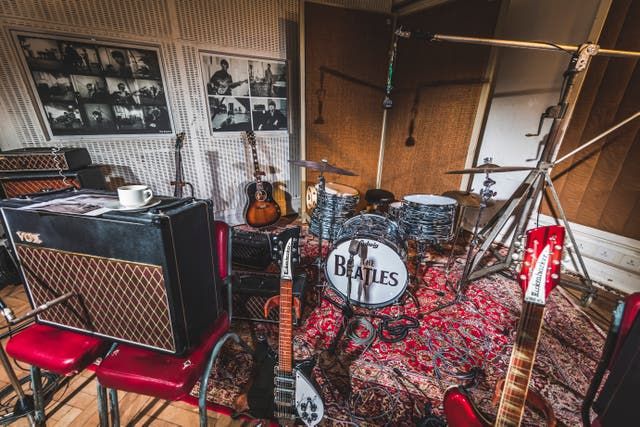 Abbey Road Studios is open to the public for one week only
Townsend also took the inspired decision to rebrand Abbey Road itself. Contrary to popular misconception, the studio is actually named after the 1969 Beatles album, not the other way around. The EMI-owned complex was still called EMI Studios long after the Fab Four split in 1970. Townsend changed the name in 1976. How lucky the band did not title their penultimate album Everest, as McCartney initially intended. Otherwise we may not even be here celebrating Abbey Road's rich legacy today.

"It definitely helps that it's the album name, the album cover, the pedestrian crossing," nods Abbey Road's current managing director, Isabel Garvey. "But I think we would still be here because what happened inside the studio hasn't changed. The beating heart of this place is music making."

Costing a princely £100, Open House tickets are not cheap. Rock fans could see McCartney himself perform for less, after all. But even with Covid travel restrictions limiting tourist trade, the Abbey Road tour is selling briskly. "It's a kind of a once-in-a-lifetime thing," Garvey argues. "If you look at comparable experiences out there, that felt like the right price. In fact it's probably a bit low compared to what other people charge."

Following the Open House week, Abbey Road plans to host further 90th anniversary celebrations. But Garvey is keen to stress this Grade II-listed tourist landmark is not becoming a musical theme park. Indeed, during her seven-year tenure as boss she has reinforced the studio's long-standing reputation as a laboratory for young talent and cutting-edge technology, launching offshoot projects like the Abbey Road Institute and Abbey Road Red. "This place is not a museum," Garvey insists. "We went into this with the intention of celebrating 90 years, inviting the mega-fans in to see the Tardis that is Abbey Road. But we're not an amusement park, this is a working studio."

Nile Rodgers agrees with Garvey that the studio is celebrating its history while still looking to the future. "What's really wonderful about Abbey Road is that, even with their storied past, which would be more than enough for them to live on, they're driven towards innovation, they're driven to seek the next cool thing," Rodgers says. "I always like to say that in the music business, our favourite two words are: What If? And Abbey Road is still a great What If factory. They are pushing the boundaries, they want to be part of the next generation of music makers."

Abbey Road Studios Open House runs to August 15, abbeyroad.com/open-house