A gay Welsh football fan fears it is not safe for him and his husband to travel to the World Cup in Qatar.
Tournament organisers have said "everybody is welcome" despite homosexuality being illegal in Qatar.

But Seiriol Dawes-Hughes and husband Jamie said they would not travel this November, despite Wales qualifying for the first time in 64 years.

"Before my husband and I go on holiday, the first thing we do is Google gay rights in that country," he said.

"That's something that straight people do not have to do, but it's something that we do every time and it's remarkable how many countries that people go to regularly aren't safe for people like us, and Qatar is definitely one of those."

Fatma Al-Nuaimi, communications executive director of Qatar's supreme committee for organising the tournament, told BBC Sport this year's World Cup was a "tournament for everyone".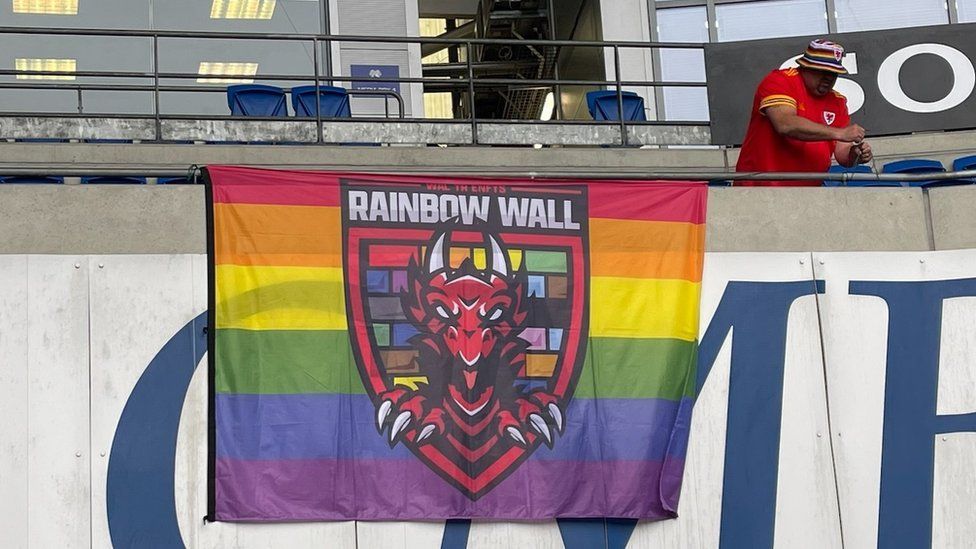 Many LGBTQ+ supporters have already said they are boycotting the tournament over civil rights issues

However, some of the Welsh national football team's staff, as well as members of Wales' official LGBTQ+ supporters' group, the Rainbow Wall, are boycotting Qatar over gay rights.

"This is front and centre for us as Welsh football fans and working in the industry," said Mr Dawes-Hughes, 35, from Caernarfon, Gwynedd.

"But there is no way I would go and it's an absolute disgrace that the World Cup is being held there."

First Minister Mark Drakeford has said Wales should "not look the other way" from human rights concerns, while FAW chief executive Noel Mooney said the team would use the event as a "platform" to discuss the issue.

"This is the clearest and most brazen example of sportswashing I can think of," said Mr Dawes-Hughes.

Sportswashing is a term describing countries using sport to improve their image abroad.

"If this was the women's World Cup then a large percentage of the players [who are gay] could not play," he said.

"So the idea that Welsh female players can't go to support their male counterparts in the first World Cup since '58 is completely unacceptable."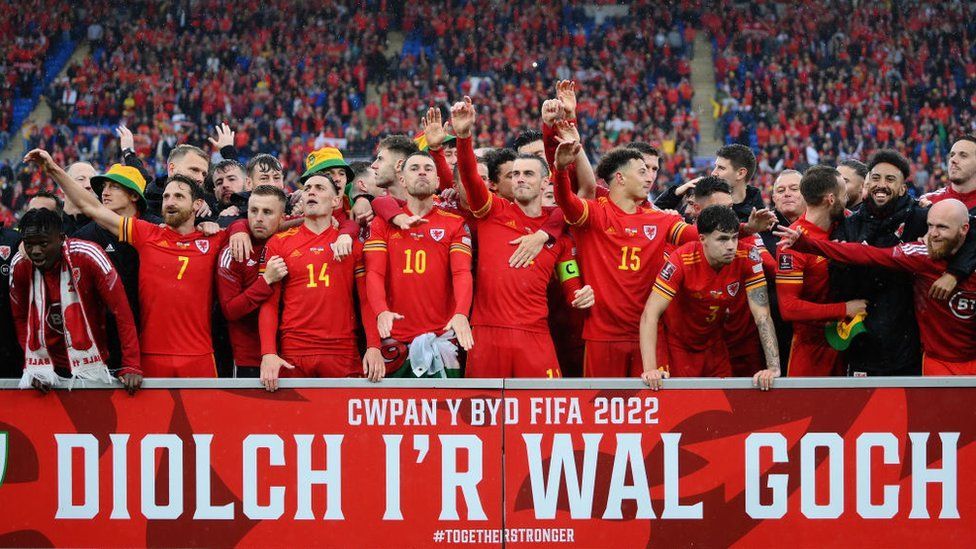 Wales players celebrate qualifying for their first World Cup since 1958

He added: "When the decision was made to host the World Cup in Qatar the footballing community needed to come together but that did not happen and it's now too late.

"We have turned a blind eye to human rights and rights of gay people.

"It shows a complete lack of backbone in the football community to make a stand against this. It's unacceptable to host the World Cup in Qatar but it's happening and what can we do - nothing."

Llanelli MP Dame Nia Griffith said: "I fully understand why fans from LGBT community are very nervous about going or perhaps have decided not to go for those reasons and that is very very sad.

"But we need to tackle these issues when decisions are taken on where these events are held."

The FAW said it was part of a working group, with other European nations attending the World Cup, around the matter.

A spokesman added: "The participating nations are keen to influence change as we fully believe in fans being their authentic selves."