Chris Heaton-Harris is to hold talks with political parties this week over the Stormont brake element of new post-Brexit arrangements.
The Northern Ireland secretary said it would act as a veto if EU law would affect Northern Ireland "in a significant way".

It aims to give the NI Assembly a greater say on how EU laws apply to Northern Ireland.

He said the Democratic Unionist Party (DUP)had asked for clarifications.

The DUP is boycotting Northern Ireland's devolved government at Stormont until its concerns about post-Brexit trading arrangements are addressed.

Its leader Sir Jeffrey Donaldson said he wanted to see "less of the oversell and more of the reality" from the government.

"We need to hear from the government, particularly from the prime minister, on the reality of what all of this means," he told GB News.

The DUP has not yet said whether it will support the new post-Brexit arrangements known as the Windsor Framework.

The framework was signed to alter Brexit's Northern Ireland Protocol, and it was announced last week after months of talks.

It will mean goods moving from Great Britain which are staying in Northern Ireland would use a "green lane" at Northern Ireland ports, meaning they should face minimal paperwork and no routine physical checks.

Goods which are due to travel into the Republic of Ireland would use a "red lane", meaning they face customs processes and other checks.

The brake would allow the assembly to raise an objection to a new goods rule.

Mr Heaton-Harris was asked on Sophy Ridge On Sunday on Sky News if the Stormont brake was a delaying mechanism or veto.

"It's a veto", he said.

"If it's going to affect Northern Ireland in a significant way we would veto EU law," he said.

"You can't be using a veto trivially but I don't actually think the Northern Ireland Assembly would be using that trivially".

'No renegotiation'

He said he thought that Northern Ireland businesses will still be able to participate in future UK trade deals.

"We are now left with with about 3% of what was existing EU laws are going to be in place after this gets adopted," he said.

"That is the bare minimum required to allow Northern Ireland businesses the access they have to the European single market at this point."

On Friday, the secretary of state said he would bring forward legal reassurances that Northern Ireland remains an integral part of the United Kingdom.

He also said the deal could not be re-negotiated.

Mr Heaton-Harris has previously said the Stormont Brake would likely operate like the current petition of concern in the NI Assembly.

Sinn Féin deputy leader Michelle O'Neill said she cautiously welcomed the Windsor Framework and urged the DUP to return to the Stormont executive adding that "leadership" was needed from the party.

"They decided to walk away from the executive in order to influence the negotiation, but the negotiation is now complete," she told Sophy Ridge on Sunday.

"So, there's no reason for them to stay outside of the executive. They should be back round that executive table, taking on the matters of the day."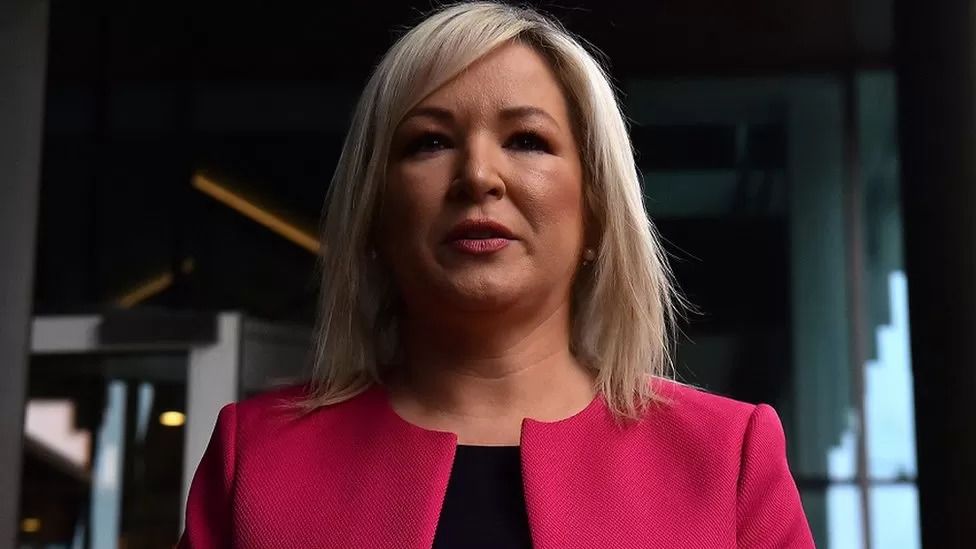 Michelle O'Neill said she shared concerns with other political leaders about the Stormont Brake

Ms O'Neill said she shared concerns with other political leaders about the Stormont Brake.

"I certainly don't want any deal to replace a problem with a problem," she said.

"But these are things we can do whilst also being in the executive," she added.

Alliance leader Naomi Long said it was right that Stormont should have a say over the laws that operate in Northern Ireland.

"But the bar has to be high, Rishi Sunak said it has to be exceptional and it also has to be infrequently used," she told the Sunday Politics programme.

"If that's going to work, it's going to need to be defined clearly in legislation what the threshold is."

"And it needs to be able to stand up to judicial review," she added.

Social Democratic and Labour Party leader Colum Eastwood described the Stormont brake as "pointless".

Meanwhile, Ulster Unionist Party assembly member Mike Nesbitt said: "If the DUP reject this proposal, or this framework, I really don't know what the next step is because you always need an alternative and I haven't heard anyone articulate an alternative".