Passport office workers will go on strike for five weeks between 3 April to 5 May in England, Scotland and Wales - in a dispute about jobs, pay and conditions.
Those working in Belfast will strike from 7 April to 5 May.

A quarter of the Passport Office's 4,000 employees are expected to walk out.

What does that mean if you need to get a new passport?

How do I renew my passport?

You can renew your passport online, at a cost of £82.50 (payable by debit or credit card) or by post, at a cost of £93.

For a child passport (under 16), the fee is £53.50 for an online application and £64 for a postal one.

To apply online, you will need your existing passport and a digital photograph.

To apply by post, you will need to fill out a form which you can get from any post office which has a check and send service, or by calling the Passport Adviceline.

You will need 2 new and identical printed photos of yourself.

The Passport Office recommends you have your photos taken in a booth or at a photo shop because they are more likely to pass the standards for a passport photo.

A photo taken in these places will come with a code that you can use to upload the pictures to your online application.

If you take your photographs at home, you will need someone else to take them using a digital camera, tablet or smartphone.

There are strict standards for a passport photo, which you can read here.

You will need to have one of two new print photos validated if renewing a passport for a child aged 11 or under, or if you are renewing your own passport and you cannot be recognised from your existing passport.

If you have unexpired visas in your existing passport, send it with the visa attached to it along with your application.

Your previous passport will be returned to you and you will be able to use the visa if you carry both passports.

How long does it take to renew a passport?

The Passport Office says you should apply for a new passport 10 weeks before you are due to travel.

If you can't wait that long, you can pay extra to get it sooner.

There are two services available.

A one-week Fast Track service for renewing a passport, replacing a lost or stolen one or applying for a child passport. It costs £155 for an adult passport and £126 for a child passport. You will need to get an application form from a Post Office and book an appointment online.

An Online Premium service for renewing a passport, at a cost of £193.50. The earliest you can get an appointment (where you will receive your new passport) is two days after applying online.

If you need a passport urgently or for medical treatment or because a friend or family member is seriously ill or has died, the government advice is to call the Passport Adviceline .

When do I need to renew my passport?

If you are travelling abroad, you need to renew your passport if it has expired or if it does not have enough time left on it.

How much time you need on your passport depends on the country you are planning to visit. You can check this on the government website.

For Spain, France, Greece and other popular summer destinations in the EU, your passport needs to be valid for at least three months after the date you plan to leave the country you are visiting.

And your passport should be issued less than 10 years before the date you are planning to enter Spain or another EU country.

How will the strike affect renewal time?

The government says the strike does not affect their guidance which is still to allow up to ten weeks to get a passport.

This advice has been in place since April 2021. Previously, the guidance was to allow three to six weeks, depending on the type of application.

On 6 February 2023, Home secretary Suella Braverman told MPs: "Last week, approximately 97% of all UK applications were completed within three weeks" but added "customers should continue to allow 10 weeks, and I urge people to apply in good time, not at the last minute, to avoid delays".

A Home Office spokesperson responded to the planned strikes:

"We are disappointed with the union's decision to strike after engaging in constructive talks to find a resolution.

"We are working to manage the impact of strike action whilst ensuring we can continue to deliver vital services to the public, with comprehensive contingency plans in place."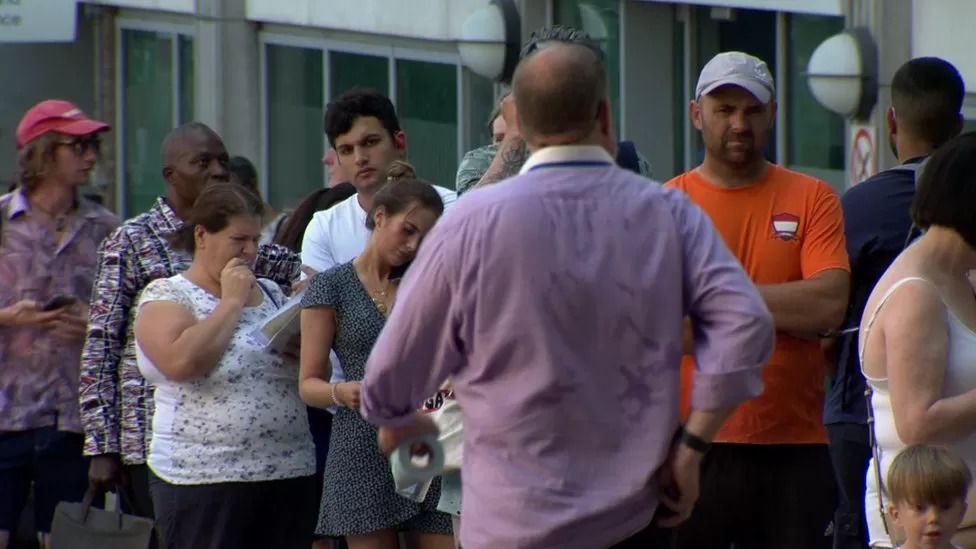 Passport queue in 2022

In 2022, hundreds of thousands of people waited more than 10 weeks to receive their passports.

This was due to a surge in demand, as coronavirus travel restrictions were lifted.

There were more than seven million passport applications between January and September 2022. The busiest month was May when more than 1.2m requests for passports were submitted.