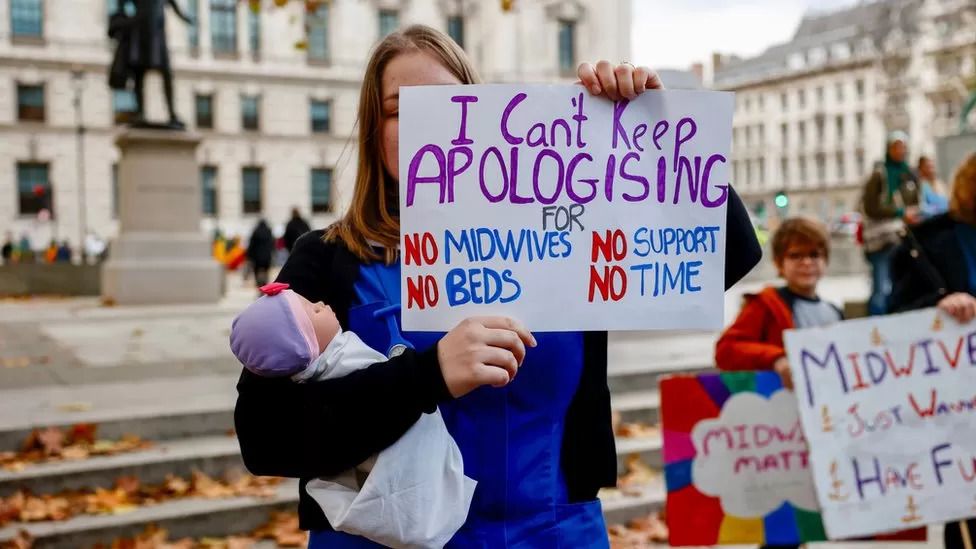 Welsh midwives vote to strike, but England turnout too low
Midwives in Wales have voted for strike action over a "disappointing and unacceptable" pay award worth around 4% this year.
But action in England will not go ahead after the numbers taking part in the ballot fell short of the 50% needed.

Midwives in England said the vote result exposed the flaws in the law around industrial action.

The Welsh government said it recognises the strength of feeling in the NHS.

In Wales, 55% of Royal College of Midwives (RCM) members responded to the ballot, with 91% voting in favour of strike action.

In England, the RCM said 47% of its 28,500 members voted in the ballot.

Of those that did take part, 88% voted in favour of strike action.

Any decision to take industrial action must be approved by the RCM's elected board. The union said it will now look at the result of the ballot and consider the next steps.


'Overlooked and undervalued'

Julie Richards, director for Wales at the RCM, said: "Midwives in Wales are exhausted. The disappointing and unacceptable 4% pay offer simply reinforced their feelings of being overlooked and undervalued."

She added: "Taking industrial action is always a last resort, and the decision taken by our members today shows just how desperate they are for policy makers to listen.

"The Welsh Government must now do so to get maternity services in Wales back on track, and to stop the inevitable exodus of demoralised staff."

A spokesman for the Welsh Government said it recognises the "anger and disappointment" felt by public sector workers.

"We are unable to increase our pay offer without additional funding being made available by the UK government," he said.

"NHS Wales organisations are exploring all options to ensure there will be a safe level of staffing, with life-saving and life-maintaining care being provided during any industrial action."

In a separate announcement, physiotherapy staff in over half of NHS trusts in England and every health board in Wales also voted to take strike action, in their first ever ballot on pay.

"We are short-staffed, overworked, exhausted," said Jill Taylor, a physiotherapist and chair of the Chartered Society of Physiotherapy's pay committee.

"We need to attract people to the NHS and we need to keep people in the NHS. We simply cannot do this until the government gives NHS staff a fairer pay award."

The Westminster government has said it was disappointed NHS staff were taking industrial action but further pay rises were unaffordable in the current economic climate.