Rishi Sunak tells MPs he gave "targeted support to those who need it most" in last week's Spring Statement.
Chancellor Rishi Sunak has defended his decision not to increase benefits payments to ease the rising cost of living in his Spring Statement last week.

MPs said Mr Sunak could have done more for those on Universal Credit.

The rise in living costs is forecast to outstrip planned increases in benefits this year.

But Mr Sunak told MPs that he had announced "targeted support to those who need it most".

Defending his decision in front of the Treasury Committee on Monday, Mr Sunak said tax cuts and support for energy bills were among a number of "progressive" measures that would help those on low pay the most.

Benefits and the state pension are rising by 3.1% in April, well below the rising cost of living, known as inflation.

The committee chairman, Conservative MP Mel Stride, asked the chancellor if his Spring Statement gave those on benefits any "cause for hope".

Mr Sunak said "there's an enormous amount of spending going on" and "the vast majority of people" on benefits will be better off as a result.

Asked by Mr Stride why he chose not to boost benefits faster, Mr Sunak cited operational issues and his unwillingness to increase government borrowing.

"My job is to make the right long-term decisions," Mr Sunak said. "My view is an excessive amount of borrowing now is not the responsible thing to do."


'A political choice'

Mr Sunak was also challenged by Labour MP Angela Eagle on benefits payments and a projected fall in living standards.

Analysis by the Resolution Foundation think tank suggests that 1.3 million more people would be pushed into "absolute poverty" from April.

Meanwhile, living standards are predicted by the Office for Budget Responsibility (OBR) to drop by 2.2% this year - the largest fall since the 1950s.

"But that goes up to 6% for the poorest," Ms Eagle said. "Why haven't you done more to help those who are really going to struggle massively with this cost of living situation?

"You've made a political choice to plunge 1.3 million people including half a million children into poverty."

In reply, Mr Sunak said government measures would offset about a third of the projected drop in living standards.

He said "global forces" were causing prices to spike and living standards to drop.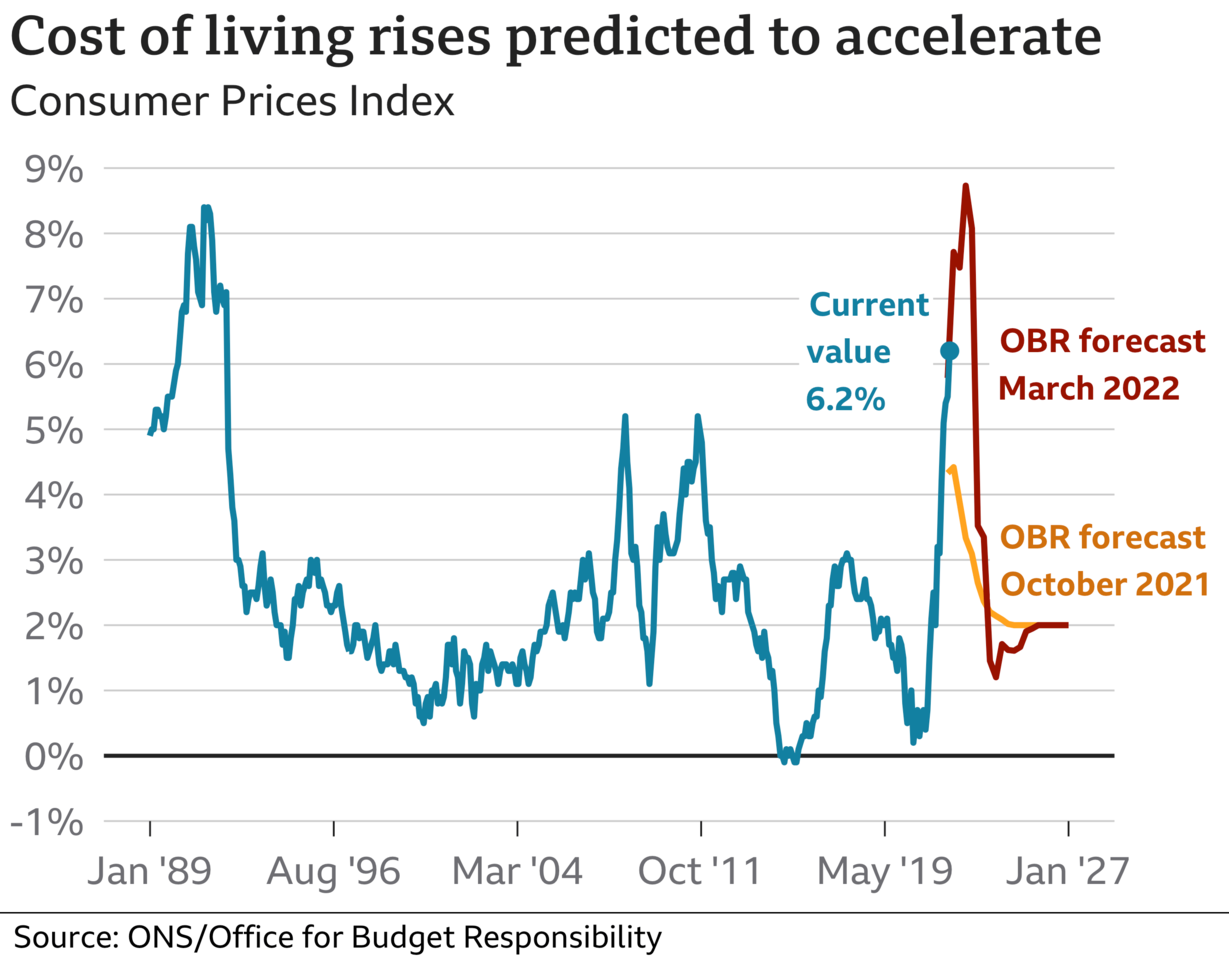 The OBR said soaring energy prices could push inflation to a 40-year high of 8.7% in the final three months of 2022.

Mr Sunak said energy prices were "incredibly volatile" and added: "That's why we will continue to monitor the situation and we're prepared to act if necessary."

The chancellor sought to address the rising cost of living in his Spring Statement last Wednesday.

He cut 5p from fuel duty and took some of the sting out of April's National Insurance (NI) rise by raising the point at which workers have to start paying it from £9,600 to £12,570 from July.

But he has faced calls from opposition MPs to do more to help people now to combat rising prices of food, fuel and energy.

His tweaks to NI fell short of the demands from Labour and some Tory MPs, who had called on him to scrap April's rise completely.
Angela Eagle tells Rishi Sunak: "You've made a political choice to plunge 1.3 million people into absolute poverty"