The UK has imposed sanctions on Russian President Vladimir Putin's former wife and his alleged current girlfriend over the invasion of Ukraine.
Lyudmila Ocheretnaya, who was married to the president until 2014, and former Olympic gymnast Alina Kabaeva, face UK travel bans and asset freezes.

The UK has now placed more than 1,000 people on its Russian sanctions list.

Foreign Secretary Liz Truss said Britain was "tightening the vice" on Mr Putin's "inner circle".

The UK was "exposing and targeting the shady network propping up Putin's luxury lifestyle", she said, and would "keep going with sanctions on all those aiding and abetting Putin's aggression until Ukraine prevails".

Ms Truss said sanctions against Russia should only be lifted when all of its troops had left Ukraine.

Earlier, she told a meeting of G7 foreign ministers in Germany that allies should go "further and faster" in supporting Ukraine's resistance.

She said President Putin must face a defeat that prevents further aggression - but some analysts have warned this stance may make a political settlement harder.

Earlier this month it was reported that the EU planned to sanction more Russian individuals, including Ms Kabaeva.

Since Russia invaded Ukraine on 24 February, thousands of civilians and combatants have been killed or injured, and some 14 million people have fled their homes, with more than six million seeking refuge abroad.

Since her divorce, Lyudmila Ocheretnaya has benefited from preferential business relationships with state-owned entities and exhibited significant unexplained wealth, the UK Foreign, Commonwealth and Development Office (FCDO) says.

She is a close associate of Mr Putin and obtains a financial or material benefit from this association, it adds.

Ms Kabaeva is a former Russian MP and chair of the board of directors of the National Media Group, which is reportedly the largest private Russian media company, the FCDO says.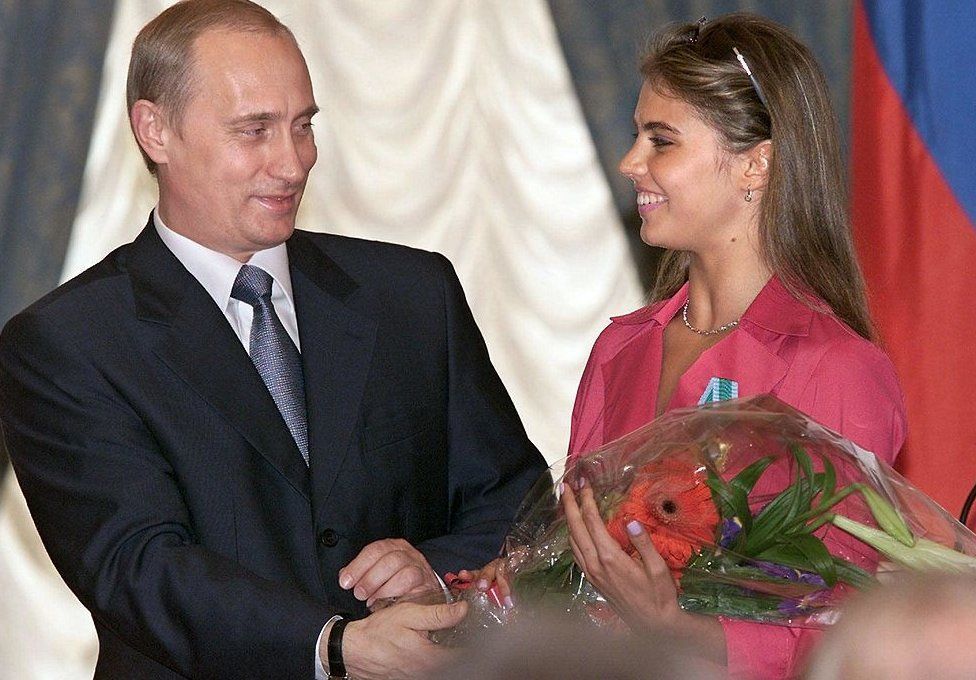 Mr Putin and Ms Kabaeva at a ceremony in 2001

It notes that the National Media Group controls television stations including Channel One, which is already under sanctions.

"She is also rumoured to be the current partner of Putin and it is reported that he has tried to reduce her visibility since the invasion began," the FCDO says.

"For example, a couple of weeks after the invasion, the National Media Group website was updated to remove her name, along with any reference to the board of directors."

Russia's leader has explicitly denied having a relationship with Ms Kabaeva.

Among others added to the UK sanctions list are Ms Kabaeva's grandmother, Anna Zatseplina, and cousins of Mr Putin.

An asset freeze prevents any UK citizen, or any business in the UK, from dealing with any funds or economic resources which are owned, held or controlled by the designated person. A travel ban means the designated person must be refused leave to enter or to remain in the UK.

The UK foreign secretary has been among the most outspoken of UK ministers in setting out explicit aims relating to the conflict, saying in a speech last month that Russia should be pushed out of "the whole of Ukraine".

Some foreign policy analysts have raised concerns that such specific demands might one day clash with Ukraine's interests and could make negotiations harder.

Ukrainian and Moldovan foreign ministers are expected to join G7 ministers at another meeting in Germany on Friday.

On Saturday, Ms Truss is due to travel to Berlin for a meeting of Nato foreign ministers, where the FCDO says she will push for a "strengthened and modernised" version of the western alliance.