Two UK ministers have revealed they have been targeted with hoax calls linked to the conflict in Ukraine.
Defence Secretary Ben Wallace blamed Russian "dirty tricks" after revealing a man had called him earlier pretending to be Ukraine's prime minister.

He became suspicious and ended the call after the "imposter" posed "several misleading questions", he said.

Home Secretary Priti Patel then tweeted that she had received a similar call earlier this week.

The Ministry of Defence (MoD) said Mr Wallace had ordered an immediate inquiry into what happened.

It was not immediately clear who was behind the call, but Mr Wallace linked the incident to Russia and President Vladimir Putin's invasion of Ukraine.

In a tweet about the call, Mr Wallace wrote: "No amount of Russian disinformation, distortion and dirty tricks can distract from Russia's human rights abuses and illegal invasion of Ukraine. A desperate attempt."

Replying to him shortly afterwards, Ms Patel said: "This also happened to me earlier this week. Pathetic attempt at such difficult times to divide us. We stand with Ukraine".

'Russian disinformation'

A Ministry of Defence source said it was a "fairly sophisticated" video call that was not made to Mr Wallace's own mobile phone.

The source said the call came to him via "another government department", which added to its credibility.

It is understood that Mr Wallace was put through to a Microsoft Teams video call which lasted about 10 minutes.

The video call was set up after an email, purportedly from an aide at the Ukrainian embassy in London, was sent to a government department and then forwarded to the Ministry of Defence.

The BBC has been told that the call to Mr Wallace involved someone posing as Ukrainian Prime Minister Denys Shmyhal in front of a Ukrainian flag, who asked a range of "wild questions".

Mr Shmyhal later replied to Mr Wallace in a tweet, writing: "Despite all attempts of Russian disinformation, the world can see that the truth is behind Ukraine."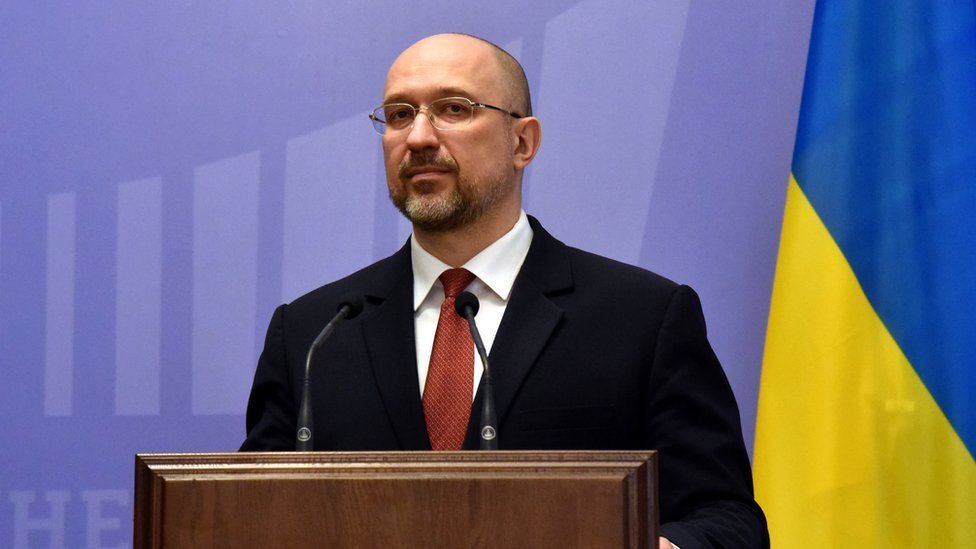 Denys Shmyhal, shown here at a press conference in January, has been Ukraine's PM since March 2020

During the call, Mr Wallace was asked about Nato and the state of the negotiations taking place between Ukraine and Russia, the defence source added.

Mr Wallace was apparently asked about whether the UK would send warships to the Black Sea, and if Ukraine should get nuclear weapons.

The defence secretary was also apparently asked about the prospect of Ukraine dropping its ambition to join Nato and becoming a "neutral" state.

The defence source said Mr Wallace "was asked leading questions to encourage inappropriate comments" but he "didn't say anything that was not factual or appropriate".

But defence sources say they are concerned that there may be an attempt to distort or edit Mr Wallace's answers before he terminated the call.

Mr Wallace was on a visit to the Polish capital Warsaw when he shared the tweet about the hoax call.

The calls come at a time of sensitive peace talks between Ukraine and Russia as the war launched by President Vladimir Putin three weeks ago exacts an ever-higher human cost.

The UK government has been providing military and humanitarian aid to Ukraine while imposing punishing economic sanctions on Russia.

Since the war started, there have been regular conversations between British and Ukrainian ministers, including Prime Minister Boris Johnson and Ukrainian President Volodymyr Zelenskyy.