The UK government is extending its scheme to help Ukrainian refugees fleeing the Russian invasion, following criticism that it has not been doing enough.
Some visa rules are being relaxed to allow British nationals and Ukrainians settled in the UK to bring more family members over.

The EU is planning to allow Ukrainian refugees to settle in its member states for three years, without having to apply for a visa.

How have the rules changed?

The UK's rules on who can come have changed several times in recent days.

On 27 February, the Home Office announced "temporary visa concessions", allowing the immediate family members of British nationals who usually live in Ukraine to apply for a free family visa to come to the UK.

This covers:

*  a spouse or civil partner

*  an unmarried partner (they must have been living together in a relationship for at least two years)

*  a parent if the individual living in Ukraine is under the age of 18

*  a child under the age of 18

*  an adult relative they provide care for who they live with due to a medical condition

Labour called for the criteria to be widened to allow other family members in too, including the elderly parents of people living in the UK.

Shadow Home Secretary Yvette Cooper highlighted the case of a Ukrainian woman, Valentyna Klymova who had travelled to join her daughter in the UK, but was refused entry by Border Force officials on 26 February.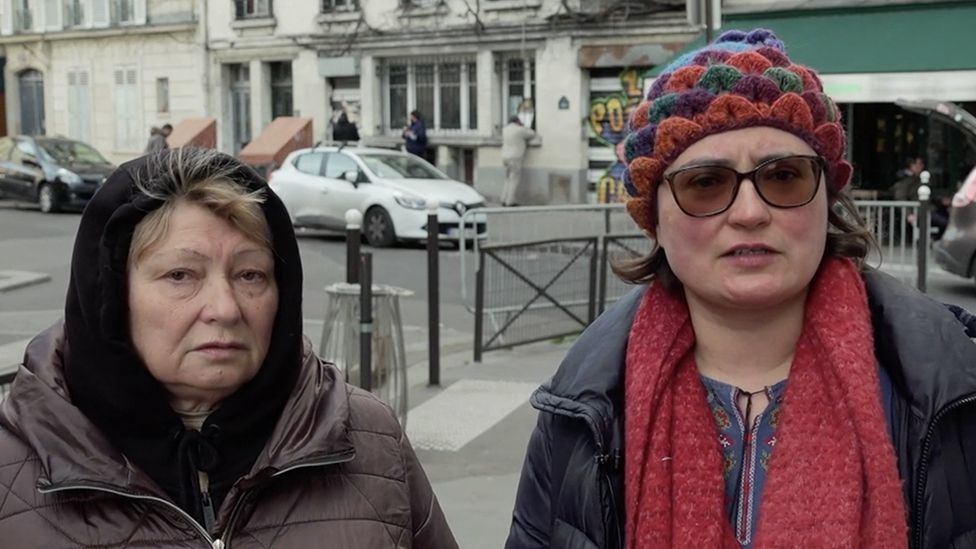 Ukrainian woman, Valentyna Klymova, with her daughter

On 28 February, Home Secretary Priti Patel said the scheme would also apply to the immediate family members of Ukrainians already settled in the UK.

On 1 March, she widened the scheme further to cover:

*  parents

*  grandparents

*  adult children

*  siblings

*  their immediate family members

She also confirmed that Ms Klymova had been granted entry to the UK and said the £700 she had spent applying for visas would be refunded.

How can Ukrainians apply for family visas?

Applications can be made in the western Ukrainian city of Lviv or at centres in nearby countries Poland, Romania, Hungary and Moldova.

People do not have to show English language capabilities or proof of income (as they normally do) but need to provide biometric information such as fingerprints and pass security checks.

They can expect to wait up to 24 hours for their application to be processed, although Ms Patel says some are being done "in just hours".

If they are granted a visa, they will be able to stay in the UK for an initial 12 months during which they can work and access public funds.

There are also "temporary concessions" to allow Ukrainian nationals who are currently in the UK to extend their stay, until at least the end of 2022.

What about other Ukrainians?

Online guidance from the Home Office has outlined other routes through which Ukrainians can enter the UK. They can make visa applications to visit, work, or study in the UK but they cannot currently do this in Ukraine.

The guidance says that "If you are able to safely travel, you can apply ...in one of the nearby countries".

On 26 February, Home Office minister Kevin Foster highlighted the government's Seasonal Worker visa (which allows people to apply to come to the UK to pick fruit and vegetables). After widespread criticism, his tweet was deleted.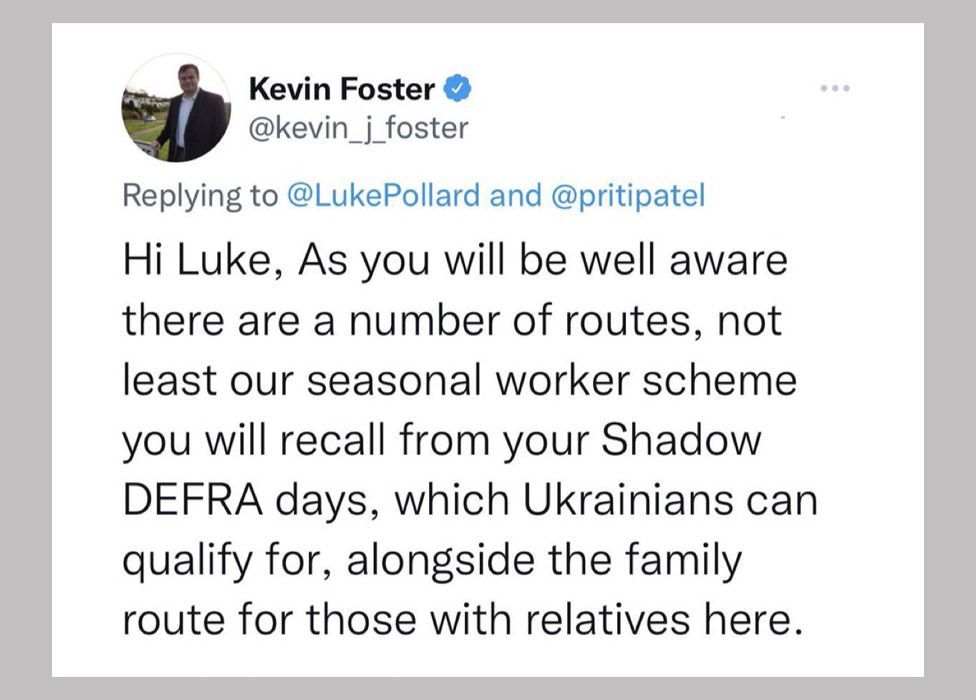 Some MPs have asked for UK visa rules to be lifted altogether for Ukrainians.

Ms Patel has ruled this out. She said: "Security and biometric checks are a fundamental part of our visa approval process worldwide and will continue.

"That is vital to keep British citizens safe, particularly as Russian troops are now infiltrating Ukraine and merging into Ukrainian forces. Intelligence sources also state the presence of extremist groups and organisations who threaten the region but also our domestic homeland."

Ms Patel did announce a new "humanitarian sponsorship pathway" which will enable Ukrainians without UK family ties to be matched with individuals, businesses, charities and community groups. She said there would be no upper limit on the scheme.

Details on how people and organisations in the UK can apply to be sponsors are still being worked out.

We have asked the Home Office for the numbers of Ukrainians who have been allowed to come to the UK since Russia invaded Ukraine but have not been given this information.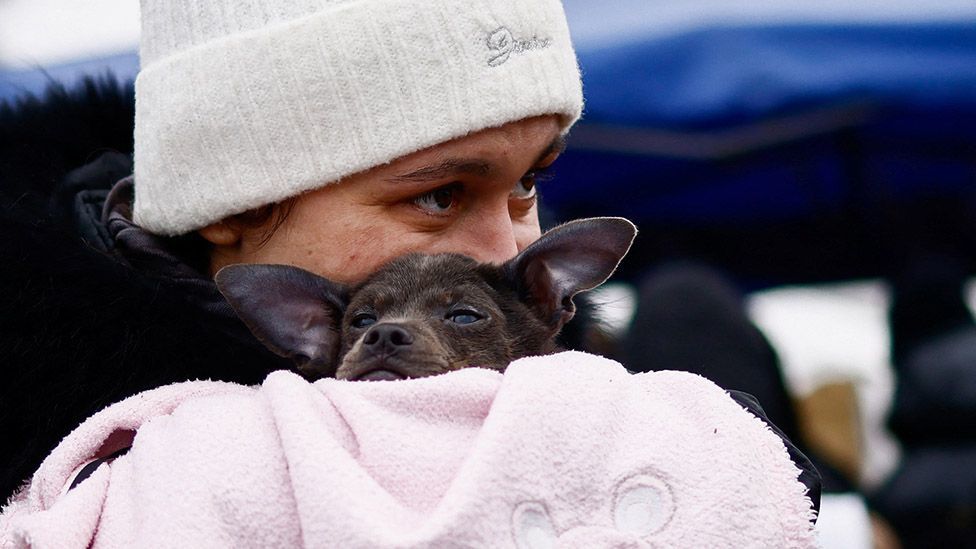 What is the government's record on refugees?

Defence Secretary Ben Wallace said the UK track record "both with Afghans in Arap scheme...and with the Hong Kong nationals who are suffering persecution has been actually very generous".

Arap is the UK's Afghan Relocation and Assistance Policy, which supports those who worked with the UK government in Afghanistan.

Justice minister Victoria Atkins said in January that about 7,000 had been helped under Arap, since April 2021.

In addition to Arap, the government launched a new scheme on 6 January 2022 - the Afghan Citizens Resettlement Scheme (ACRS).

The Home Office says 4,000 people have already been resettled since the scheme was launched.

In January 2021, the UK introduced a new Hong Kong visa scheme after China imposed a new security law. The British government estimates 5.4 million Hong Kong residents are eligible for it.

According to the latest government figures, by the end of September 2021, 88,000 people had applied for visas under this scheme.