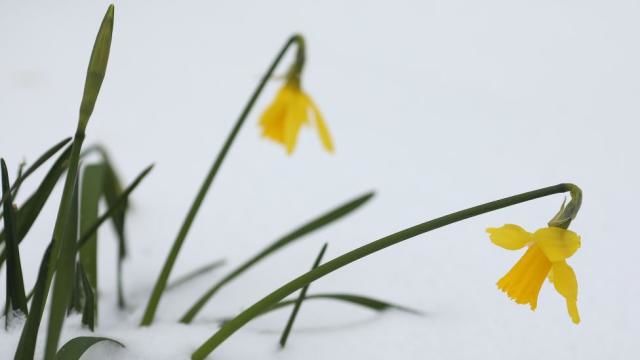 UK Weather: Snow and ice expected in Scotland and north of England
Arctic air is expected to bring snow, ice and cold winds to parts of the UK early next week.
A Met Office yellow warning is in force for much of northern and eastern Scotland, as well as north-east England and North Yorkshire, throughout Monday.

This means severe weather is possible, and people should prepare for weather to affect travel and other activities.

The Met Office has issued a separate warning for Tuesday that covers a wider area, including more of Yorkshire.

Met Office meteorologist Craig Snell said that, in Scotland, cold winds could make it feel like "some of the coldest weather we've had since the beginning of December".

He said up to 10cm (4in) of snow could fall on high ground on each day, with up to 5cm possible in low-lying regions.

Areas covered by Monday's warning include Dundee and Aberdeen, the Highlands, Orkney and Shetland, and a corridor of north-east England that extends to Yorkshire.

The Met Office said snow showers could cause delays on roads in these places, as well as rail and plane cancellations. It also warned of the risk of slips and falls on icy surfaces.

There was "slight chance" that rural communities could be cut off, it said, adding that cuts to power and phone services were possible.

By Tuesday, "frequent" snow showers are expected in the same region - with the warning area extended to Strathclyde, more of Yorkshire and the Humber, and the East Midlands.

BBC forecaster Louise Lear said it was "not unusual" for this kind of weather to appear in the transition from winter to spring, because "the pendulum can swing from one way to the other".

There was a "great deal of uncertainty" as to what would happen mid-week, she said, with more snow possible - although cold conditions should not last beyond the end of the week.

Earlier alerts issued by the UK Health Security Agency also remain in place. These warn that all of England is likely to experience cold weather for much of next week.

The agency said this could have a "serious impact" on the health of those who are vulnerable to cold weather, and urged people to check on relatives.

It advised over-65s, or those with pre-existing medical conditions, to heat their homes to at least 18C.