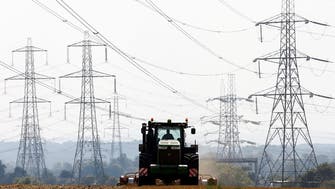 UK to reform electricity security program to fit 2035 climate goals
The UK plans to reform its flagship electricity security program to make possible its goal of a carbon-free power grid by 2035.
Proposed changes would mean emissions limits for fossil fuel plants from 2034 and offering multiyear contracts for large consumers in order to cut demand, according to the department for Business, Energy and Industrial Strategy.

Bolstering a dwindling buffer of spare capacity is a priority for Britain after the network operator issued several market warnings this winter.

National Grid Plc was on standby to trigger a procedure for the first time to ask households to cut consumption.

With an ambitious goal to install 50 gigawatts of offshore wind power by the end of the decade, the UK needs enough back-up to keep the lights on when it's not windy.

"It's vital that we decarbonize our electricity system completely by 2035," said Dan McGrail, chief executive officer at industry group RenewableUK.

"We need to incentivize more investment in new low carbon flexibility."

The country's power supply is managed through auctions that ensure sufficient capacity to meet peak demand and safeguard against blackouts.

These are held four years in advance, with new-build stations able to secure 15-year contracts. This means subsidizing fossil fuels out as far as 2040, a loophole the government wants to close. So from 2034 there will be an emissions intensity limit to "send a clear signal" to switch to hydrogen, use carbon-capture technology or reduce running hours, according to BEIS.

Existing deals will be unchanged but the government is looking at whether it's better to create managed exits for fossil fuel plants by allowing operators to start new agreements if they decarbonize, or whether alternative support mechanisms are needed.

Demand is set to double as transport and heating embrace electrification, increasing the importance of secure alternative supplies on low-wind days. Back-up is likely to come from fossil fuel plants, batteries or demand reduction.

The government contracts are supposed to help keep this capacity profitable even if it's not needed all the time.

BEIS will now consult on the proposed reforms before outlining its final plan.