A teenager from the United Kingdom (UK) flying solo around the world has made the [British] Virgin Islands one of her stops.
19-year-old Zara Rutherford landed in her Shark ultralight at Terrance B. Lettsome International Airport today, September 1, 2021, and was given a warm welcome with BVILove by Jr Minister for Tourism Honourable Sharie B. de Castro (AL).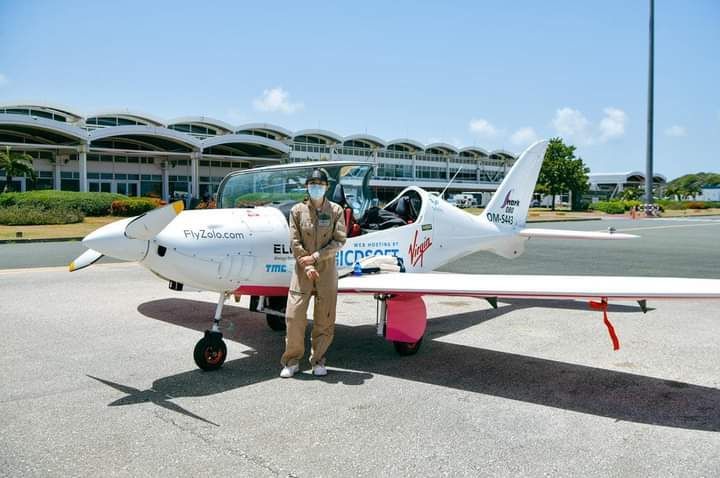 Zara Rutherford is trying to become the youngest woman to fly around the world solo.
Inspiring

The Jr Minister, speaking to Virgin Islands News Online, as well as sharing on her Facebook page, said on behalf of the Government of the Virgin Islands she had the distinct pleasure of welcoming a brave, independent and awe-inspiring young woman to VI's shores.

"It was truly a privilege for me to meet 19-year-old Zara Rutherford who has embarked on a journey of trying to become the youngest woman to fly around the world solo.

"Zara is an example that when barriers are removed and doors opened equally young women will spread their wings and fly. This teenager took off from Brussels on August 11, 2021, on a journey across the Atlantic, Greenland and the Americas. As such, this morning she made it to the British Virgin Islands and I am so proud to have met this brilliant young woman who is determined to make history."


Closing the gender gap

Hon de Castro said she believes that Rutherford is an example to young people across the territory.

"Her journey is proof that no dream is too grand or unreachable. If you can imagine it, it's possible! Young girls, in particular, can pattern this bold move as an example of not being limited to stereotypical gender roles but rather take charge and pursue their own passions. Zara's goal in flying around the world is to make history but most importantly to close the gender gap in aviation. "

Hon de Castro said this is a "glaring reminder" that here in the Virgin Islands we must do our part to ensure that our young people are provided with every opportunity to fulfil their passions.

She said Zara indicated that one of her missions in life is to support women and girls entering STEM (Science, Technology, Engineering, and Math) fields early.

"This is also a passion of mine and I am indeed motivated and committed to continue the development of this very area here in the Virgin Islands."


'BVI kinda stood out'- Rutherford

Meanwhile, Rutherford expressed her joy of being able to visit the VI on her journey.

"I think it is a beautiful destination, and I really wanted to stop somewhere in the Caribbean islands, and the BVI kinda stood out …there were multiple factors, but I am so happy to be here," Rutherford said.

According to Hon de Castro, in making the [British] Virgin Islands a stop on her journey, Rutherford has once again proven that the Virgin Islands is a destination of choice for travelers.

"The people and Government of the Virgin Islands are excited and pleased that today Zara gets to experience BVI LOVE.

"We wish her all the best on her remarkable journey and we look forward to celebrating with her upon the successful completion of her heroic around-the-world mission," Hon de Castro stated.


Zara Rutherford's journey

Rutherford's journey started in Belgium and takes her west through 52 countries, five continents, and crosses the equator twice -- first in Tumaco, Colombia, and again in Jambi, Indonesia -- which is part of the Guinness World Records' requirements for an around-the-world flight.

The two-month trip is self-funded, and the teenager has sold her car to help pay for it, as well as seeking out sponsors. Her sponsors have included Virgin and Holly Branson, the daughter of Virgin Islands Belonger Sir Richard CN Branson.

Another cost of the trip is the environmental impact. While Rutherford says the total fuel for her trip is the equivalent to the amount used in 10 minutes by a Boeing 747, she's spending €600 ($710) on tree-planting projects to offset her carbon footprint, the BBC reported.