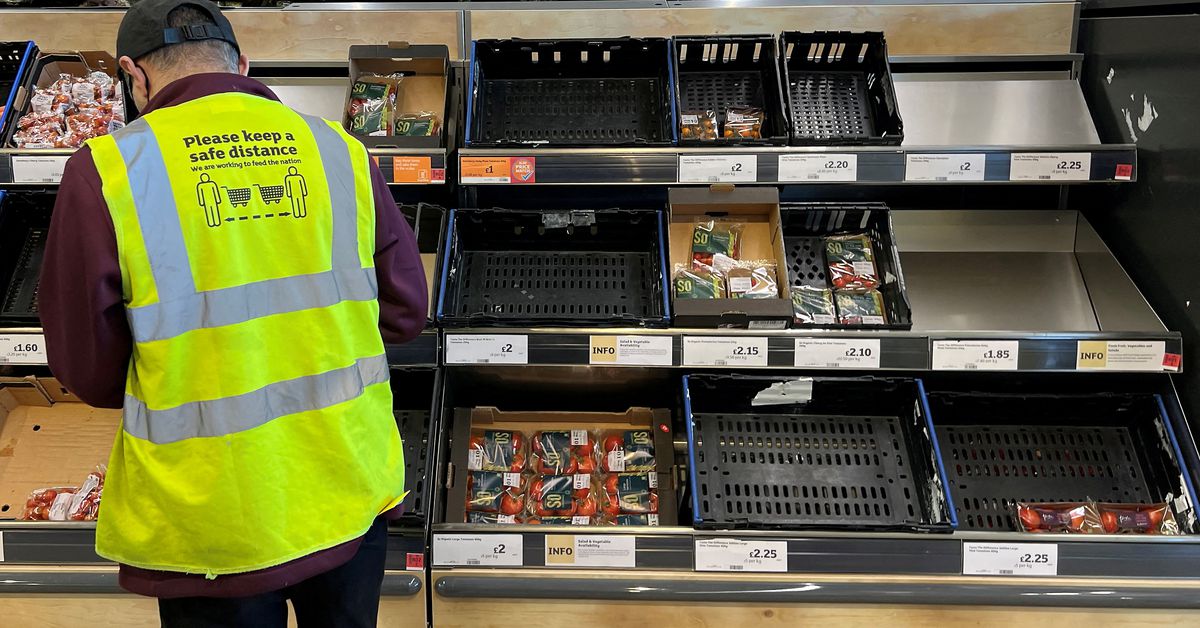 UK salad shortage weighs on supermarket sales -NIQ
A lack of availability in fresh produce categories weighed on sales growth at British supermarkets in the four weeks to Feb. 25, industry data showed on Tuesday.
Britons have been grappling with a shortage of key salad staples, particularly tomatoes, cucumbers and peppers.

A hit to supplies from disrupted harvests in southern Europe and north Africa due to unseasonal weather has been exacerbated by British and Dutch farmers planting fewer crops in greenhouses because of high energy costs.

Market leader Tesco (TSCO.L), Asda, Morrisons, Aldi and Lidl have imposed limits on how many salad items shoppers can buy at one time and the government has warned that shortages could last until the end of March.

Market researcher NIQ, previously known as NielsenIQ, said total value sales in the fresh produce category grew just 1.1% over the four weeks, with a unit or volume decline of 5.4%.

It said supermarkets struggled to meet demand for tomatoes, where unit sales fell 17.6% and for peppers, with unit sales down 16.8%.

However, value sales for lettuce and cucumbers increased 13.7% and 31.8% respectively despite limited availability.

NIQ said overall grocery sales rose 11.1% over the four weeks, masking a drop in volumes when accounting for inflation, which it put at 14.5%.

Echoing data from rival market researcher Kantar last week, NIQ said German-owned discounters Aldi and Lidl continued to gain market share, with sales up 25.6% and 21.1% respectively over the 12 weeks to Feb. 25, partly reflecting new store openings.

It said sales growth at Tesco was 8.7%, ahead of Sainsbury's (SBRY.L) at 8.1%, Asda at 7.8% and Morrisons at 0.5%.

Online's share of the grocery market dipped to 10.9% from 12.4% a year ago.