A huge fire which tore through a popular nature reserve and forced the evacuation of a beach was most likely caused by a barbecue, firefighters say.
At its height on Friday, 90 firefighters tackled the blaze at Studland Heath in Dorset and crews remain at the scene.

Dorset and Wiltshire Fire and Rescue Service said it had discovered a used disposable barbecue amid the ashes.

It has urged people not risk using barbecues in the countryside.

Firefighters were alerted at about 13:00 BST on Friday and had to work in dense smoke which could be seen for miles around.

Flames leapt across the Isle of Purbeck, forcing police to evacuate Studland beach which had been busy with holiday-makers.

Crews worked throughout the night as they attempted to contain the fire.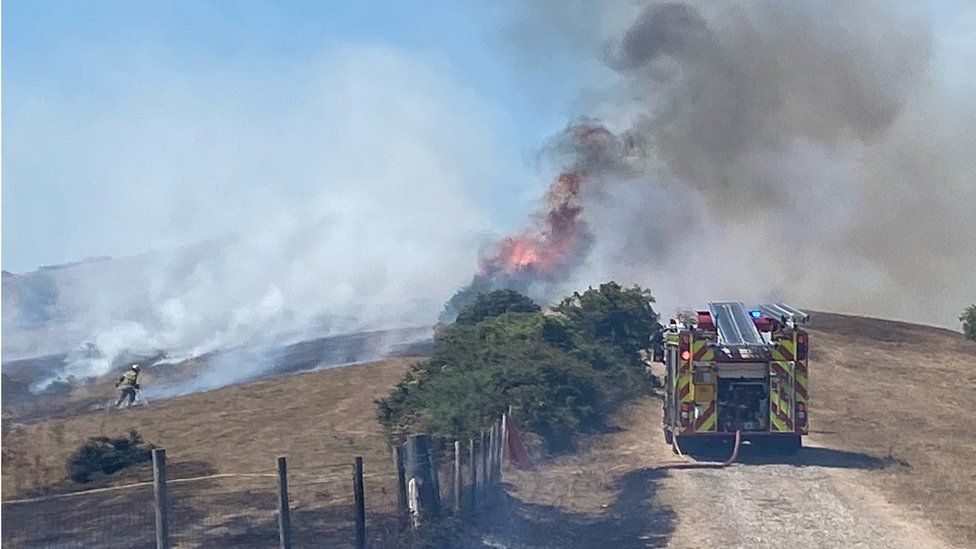 A firefighter tackles the blaze at the Studland Heath nature reserve on the Isle of Purbeck

Studland Heath is a Site of Special Scientific Interest and home to all six species of native British reptiles including the rare and nationally endangered sand lizard and smooth snake and the rare Dartford Warbler.

A fire service spokeswoman said: "We found evidence of a little camp where someone had used a disposable barbecue, we can't say 100% that was the cause but when we find evidence we have to assume that's the most likely cause - fires don't just start on their own".

Area manager Jason Moncrief said: "There can't be many people left in Britain who don't know the advice at the moment is do not use a disposable barbecue at these places.

"Bring a picnic, use our local cafes, restaurants and takeaways, don't bring a barbecue."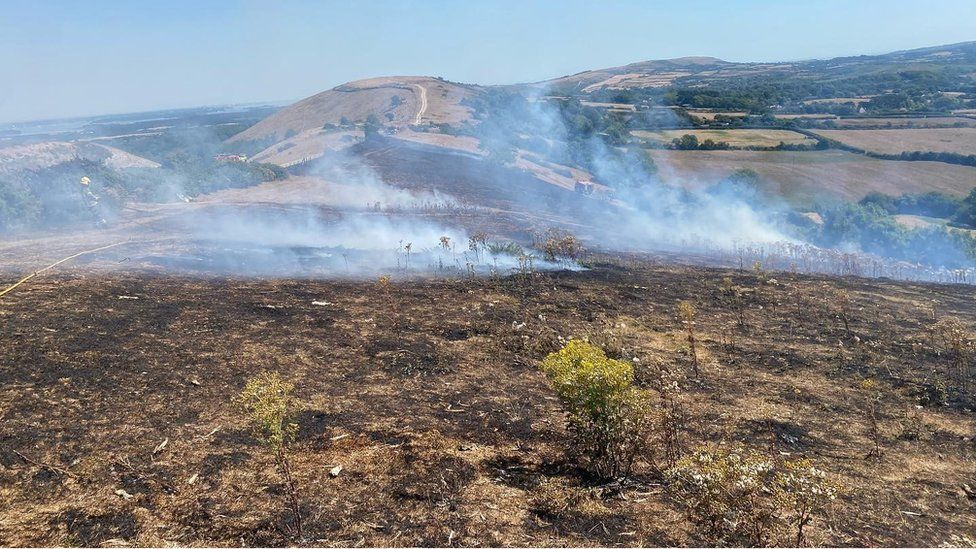 Even after the flames had been quelled the land was still smouldering

On Saturday, Dorset Police issued an appeal for people to not park in the area after reports that hundreds of cars had ignored no-parking signs.

The restrictions were put in place to allow firefighters to deal with the ongoing incident.

Some drivers had reportedly moved a water hose running along on Ferry Road so they could park.

"Our fire colleagues are working in extreme conditions to tackle this blaze and they need the public to help them, not hinder them," a police spokesperson said.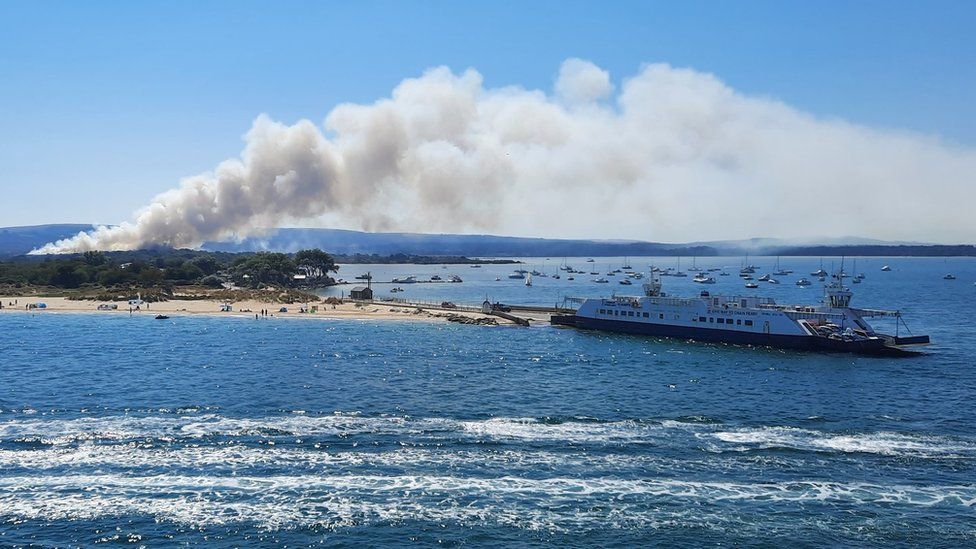 The chain ferry linking Studland to Sandbanks in Poole was used to get people off the beach
In a bid to reduce the numbers of disposable barbecues in use, several supermarket chains have stopped selling them during the UK heatwave.


On Friday, Co-op announced it was the latest to join the moratorium and said it would not sell the product while the dry spell continued.

Southern and central England and parts of Wales are subject to an amber extreme heat alert until Sunday.

The Met Office has also issued its highest alert for fire severity over the weekend, warning there is an "exceptional" risk of blazes spreading.

Amid the stark caution, firefighters have strived to stress the dangers of careless behaviour when out in the countryside.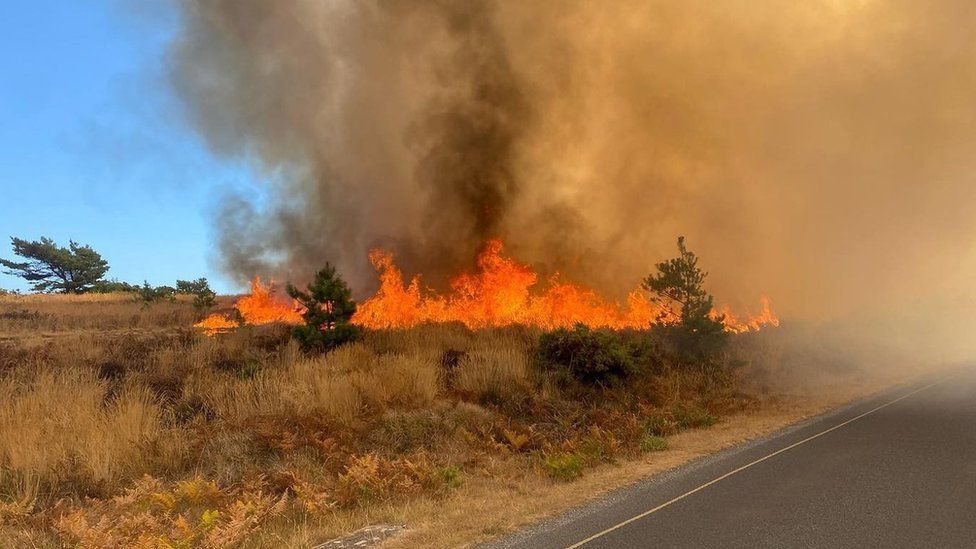 Smoke from the blaze, which engulfed undergrowth and gorse, could be seen from across Poole Harbour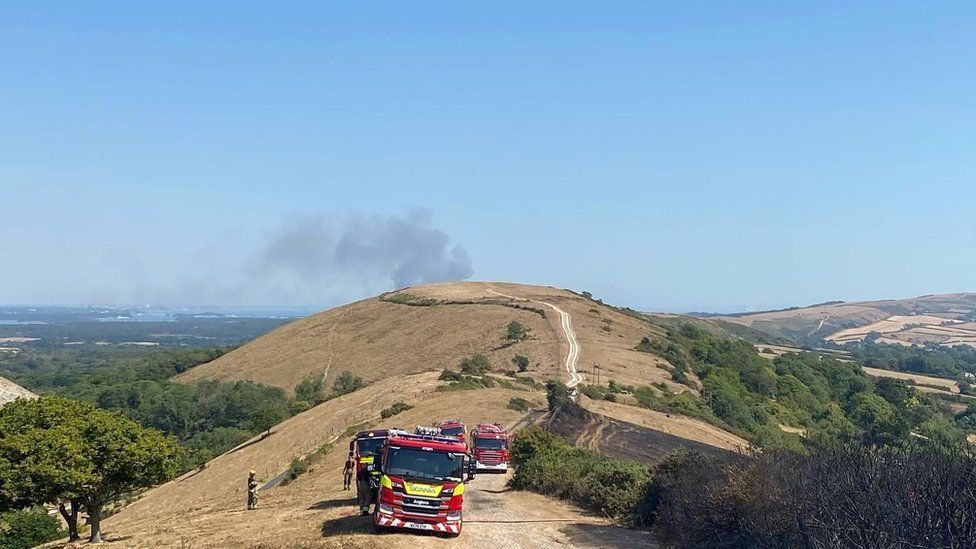 The fire service said an overland mains supply of water had been installed
Video shows a fire on the Studland peninsula in Purbeck, Dorset