Liz Truss has narrowed the gap with Tory leadership rival Penny Mordaunt, as they battle to secure a place in the run-off vote among members.
Former chancellor Rishi Sunak again topped the latest MPs' ballot with 118 votes, suggesting he is likely to secure a spot in the final two places.

Ms Mordaunt came second with 92, only six votes ahead of Ms Truss with 86.

Kemi Badenoch, who came last with 59 votes, has been knocked out of the contest.

The three remaining candidates face a further vote by MPs on Wednesday to decide who will make the final two.

Voting will then be thrown open to 160,000 Tory party members to pick the winner, who will replace Boris Johnson as prime minister on 5 September.

Contenders need to bag 119 votes from Tory MPs to get into the run-off, suggesting former chancellor Mr Sunak is likely to secure a place.

Foreign secretary Liz Truss closed the gap on Trade Minister Penny Mordaunt in Tuesday's vote, gaining 15 more MP votes to Mordaunt's gain of 10.

The pair will now go all out to grab the votes of those MPs who backed Ms Badenoch, as they bid to secure a place in the run-off.

Former Tory leader Iain Duncan Smith, who is backing Ms Truss, said the result showed she "has the momentum" and had garnered support from a wide range of Conservative MPs.

Tory MP Maria Miller, a Mordaunt supporter, said her candidate would offer a "fresh choice" for members and said her campaign would now focus on wooing Badenoch supporters.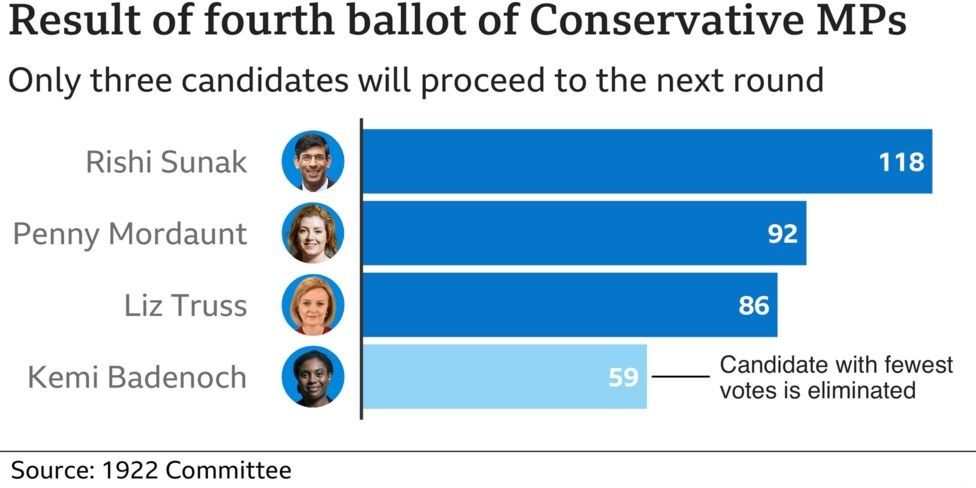 Little known beyond Tory circles at the start of the race, former equalities minister Ms Badenoch has been the breakthrough candidate of the contest.

She won support and gained attention with her straight-talking approach and emphasis on cultural issues that have divided the party in recent years.

Her departure from the contest will trigger a scramble among remaining candidates to secure the support of the 59 MPs backing her on Tuesday.

Badenoch backer Ben Bradley predicted her voters could go "in all directions," and he had not yet decided whom to back in Wednesday's vote.

It comes as:

*  The BBC announced it will broadcast a live TV debate with the final two candidates on Monday

*  Ms Mordaunt pledged to scrap house building targets for councils, and channel development away from "precious greenfields"

*  Ms Truss promised that if elected she would increase UK defence spending to 3% of GDP by 2030

A Sky News debate scheduled for Tuesday evening has been cancelled, after Rishi Sunak and Liz Truss declined to take part.

Instead, the remaining hopefuls will look to garner support from Tory MPs during a hustings hosted by the Onward think tank and the Northern Research Group of Tory MPs representing seats in the north of England.

Too close to call


The placings haven't changed but a close look at the numbers tells us how unpredictable this contest is.

Thirty one votes were up for grabs from Tom Tugendhat's supporters after he was eliminated in the last round.

It's clear they haven't moved as a block as all the candidates have gained votes.

Liz Truss has kept up her momentum but not enough to leapfrog Penny Mordaunt who picked up enough votes to stay in second.

Rishi Sunak only gained three votes, showing that while he's been in front from the start it's not a runaway lead.

It's a very tight race and at this point, impossible to call.
Watch: Sir Graham Brady announces Kemi Badenoch has been knocked out of the Tory leadership race