Three British nationals are currently being held in custody by the Taliban in Afghanistan, a humanitarian organisation has told the BBC.
Scott Richards from the Presidium Network named one of the men as Kevin Cornwell, 53, from Middlesbrough.

Mr Richards said he and another unnamed man had been arrested on 11 January. He confirmed a third British man was also taken into custody on a different date.

The Foreign Office said it was working hard to contact the men.

The Presidium Network is a UK-based non-profit organisation that provides support to communities in crisis, representing the needs of people affected by violence or poverty to international policy makers.

Mr Richards confirmed the organisation is representing Mr Cornwell, a paramedic who works for a charity, and the second unnamed man but not the third British national.

Mr Richards said while there were "no official charges as such", the two men's detention was understood to be over a weapon in a safe in Mr Cornwell's room, which he said was stored with a license issued by the Afghan interior ministry.

"That license is missing," he said, adding: "But we have taken several statements from witnesses who have seen the license and affirm its existence.

"It is perfectly possible that during the search the license was separated from the weapon and, as such, why we refer to this scenario as a probable misunderstanding."

The third man is understood to be Miles Routledge, 23, from Birmingham, who was evacuated from Afghanistan by British Armed Forces in August 2021.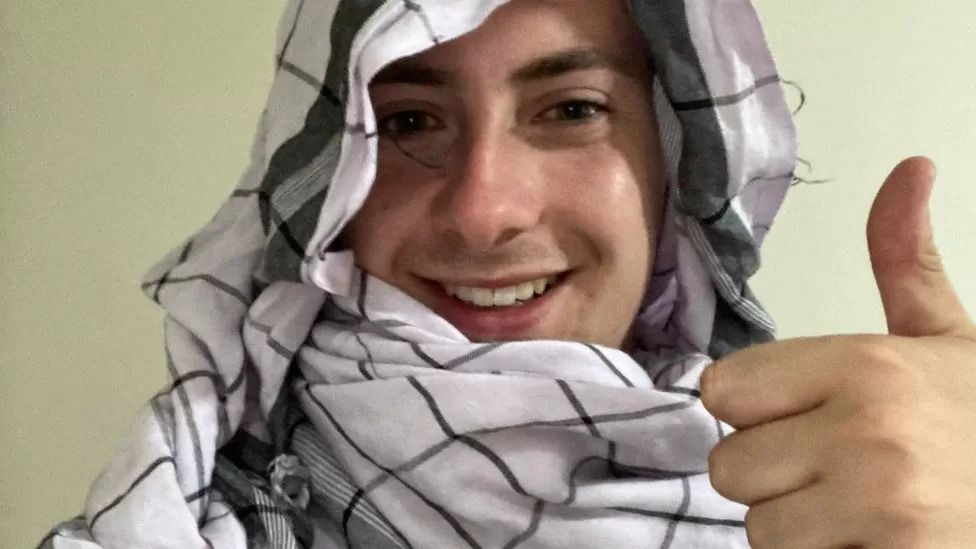 Miles Routledge said previously he travelled to Afghanistan as he enjoys "dark" and "extreme" tourism

The former Loughborough University student has attracted attention by travelling to dangerous countries and posting about it on social media.

He previously shared that he chose Afghanistan because he enjoyed "dark" and "extreme" tourism.

Following his extraction from the country less than two years ago, he told the BBC he was "exhausted but relieved" and thanked the British Army who had been deployed to support the evacuation of UK nationals from Kabul.

Mr Richard told Sky News: "To our knowledge and awareness, we do believe they are in good health and being well treated.

"We have no reason to believe they've been subject to any negative treatment such as torture and we're told that they are as good as can be expected in such circumstances."

He added that there has been "no meaningful contact" between authorities and the two men Presidium is assisting.