A former GAA club treasurer has been jailed for 16 years after pleading guilty to an "unprecedented" campaign of sex abuse spanning three decades.
Thomas McKenna admitted to 162 offences against 23 male victims, some who were young teenagers.

The abuse took place at various locations in Crossmaglen, County Armagh, including at the local Gaelic Athletic Association (GAA) club.

The 62-year-old will serve a further seven years on licence after release.

The offences he admitted included sexual assault; indecent assaults, voyeurism and taking an indecent image of a child.

"You targeted boys and young men, 23 in total, manipulating them to the point where they felt utterly powerless and unable to disclose what you had done," the judge told McKenna.

'Danger to the public'

She said the psychological damage inflicted on the victims had been "immeasurable" and she acknowledged that no sentence the court could impose would repair that damage.

Some victims suffered from addition issues, their personal relationships had been affected and in some cases suicide attempts were made as a result of McKenna's abuse, the court heard.

"The sheer scale and duration elevates this case to an unprecedented level," the judge told McKenna.

"There is no question that you pose a danger to the public and to young men in particular."

She referenced the fact that Crossmaglen was a small community and Crossmaglen Rangers GAA Club was the "bedrock" of the village.

McKenna was a trusted member of that community - he was the local postman, he worked in Crossmaglen Credit Union and volunteered with the GAA club for decades, she said.

The judge added he used his positions of trust to find "opportunities for abuse", grooming young players and befriending parents in order to gain access to their children.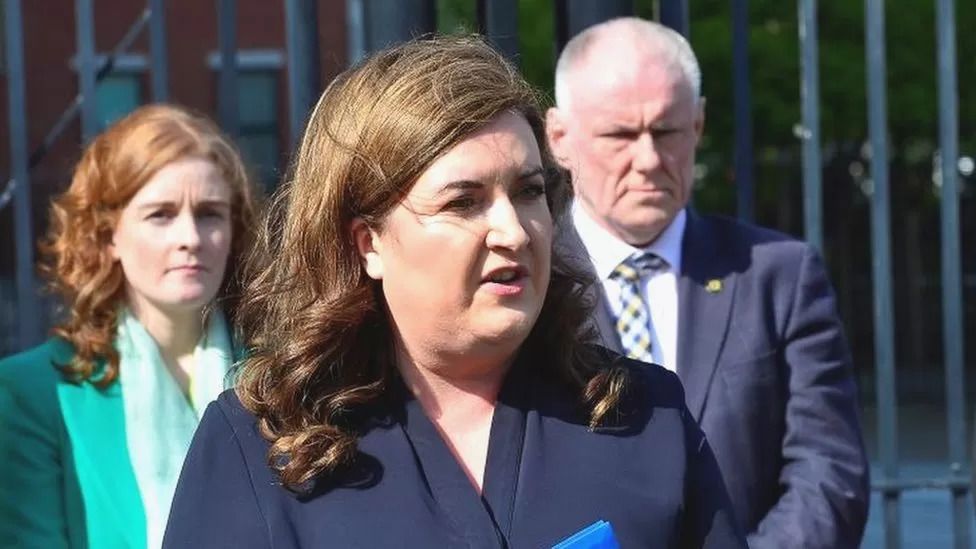 Det Ch Insp Kerry Brennan said McKenna abused his positions of trust to access victims

The abuse began in 1988 and continued right up until McKenna was arrested in 2018.

Many of the young victims were secretly filmed by the defendant when they were either naked or partially clothed.

Following his arrest in 2018, the High Court heard that police had found more than 50,000 photos and video clips stored on McKenna's recording devices.

'Chilling'

Passing sentence, the judge said she had taken into account McKenna's guilty pleas and the fact that this had spared his victims from having to give evidence in public.

However, she acknowledged the defendant only admitted many of the more serious offences shortly before the first trial was due to begin, so his victims had the anxiety of a public trial hanging over of them for a long time.

McKenna also denied the offences during his first police interview, accusing his victims of lying and fabricating accounts in an attempt to harm him.

The judge added that McKenna had claimed some of the sexual activity was consensual, while other allegations he tried to dismiss as "innocent horseplay" that had been misinterpreted.

"Every aspect of your defence was an attempt to continue the psychological power games you had played for years," she said.

She referred to probation reports that showed that sexual offending was "ingrained" in all parts of McKenna's life.

The judge said she found his attitude to his young victims "chilling".

"If it worked out, fine, if not go on to the next one," the judge said, quoting how McKenna described approaching his potential victims.

She told the defendant that for decades he appeared to be "completely indifferent" to the harm he was causing, adding "the fact that the abuse was only stopped by your arrest is a particularly serious concern".

Victims 'immensely proud'

McKenna's victims released an emotive joint statement following Friday's sentencing hearing.

"While there were many difficult days as we relived the crimes committed against us, we as a group are immensely proud of the strength, dignity and unity we've displayed throughout this process to get the justice we deserve and ensure that the pain and suffering inflicted upon us will not be felt by another generation in our community," they wrote.

"We urge anyone else who has suffered similarly to take confidence from our journey and to reach out to the relevant authorities."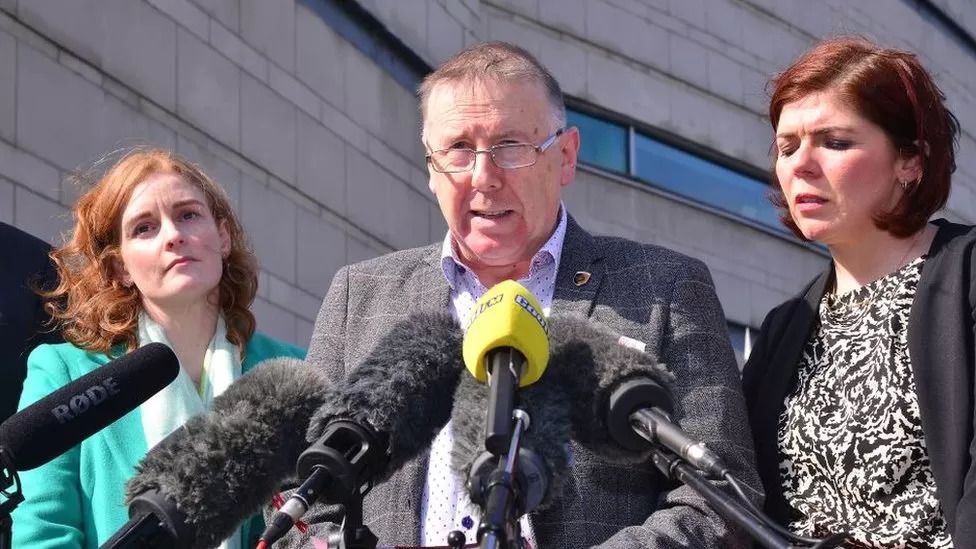 Eamonn McMahon from Crossmaglen Rangers said: "To the victims, we are deeply sorry"

The victims also thanked the judge for the sentence, and their families and the Crossmaglen Rangers community for their support.

Det Ch Insp Kerry Brennan said McKenna was a respected and influential member of the Crossmaglen community, who used his positions of trust to gain access to young males to carry out a litany of abuse.

"Predators of this type are incredibly manipulative, and invest a lot of time building trust and embedding themselves within communities to carry out their offending under the radar," she said.

Eamonn McMahon, from Crossmaglen Rangers, said the conviction was only possible because of the courage of the victims.

"As a club and as an association, our hearts were broken when we learned about the horrific abuse suffered by children and young people within our community," he said outside court.

"To the victims, we are deeply sorry."

Mr McMahon added the GAA would "continue to support you and your families on an ongoing basis" and it was waiting on the findings of an independent review commissioned to examine the abuse.

Margaret Kinney from the Public Prosecution Service also commended the victims and said "there should be no hiding place for sexual offenders".

In addition to the custodial sentence, McKenna's name is to be placed on the sex offenders register for the rest of his life.