Council leaders from Kent have warned the county is at "breaking point" because of the burden of accommodating migrants.
In a strongly-worded letter to Home Secretary Suella Braverman, the leaders of 14 authorities raised a series of concerns.

They warned that conditions at the overcrowded Manston migrant processing facility could lead to unrest.

The Home Office said it was providing support for local authorities.

In the letter, the local authority chiefs said: "The situation at Manston is critical.

"We now have approaching 4,000 service users contained within segregated marquees as we approach the coldest months of the year, some having been on roll mats for over a month."

There are also "reports of tensions growing and concern about the potential for disorder".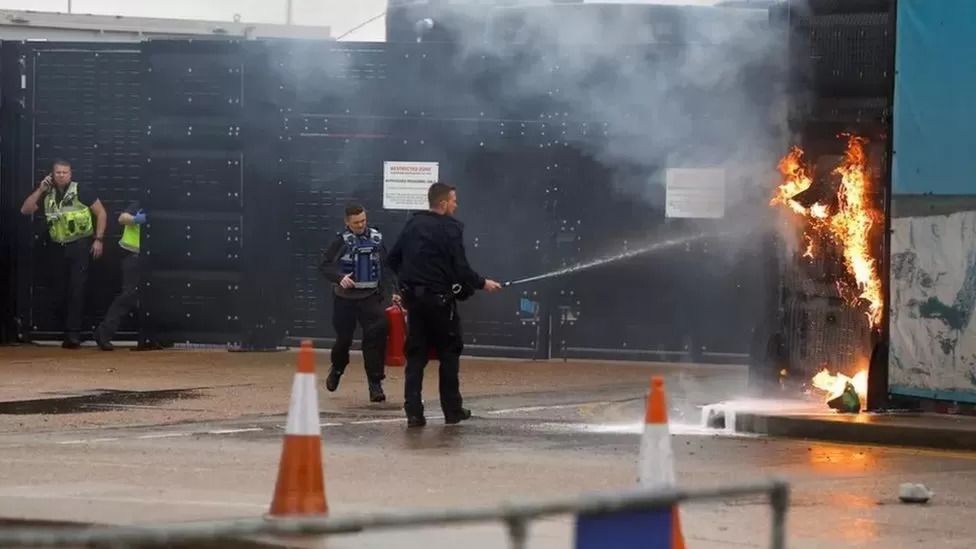 Leaders are worried about rising tensions in the wake of the fire attack at a Dover migrant centre

The council leaders also warned about the rise in far-right activity in the county, highlighting the petrol bomb attack in Dover on Sunday.

Officials said public services were under "extreme pressure from surging local demand" and the cost of living crisis, with almost 20,000 households on the social housing waiting list.

They said: "Kent's housing sector cannot absorb further asylum placements on top of these existing burdens over and above local demand."

'Unsustainable and unacceptable'

Secondary schools in Canterbury and Ashford have no year seven and nine places for local children due to the arrival of migrant children, the letter added.

And leaders called for other parts of the country to ease the burden on Kent which was a "victim of our geographic position".

They said the government's actions and decisions were "detrimentally impacting" Kent's communities, adding: "The current situation is entirely unsustainable and unacceptable."

In further criticism, the council chiefs said they were "astounded" to learn that the Home Office felt Kent should be doing more.

Ministers were implored to stop using Kent as an "easy fix for what is a national, strategic issue" and stop allocating adult asylum quotas to the county.

A Home Office spokesperson said: "The number of people arriving in the UK who seek asylum and require accommodation has reached record levels, placing unprecedented pressures on the asylum system.

"The government is working with all local authorities in England, Wales and Scotland to provide more suitable accommodation for asylum seekers and to end the unacceptable use of hotels, with more than £21 million in grant funding already been provided to local authorities to help them respond to challenges in their area."