Boris Johnson has promised that the official report into parties held in Downing Street during lockdown will be published "in full".
But the prime minister said he did not know when senior civil servant Sue Gray's findings would come out.

"We've just got to let the independent inquiries go on," he added.

Ms Gray's findings are said to be undergoing checks by lawyers and human resources experts before they can be handed to the government.

Mr Johnson has said he will make a statement to the House of Commons once he has her report.

Labour is demanding that the entire findings, including the names of those attending and organising Downing Street gatherings, be released - and that opposition parties get enough time to scrutinise them fully before they are discussed by MPs.

Labour leader Sir Keir Starmer said: "We will pursue every option to make sure that report is out in full."

The families of those who had died during the pandemic were "entitled to... the full truth from the prime minister", he added.

Separately, the Metropolitan Police have launched an inquiry into potential Covid law-breaking in Downing Street.

Mr Johnson has previously apologised for attending a "bring-your-own-booze" gathering in the No 10 garden on 20 May 2020, during the first lockdown, saying he thought it was a work event.

Reports of a surprise birthday party held for Mr Johnson in the Cabinet Room in June 2020 have also come to light.

Ms Gray has spent several weeks looking into these and other events that took place on government premises during lockdowns and other Covid restrictions.

On a visit to North Wales, Mr Johnson was asked whether the government would "publish [Ms Gray's report] in full", replying: "Of course."

The prime minister added that he stood "completely" by "what I said in the House of Commons" on Wednesday.

This appeared to refer to the exchange during a stormy Prime Minister's Questions session when Sir Keir said: "The prime minister's continual defence is 'Wait for the Sue Gray report'. On 8 December he told this House, 'I will place a copy of the report in the library of the House of Commons'.

"His spokesperson has repeatedly stated that means the full report, not parts of the report, not a summary of the report, not an edited copy. So, can the prime minister confirm that he will publish the full Sue Gray report as he receives it?"

Mr Johnson replied: "We've got to leave the report to the independent investigator, as he knows, of course when I receive it, I will do exactly what I said."

'HR confidentiality'

The stated aim of Ms Gray's investigation is to "establish swiftly a general understanding of the nature of the gatherings, including attendance, the setting and the purpose, with reference to adherence to the guidance in place at the time".

The official guidance says the "findings of the investigations will be made public", but it adds: "Following the long-standing practice of successive administrations, any specific HR action against individuals will remain confidential."

But, if required, Ms Gray has the power to "establish whether individual disciplinary action is warranted" against those involved in the gatherings.

She has referred some matters to the Metropolitan Police, whose inquiry is ongoing, as she is entitled to do if "any evidence emerges of behaviour that is potentially a criminal offence".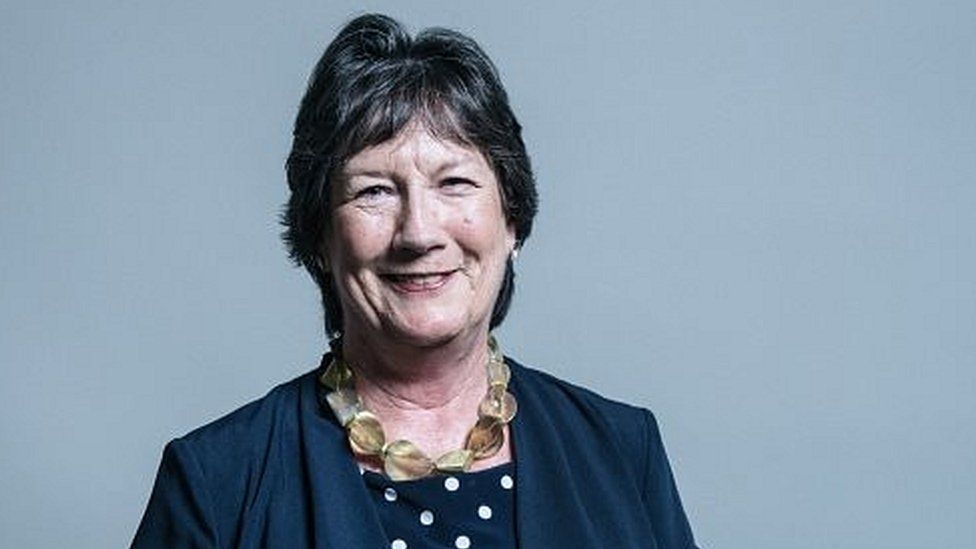 MP Pauline Latham says Boris Johnson should go if he is found to have misled Parliament

Labour, the SNP and the Liberal Democrats have all called for Mr Johnson to resign.

Some Tory MPs have done the same, but many others say they are waiting for the Gray report before deciding whether to submit letters of no confidence in him.

At least 54 of them must write to Sir Graham Brady, chairman of the backbench 1922 Committee, to set up a vote on the prime minister's future.

Conservative MP Pauline Latham told BBC Radio Derby that she and her colleagues wanted Ms Gray's report to be published as soon as possible.

"We want to get to the end of this," she said. "We want to get on with what we have to do. We need certainty."

Asked if she thought it would be necessary for the prime minister to quit to "draw a line under" the issue of Downing Street parties, Ms Latham, MP for Mid-Derbyshire, replied: "It would if he's lied, and I think he would have no choice, because if he's lied to Parliament, that's one of the rules. You do not lie to Parliament."

But Lia Nici, Tory MP for Great Grimsby, said: "People have said to me on the doorstep, '[Mr Johnson] is doing the job and we want to let him get on with doing the job'."