Tube trains could travel at slower speeds to "iron out" bumps in the track that cause excessive noise on the London Underground.

Transport for London is to trial a "self-correcting" system after spending up to £50 million on partly failed efforts to reduce the "screeching" and rumbling suffered by passengers and residents.

Five sections of the Northern line will be targeted from early next year — meaning slower off-peak journeys between Friday and Sunday.

TfL has identified 37 "hotspots" where noise levels have sparked complaints, with the worst areas including the Victoria line near Walthamstow, the Northern Line near Oval and the District line near Hammersmith.

Several initiatives have been tried, including spending £7-£10 million a year over the past five years grinding rails that have become "corrugated" as a result of train braking and acceleration. Engineers believe that the damaged rails can be smoothed by reducing speeds by between five to eight mph.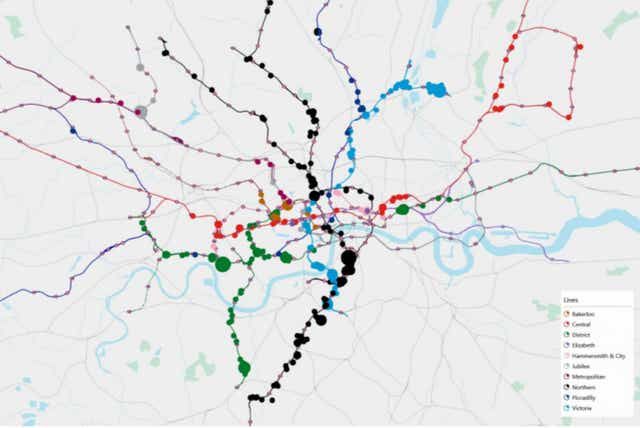 Map shows areas of noise complaints across London, by Tube line. Bigger dots indicate larger numbers of complaints.

Five sites on the Northern line are to be tested. This should have "little impact" on overall journey times, TfL believes. Duncan Weir, head of track for LU, said: "What we are trying to do is use the speed of the rolling stock. If we get it correct, it will start to self-regulate the corrugation. If we get it wrong, it will start to create significant sharp peaks."

TfL first stepped up efforts to reduce Tube noise ahead of the launch of the Night Tube in 2016. One of the "solutions" — a system of lifting the rails off the track bed using "Pandrol Vanguard" clips — was found to reduce Tube noise in homes by 10 to 12 decibels, but had the "unintended consequence" of increasing the screeching.

Pandrol Vanguard also caused the rails to become corrugated up to eight times more quickly — meaning more rail grinding was needed and the rails wore out more quickly.

TfL's aim is to keep average noise levels below 80 decibels and has been trialling a product called Delkor, a rubber compound that absorbs some of the track vibrations, but it would cost £59 million to treat all 37 hotspots.