Police have blamed loyalist paramilitaries for a security alert which led to Irish Foreign Minister Simon Coveney being evacuated from a venue in north Belfast.
He was giving a peace-building talk at the Houben Centre on the Crumlin Road, when a van was reportedly hijacked and driven to the venue.

A controlled explosion was carried out at the scene on Friday.

Police declared it a hoax, with a UVF link one of the main lines of inquiry.

"Our assessment is that these crimes were carried out by loyalist paramilitary groups. We're keeping an open mind, but one of the primary lines of investigation is the UVF," said Assistant Chief Constable Mark McEwan.

He added police were looking for anyone with information about the movements of a white Vauxhall Vivaro van, registration XJZ 7908, in the areas of Sidney Street West and Holy Cross Church.

The van had been hijacked in Sydney Street West, off the Shankill Road, sometime between 09:00 and 10:00 on Friday, police said.

"The van driver was threatened by two gunmen and forced to drive his white Vauxhall van a short distance to another street and a device was then placed in the van," Assistant Chief Constable McEwan said.

"The victim was then forced to drive the van to Holy Cross Church, Belfast.

"Just think about this, the victim believed at this point he was driving a van containing a live bomb and that his family were being threatened."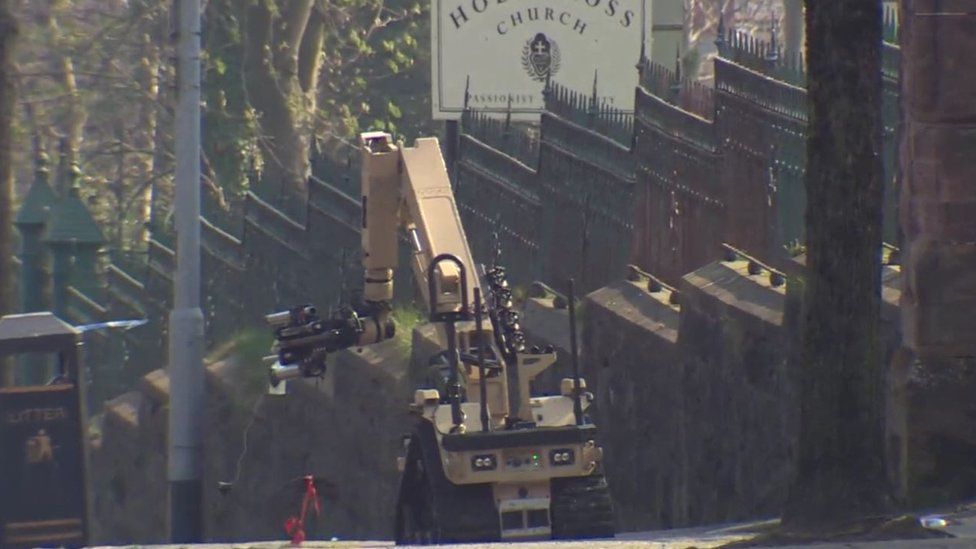 A 400m cordon was put up and a controlled explosion was carried out

The assistant chief constable said the driver of the van had been taken to hospital.

"Over 25 homes were evacuated, local schools were affected, and vulnerable residents in a local nursing home had to be moved to another part of their home," he added.

Earlier, Mr Coveney said he was "saddened and frustrated someone has been attacked and victimised in this way".

The alert also disrupted a funeral at nearby Holy Cross Church.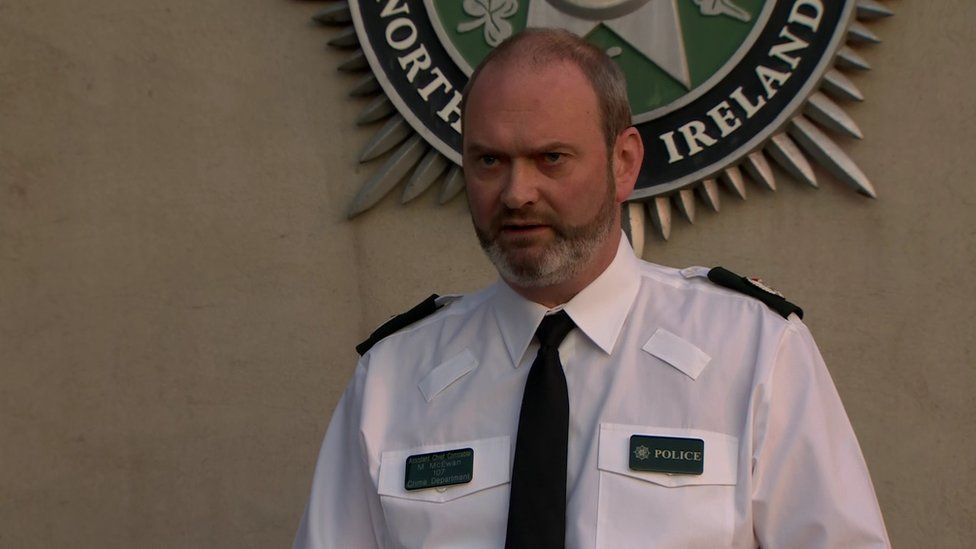 Assistant Chief Constable Mark McEwan says loyalist paramilitaries were behind the security alert

"Most shamefully, a funeral taking place in the church was disrupted, causing further grief to that family," police said.

Mr Coveney had been at the podium for just five minutes when his security officer ushered him off the stage. He apologised and left quickly.

Police had advised motorists to avoid the area and seek alternative routes.

About 100 people, including a number of politicians, were at the event.

Earlier, Fr Gary Donegan, who was hosting the Houben Centre event, said it had been distressing for mourners who were at the nearby church for a funeral.

"Whatever mindless people did what they did today, forget about the actual event itself, but there is a family grieving who now did not even have a funeral," he said.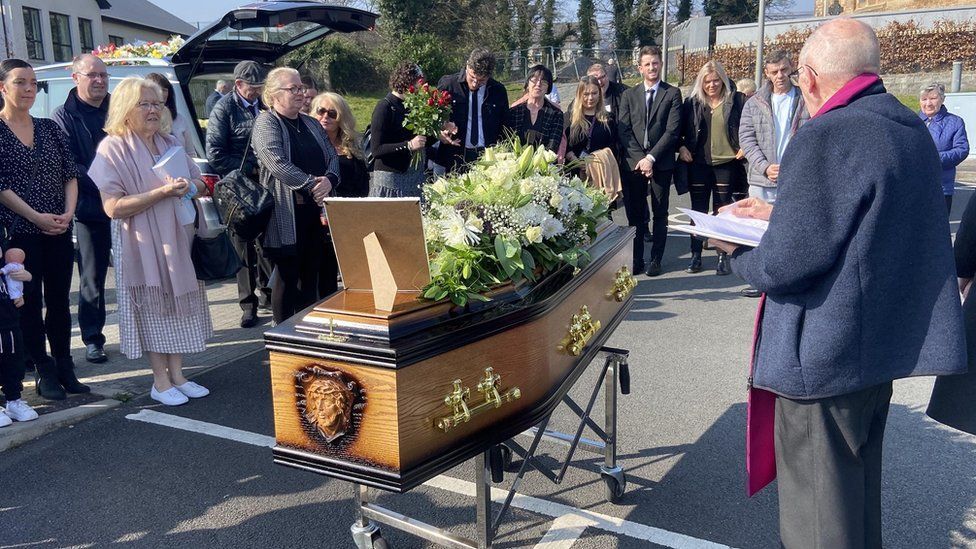 Fr John Craven with mourners in the carpark of Holy Cross Church after it was disrupted by a security alert

Sheila McDonald said she and her family were devastated by the interruption to the funeral Mass for her late mother, Bridie.

She said her 14-year-old niece, who has special needs, was particularly upset at being unable to get into the church.

"[We were] Trying to explain to her why we couldn't get into the chapel because silly men had left a dangerous object in the chapel," Ms McDonald said.

Ms McDonald said special songs had been chosen for the Mass that they were not able to hear.

'How dare anyone do this'

"There were prayers to be said by her grandchildren, so that was another moment taken away," Ms McDonald added.

"It destroyed the whole day. Because you're angry and you're hurt, how dare anyone do this.

"This shouldn't have happened in this day and age.

"I was meant to be burying my mother today, and these eejits took that very special moment away from us."

Alan McBride, who works with the WAVE Trauma Centre in Belfast, said he had been due to speak after Mr Coveney.

He told BBC Radio Ulster's Evening Extra programme that he had been looking around the room at a "who's who of the Northern Irish peace process" and people who had "taken all those risks for peace".

"My goodness what a contrast it was to the lives of the people who actually seek to destroy, to maim and to hurt people with absolutely nothing to offer," he said.

Mr McBride lost his wife Sharon in the Shankill bombing in 1993 and said today's events would have reinforced trauma for many people.

"I haven't been caught up in another bomb scare since then, so of course it takes you back to a certain time and a certain place that we all had thought we had put behind us many, many, many years ago," he added.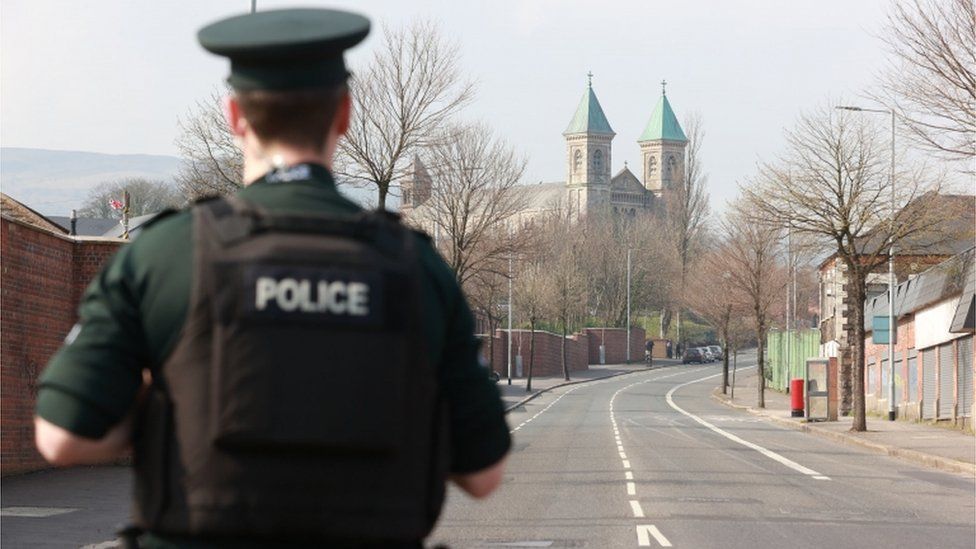 Police have continued to carry out enquiries in the area

"The trauma that that caused today, particularly to the guy that actually had to drive the van into Holy Cross Chapel - I'm thinking today about Patsy Gillespie of course, who did something similar in Derry many, many years ago and of course the bomb went off and he was killed - all of that trauma."

Prof Colin Harvey, who teaches human rights law at Queen's University in Belfast, said he had been looking forward to the opportunity to "hear from Simon Coveney about building common ground" before the speech abruptly ended.

"My view is, people need to wise up," he said.

"People want peace in this society and this needs to stop."

Democratic Unionist Party (DUP) leader Sir Jeffrey Donaldson tweeted that it was "good to see widespread condemnation of those behind the hijacking and security alert".

"Most people want to get on with their lives and have no truck with those who cling to violence," he said.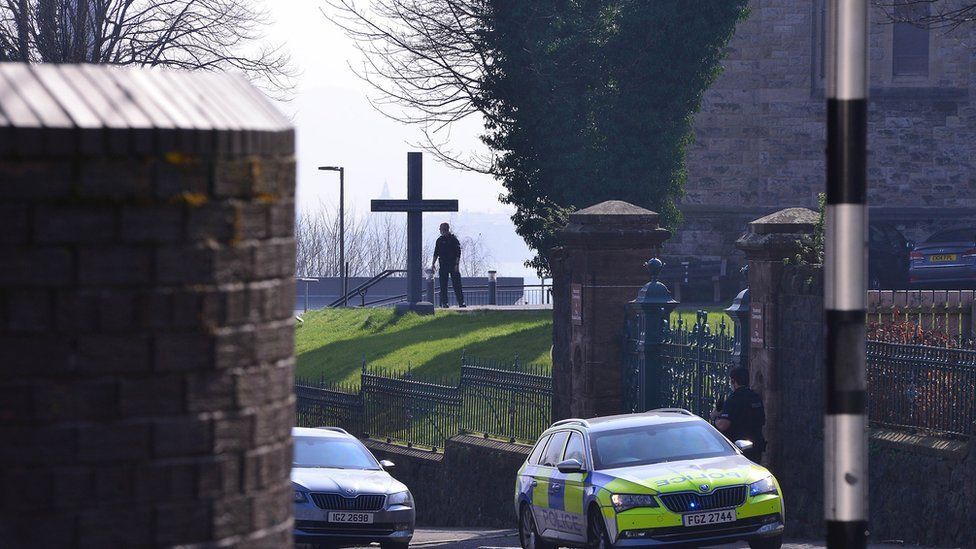 The Houben Centre is a cross-community centre and the parish centre for the Holy Cross church

Sinn Féin vice president, Michelle O'Neill, said she condemned the actions of "those involved in a security alert at an event focused on peace, reconciliation and finding common ground".

"Those determined to cause instability and disruption will not succeed," she tweeted.

"Those of us committed to peace will not be deterred."

SDLP MP Claire Hanna, who was at the event, said they were told a hijacked van, with potentially a suspicious device on board, had been found in the area.

"People are frustrated," she said.

"The irony is lost on nobody that this was an event about reconciliation, about common ground with a genuinely diverse audience of people.

"That it has been disrupted in such an aggressive way is appalling."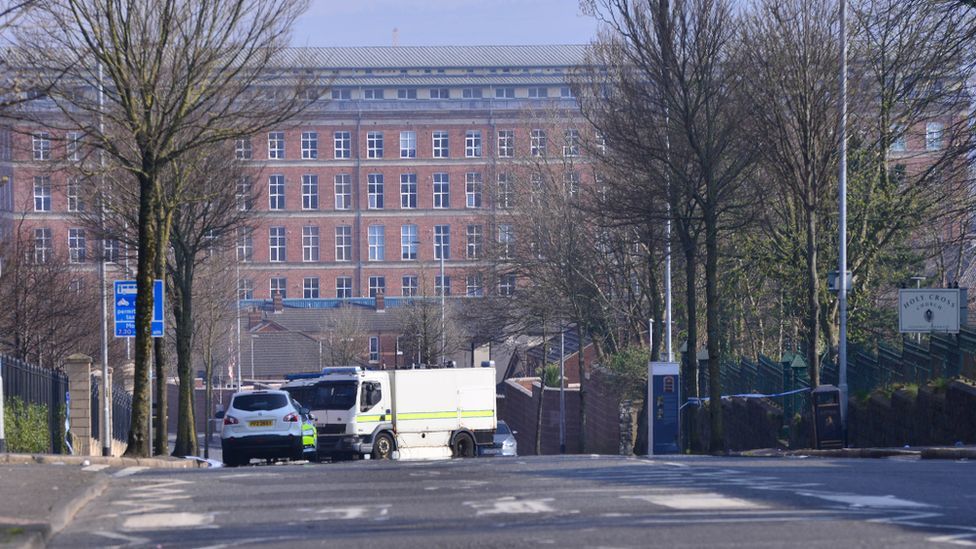 Roads around the venue remained closed on Friday afternoon

Ulster Unionist Party (UUP) assembly member Mike Nesbitt, who was also among the guests, said he was "ashamed and disgusted in equal measure at the people who did this".

"A driver going about his daily business is now traumatised, god knows how badly. What are they thinking?"

Alliance Party leader Naomi Long said those who had carried it out were "hell-bent on dragging us back to the past".

"Imagine the van driver, hijacked and forced to drive this, not knowing if the device was viable. It's abuse to put someone through such mental torture," she said.

Northern Ireland Secretary Brandon Lewis tweeted that he was in "solidarity" with Mr Coveney and all those affected.

The event had been organised by the John and Pat Hume Foundation, which was established in honour of the Nobel Peace Prize winner John Hume and his wife.

The foundation's Tim Attwood said the alert was a reminder "to everyone that there is no role in our society for violence", RTÉ reported.

The Houben Centre is located at the interface of the Ardoyne and Shankill - it operates as a cross-community centre and also the parish centre for the Holy Cross church.
The moment the Irish foreign minister was told he would have to leave the building
Sheila McDonald, whose mother's funeral was interrupted by the security alert, says her family are devastated