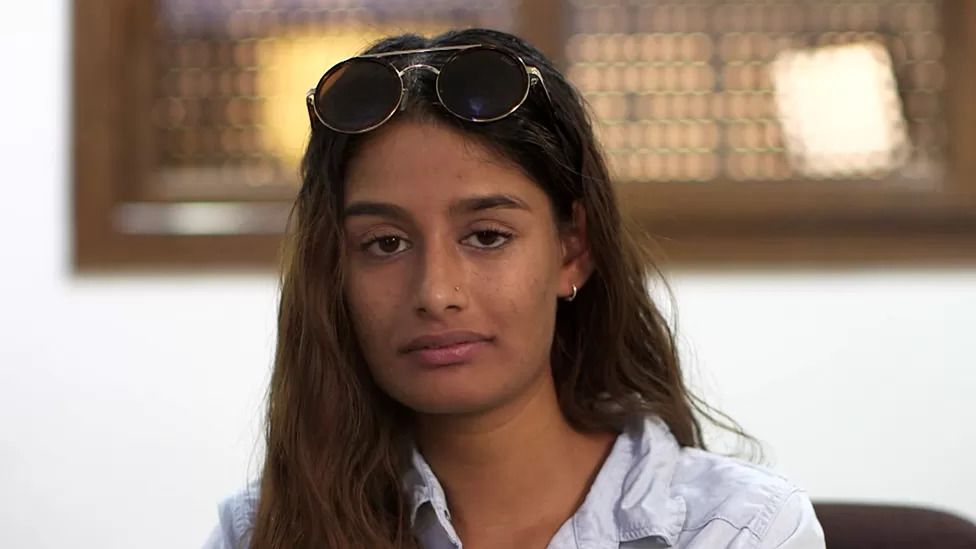 Shamima Begum: Stripping of UK citizenship was unlawful, lawyers say
The removal of Shamima Begum's UK citizenship in 2019 was unlawful, her lawyers have argued.
Ms Begum's citizenship was stripped after she travelled to Islamic State group-controlled Syria when she was 15.

In a hearing challenging the decision, her legal team said it ignored the fact that she may have been trafficked into Syria, adding she has been "banished".

The Home Office said Ms Begum was a risk to national security in 2019, and MI5 assesses she still poses a risk.

The case is being heard at the Special Immigration Appeals Commission (SIAC), which has similar standing to the High Court, and can hear national security evidence in secret if necessary.

Lawyers for Ms Begum, now 23, has argued that - based on the government's own evidence - she was trafficked into Syria for sexual exploitation in 2015.

She was a minor who had been radicalised and had travelled to Islamic State-group controlled territory without telling her family, they said.

Ms Begum ran away from home at the age of 15, with two other east London schoolgirls - Kadiza Sultana, 16, and 15-year-old Amira Abase. Once there, she married a Dutch recruit and lived under IS rule for more than three years.

She was found by the Times newspaper in a Syrian refugee camp in 2019. Ms Sultana is believed to have been killed in a Russian air strike in Syria, according to her family's solicitor, and the whereabouts of Ms Abase are unknown.

In a statement, Ms Begum's mother Asma Begum told the hearing that her world "fell apart" when her youngest daughter went to Syria, adding that she still thinks about her "every hour of every day".

Many of her belongings are still where she left them, Ms Begum's mother said, including her school blazer "still hanging on the door in the front room just as it was when she left".

Marrying Ms Begum off to an adult in Syria was part of the IS agenda, and MI5 knew this, her lawyer Samantha Knights KC told the court.

Ms Begum left IS territory in 2019. Two weeks later, her UK citizenship was stripped by the then Home Secretary Sajid Javid.

Ms Knights called this decision "hugely draconian - effectively an exile for life", while her colleague Dan Squires KC described it as "permanent banishment" from the UK.

The lawyers said the government should have considered whether she had been trafficked into IS territory before deciding to take away her citizenship.

They also argued the Home Office had not properly considered the effect taking away Ms Begum's citizenship might have on the wider Muslim community and other minorities in the UK. Mr Squires said for some people British citizenship is somehow "conditional on their good behaviour".

The legal team also suggested that Mr Javid had "made up his mind" to take away the citizenship before seeing all the official documentation.

In a written opinion produced as part of Ms Begum's case, MI6's former director of counter-terrorism said the UK government's approach to Ms Begum had been "fundamentally misguided".

Richard Barrett and Paul Jordan, head of responding to violent extremism at the European Institute of Peace, said that from a national security perspective, refusing to repatriate people in camps in Syria "is likely to be significantly more dangerous" than repatriating them and subjecting them to prosecution, rehabilitation and reintegration.

Lawyers for the Home Office will make their legal submissions on Thursday - the fourth day of the five-day hearing.

But in written submissions the Home Office said: "MI5 assessed that the best way to mitigate the threat posed to national security by Ms Begum was to deprive her of her citizenship".

They went on to say: "For completeness and for the avoidance of doubt, the security service continue to assess that Ms Begum poses a risk to national security."

The decision to take away Ms Begum's citizenship was made soon after she re-emerged from territory controlled by the Islamic State group as its collapsed. MI5 assessed that she had only fled to save her unborn son, after her two other children had died, rather than because of a move away from IS ideology.

In their written arguments, the Home Office lawyers concluded that this was "not a case about trafficking", and that Mr Javid had considered Ms Begum's age and the circumstances of her travel to Syria when making his decision.