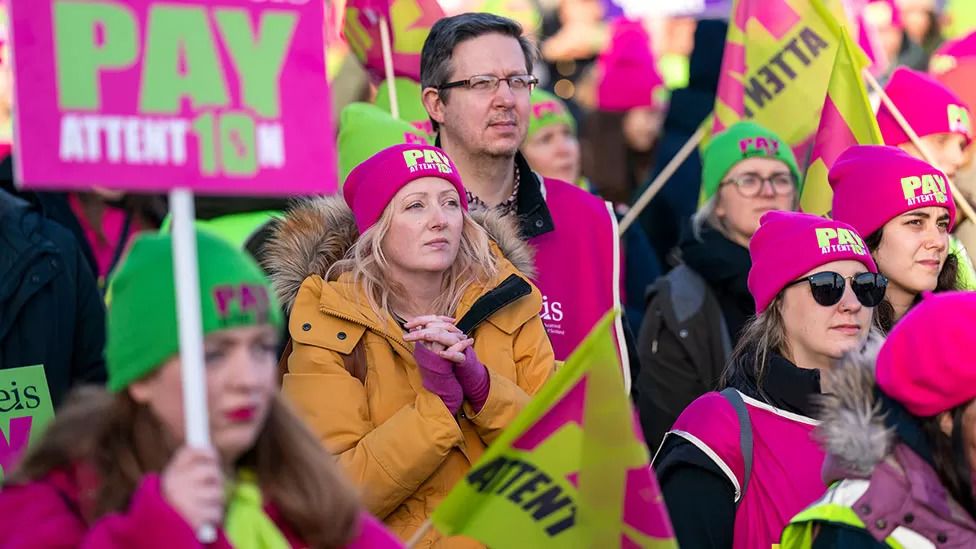 Scottish teachers call off strikes after pay offer
Scottish teachers are to suspend their strike action after receiving an improved pay offer.
Unions will now consult their members on the proposal, which would give them a 14.6% pay rise over 28 months.

Andrea Bradley, the general secretary of the EIS - the largest union - said they would recommend that members accept the offer.

Targeted strike action in specific Scottish parliament constituencies had been due to take place next week.

EIS general secretary Andrea Bradley told BBC Scotland that those targeted strikes would be cancelled.

But she said future regional strikes - 20-day wave of rolling strikes beginning on 13 March - would depend on the outcome of the week-long ballot.

The proposal involves a 7% rise backdated to last April, a further 5% this April and another 2% in January.

Ms Bradley said: "The salaries committee decided overwhelmingly to put the offer that came across late this afternoon to members with the recommendation to accept.

"The executive committee decided to suspend the strike campaign while members are being balloted."

The ballot was due to open on Friday evening and run until 10:00 on 10 March.

"It's absolutely right to point out that this offer doesn't represent the achievement of all of our aims, but we have been clear for some time that any negotiation was going to feature an element of compromise," Ms Bradley said.

"We do think that this offer marks an improvement."

Teachers had originally been demanding a 10% increase this year, with the dispute seeing almost all schools in Scotland being closed by a series of strikes in recent weeks.

The new offer follows intensive talks earlier in the week between the EIS, Education Secretary Shirley-Anne Somerville and Deputy First Minister John Swinney.

Speaking to the BBC before the ballot was agreed, Ms Somerville said she hoped members would take the offer very seriously.

She said: "During all negotiations you need to find parts where we can compromise and the areas we've all compromised has came about now.

"No one wants to see disruption in their schools, we would have all liked to have seen this finishing earlier - but we hopefully are at the conclusion to this."

She later added: "This is the best and final offer possible and recognises the invaluable contribution teachers make to the lives of our children and young people."

Scottish Labour's education spokesperson Michael Marra said the progress was welcome but long overdue.

He added: "The SNP have wasted months playing petty games while schools were engulfed by strike chaos and teachers were forced to fight for a fair deal."

Earlier Stephen Kerr, of the Scottish Conservatives, criticised the role of the education secretary in the dispute.

"After months of inaction from Shirley-Anne Somerville, which has done untold damage to our kids' education, we can only hope this dispute is finally nearing an end."