First fall in deaths since 2013 amid fears catastrophic impact of drugs means pool of people most at risk of dying has shrunk
The growing epidemic of drug-related deaths in Scotland may finally have peaked, data suggests, with experts fearing that one reason could be that the pool of people most at risk of dying from overdoses is shrinking.

Scotland has long had the highest drug-related death rate of any country in Europe.

According to data from the National Records of Scotland, in 2020 there were a record 1,339 drug-related deaths, with figures for 2021 showing a decrease of just nine from the year before. While the number of deaths was still five times more than those recorded in 1996, the small decline was the first drop in drug deaths since 2013.

Now experts say further data suggests the peak of the epidemic may have passed, although the crisis remains severe.

According to the latest figures from the Rapid Action Drug Alerts and Response (Radar) quarterly ​report, the number of incidents in which Scottish ambulance services had to administer the drug naloxone to reverse the effects of opioid use was lower in 2022 than in the previous year, and appears to have stabilised.

The number of drug-related hospital admissions has also declined and stabilised. According to the Radar figures, between July and September 2022 there were 2,024 such admissions compared with 3,643 over the same time period in 2020 and 3,033 in 2021.

"The long-term decreasing trend in drug-related hospital admissions observed since June 2021 differs markedly from previous years," the report notes.

The picture around suspected drug deaths, drawn from police figures, is more complicated. While a large number were recorded in December 2020, there was a decline until May 2021, followed by a rise and fall that summer.
The average number of suspected drug deaths subsequently remained relatively stable, before rising during October and November 2022.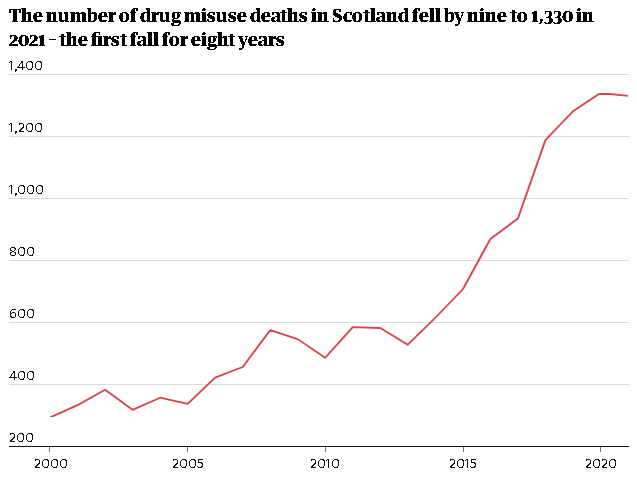 Source: National Records of Scotland
"The optimistic drop between June and September 2022 has regressed a little with rates increasing again towards the end of the year," said Dr Andrew McAuley, an expert in Scotland's drug problems and senior research fellow with Glasgow Caledonian University.
But he said the situation around drug-related deaths overall was beginning to look fairly stable. "The number of drug deaths in Scotland still remains unacceptably high, but we are moving to a point where we can probably say we are past the peak," he said.
Among possible explanations, McAuley said that polydrug use patterns were evolving, with incidents involving etizolam – a "benzo" – decreasing in recent months, while there had been a concerted drive over the past few years to improve standards in treatment for drug dependance, including increasing capacity in residential rehabilitation facilities and increasing the number of alternatives to methadone, in particular long-acting injectable buprenorphine.
There has also been a big effort to widen prevention initiatives, including broadening the supply of naloxone not only to people at risk of overdose, but also their friends, family and any professionals they may have contact with.
McAuley said there could be another reason for a stall in drug-related deaths. "The drug death epidemic, like any epidemic, could only last so long in a country as small as ours," he said.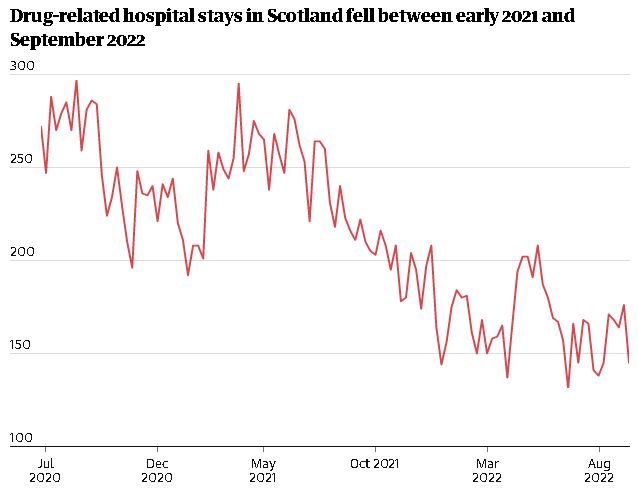 Source: Public Health Scotland

Put simply, the catastrophic impact of drug deaths over the past 10 years means the pool of people most at risk of dying from their use has shrunk. "However, concerted action remains essential to helping it end as soon as possible and the Scottish drug death epidemic has gone on for far too long," said McAuley.

Official statistics show that 65% of people who died from drug misuse in Scotland in 2021 were aged between 35 and 54, with the average age of death from drug misuse increasing from 32 to 44 over the past 21 years. The figures suggest that many drug deaths are among the "Trainspotting generation" – a reference to people who used drugs in the mid-1980s, the era depicted in the 1993 Irvine Welsh novel and, later, film of the same name. However, experts have emphasised that younger groups are also heavily affected, with the highest rate of deaths – 64 per 100,000 people – recorded among those aged 35-44.

In 2021, the Scottish government created the post of minister for drugs policy, and announced an additional £50m a year for the next five years to improve and increase services for people affected by drug addiction as part of a "national mission" to tackle drug-related deaths.

However a report from Scotland's drug deaths taskforce published last July described the £140.7m assigned to tackling alcohol and drugs in 2021-22, which includes the national mission funding, as "woefully inadequate for this level of public health emergency".

Scotland's first minister, Nicola Sturgeon, who resigned last week, issued an apology in 2020 after criticism of the escalating crisis. She remained under pressure on the issue, with questions raised at her resignation press conference about whether she wished she had been more successful in tackling areas such as drug deaths.

Not everyone is convinced that the tide is turning in Scotland, with Dr David Walsh, of the Glasgow Centre for Population Health, voicing doubts. "I just think it is too early to say whether this is the start of a downward trend [in drug-related deaths]," he said.

Walsh said many reports had looked into why Scotland had such a high level of drug-related deaths, revealing a complex mix of reasons including longstanding deprivation, availability and affordability of drugs, and – crucially – the impact of austerity.

But, said Walsh, action on recommendations for effective interventions had been stymied by political rows, including attempts to establish drug consumption rooms in Scotland, an initiative opposed by Westminster. "It's not like it's a mystery what's going on – it is well understood," he said. "The other side of it then is: what you do about it."