Teachers across Scotland are beginning another two days of strike action as their pay dispute enters a fifth month.
Almost every state primary and secondary school in the country will be closed by the 48 hour strike.

By the end of this week, many pupils will have lost at least five days of schooling to the industrial action, which began in November.

Teachers' unions want a 10% pay increase but the Scottish government says their demands are unaffordable.

Pupils in the constituencies of senior politicians have been worst affected. Targeted strike action by members of the Educational Institute of Scotland (EIS) last week closed schools for three additional days.

The same areas, which include those represented by First Minister Nicola Sturgeon and her deputy John Swinney, face another three days of strikes next week.

And a further 20 days of regional rolling strikes - affecting schools across the country - are planned from 13 March.

Andrea Bradley, the general secretary of the EIS, said members remained "absolutely resolute in their determination to secure a fair pay settlement" from the Scottish government and local authority employer Cosla.

Education Secretary Shirley-Anne Somerville said the continued disruption was "completely unacceptable" and repeated her call for unions to "resume pay talks urgently" and suspend the action.

What were teachers offered?

Teachers were offered a pay deal worth 11.5% in total over two years.

This included a 6% rise for 2022-23, backdated to last April, and a 5.5% increase for 2023-24.

The offer also raised the cap on the maximum rise from £60,000 to £80,000 per year, which only affects a small number of the best paid in the profession, including some headteachers.

A majority of members of the Scottish Secondary Teachers' Association (SSTA) and Association of Head Teachers and Deputes Scotland (ADHS) unions were prepared to accept the offer.

But it was turned down by the EIS and the NASUWT union, whose members will also be on strike on Tuesday and Wednesday.

The 11.5% offer across two years has now lapsed and unions are hoping to receive an improved deal.

But the Scottish government has repeatedly said demands for a 10% increase are "unaffordable".

Other than a few small schools on islands, virtually every state school in Scotland will be closed.

Ms Bradley, of the EIS, said the latest two-day national strike was a "further clear signal that Scotland's teachers are not prepared to accept the deep real-terms pay cut that is being offered to them".

She said support for the ongoing action "remains very strong", with more teachers out on picket lines and "a significant number" of new applications for union membership in the run-up to the latest action.

The dispute would only be settled by "appropriate negotiations", Ms Bradley added.

'Anger and frustration'

Dr Patrick Roach, general secretary of the NASUWT, said his members' decision to reject the revised pay offer and continue industrial action reflected "the level of anger and frustration towards ministers and employers at their refusal to offer teachers a real-terms pay rise".

"Teachers feel taken for granted by the Scottish government and [council body] Cosla who seem to expect them to be satisfied with yet another year of pay erosion as their workloads become steadily more demanding," he added.

The schools targeted in specific areas last week face a further three days of action from 7 March if the dispute is not settled.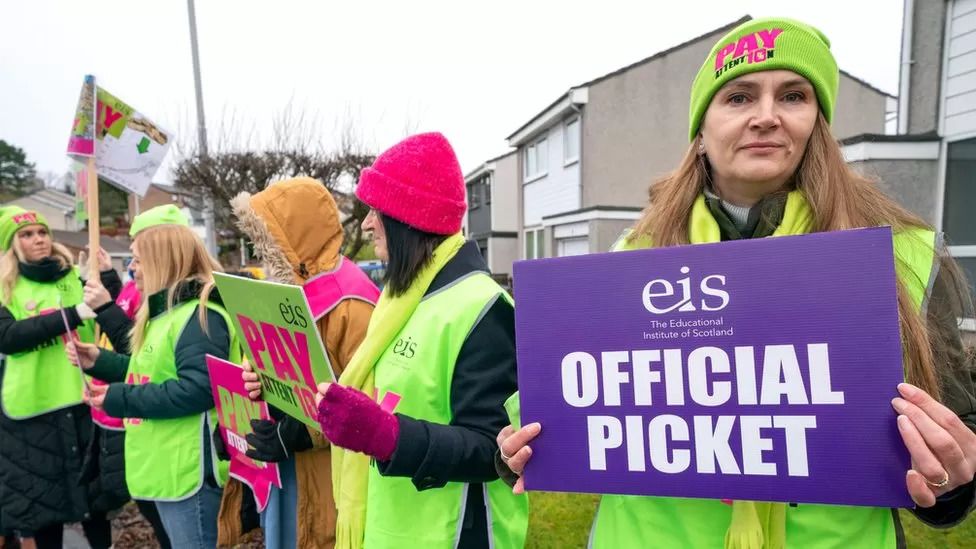 Strike action has targeted the constituency of Education Secertary Shirley-Anne Somerville

Those were in the constituencies of Nicola Sturgeon (Glasgow Southside), John Swinney (Perthshire North), Education Secretary Shirley-Anne Somerville (Dunfermline) and the East Dunbartonshire Council area of Scottish Greens education spokesperson Ross Greer.

The action will also target the ward of Dumfries and Galloway councillor Katie Hagmann, the resources spokesperson for council umbrella body Cosla.

Ms Somerville said pupils in some areas were being hit particularly badly by targeted action, "simply because of where they live".

She said five pay offers had now been put to the unions and the latest would have seen a £5,000 increase for most teachers in April.

It was "really disappointing", she added, that the EIS had rejected the offer "outright, without even giving their members a chance to consider it".

The education secretary said she was offering the unions a meeting with Deputy First Minister John Swinney or herself "each and every day this week, if necessary".

She added the Scottish government was "absolutely determined" to resolve the dispute and there was an opportunity this week to "intensify discussions and negotiations to reach a settlement".

A further 20 days of regional rolling strikes across Scotland are scheduled between 13 March and 21 April, with each school being hit twice.