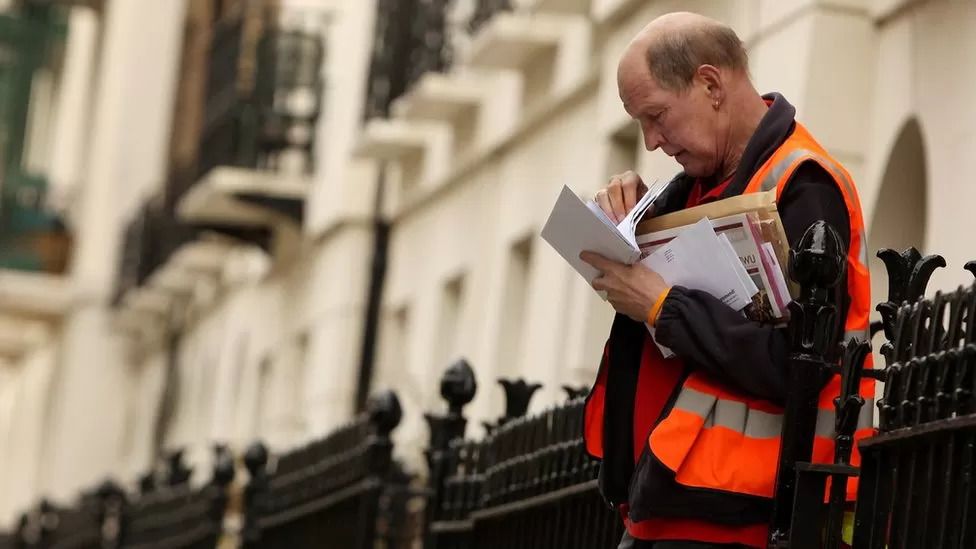 Royal Mail workers to strike again on 16 February
Royal Mail postal workers will walk out again later this month in an ongoing row over pay and conditions, the Communication Workers Union (CWU) said.
About 115,000 workers will strike from 12:30pm on Thursday 16 February, until 12.30pm on Friday 17 February.

Mail deliveries are likely to be disrupted again, as seen during similar strikes last year in the run-up to Christmas.

A spokesperson for Royal Mail said the CWU's action was "misguided".

The fresh action comes as workers in various sectors seek pay rises in line with the rising cost of living.

Royal Mail workers staged several strikes at the end of last year, in a move which cost the firm millions at one of the busiest times of the year for parcel deliveries.

As the dispute over pay and conditions rumbles on, the CWU's Dave Ward said that Royal Mail management had shown a "complete lack of integrity".

He added that recent proposed changes by Royal Mail effectively remove the right of the union to negotiate at a local level and "viewed as a real step towards the derecognition of the union".

"Our members will not just sit back and watch as their working lives are destroyed by a company leadership hell-bent on ripping up historic arrangements that protect their rights and give them a voice through their union," Mr Ward said.

A Royal Mail spokesperson said: "We entered facilitated talks... in good faith, believing that the CWU were serious in their claim that they wanted a resolution.

"In announcing further damaging strike action, the CWU have shown they are not interested in resolving this dispute and continue to focus on damaging our business further."

Royal Mail has offered a pay deal which it says is worth up to 9% over 18 months. However, the CWU says its members want more, given that inflation - the rate at which prices rise - is at a record high.

The union also objects to Royal Mail's proposed changes to working conditions, including the introduction of compulsory Sunday working.

Royal Mail's management says these changes are necessary in an increasingly competitive deliveries market.

"We need to agree on changes to make our business more competitive. That is the only way to secure well-paid, long-term job security for our people," a Royal Mail spokesperson added.

Royal Mail recently restarted the export of parcels after recovering from a cyber-attack in January.

Separately, the firm's chief executive Simon Thompson will be quizzed for a second time by MPs after "hundreds" of complaints were made about the accuracy of evidence he gave to a committee last month.

The Business, Energy and Industrial Strategy committee said doubts were raised after Mr Thompson denied the firm tracked workers' productivity through their handheld computers, and also questioned his denial that Royal Mail prioritised parcels.