Wages are rising at their fastest rate in more than 20 years, but still lag well behind the soaring cost of living.
Regular pay rose by 5.7% in the year to September, the fastest growth since 2000 excluding the pandemic, when people got big rises when returning to work from furlough.

However, when adjusted for rising prices, wages fell by 2.7%.

The cost of living is currently rising at its fastest rate in almost 40 years, largely due to the war in Ukraine.

Energy and food prices have shot upwards, leaving many people struggling to pay their bills.

ManpowerGroup, one of the UK's biggest recruiters, told the BBC that the gap between wages and prices was "putting more and more pressure on households".

The UK unemployment rate rose slightly to 3.6% in the three months to September, up from 3.5% in August, the Office for National Statistics (ONS) said.

However, while this is near a 50-year low, the Bank of England has warned that unemployment will nearly double by 2025 as the UK goes through a tough recession.

On Thursday, Chancellor Jeremy Hunt will set out his plans to get the economy back on track, with spending cuts and tax rises expected.

The Times reported on Tuesday that Mr Hunt and the prime minister will announce a significant rise in the national living wage and target new cost-of-living payments at the poorest households.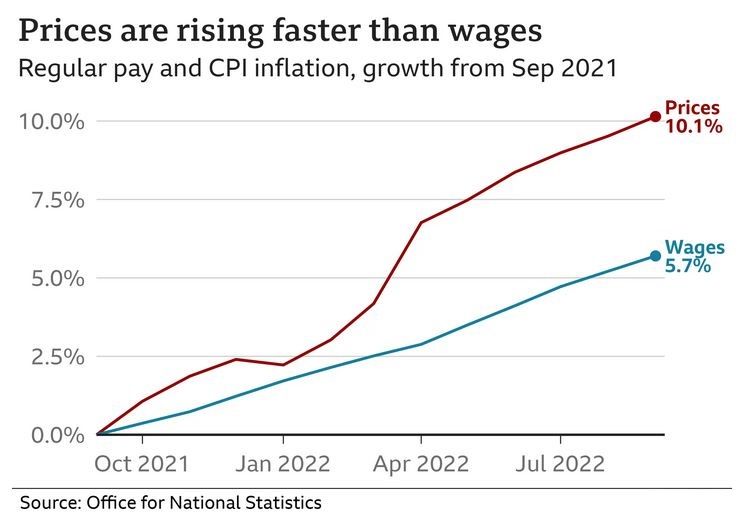 Commenting on the latest figures, Mr Hunt said he understood "people's hard-earned money isn't going as far as it should".
"Tackling inflation is my absolute priority and that guides the difficult decisions on tax and spending we will make on Thursday."
But Labour's shadow chancellor, Rachel Reeves, said the UK was paying for "12 years of Tory economic mistakes".
"Real wages have fallen again, thousands of over-50s have left the labour market and a record number of people are out of work because they're stuck on NHS waiting lists or they're not getting proper employment support."
With job vacancies still near a record high and unemployment low, most employers are being forced to put up wages to attract the workers they need.
However, in the year to September, the ONS said pay growth was much stronger in the private sector than in the public sector, at 6.6% versus 2.2% - the largest gap seen outside of the pandemic.
The Resolution Foundation, a think tank focused on improving the living standards of those on low-to-middle incomes, said this was "unsustainable" as it made it harder to recruit and retain public sector staff.
"With public services already stretched and job vacancies already at record highs, it will be hard for the chancellor to deliver a further period of sustained public sector pay restraint," said its economist Louise Murphy, referring to Thursday's Autumn Statement.
The proportion of people neither working nor looking for work also rose again, the ONS said.
Older workers continued to leave the labour market, with the number classed as long-term sick increasing to a fresh record. There was also a drop in the proportion of younger people working, possibly due to recent strikes.
NHS nurses, Royal Mail staff, university lecturers and railway workers have all threatened walkouts as they seek pay rises that are closer to the soaring rate of inflation.
"August and September saw well over half a million working days lost to strikes, the highest two-month total in more than a decade," said Darren Morgan, director of labour and economic statistics at the ONS.
'I'm losing care staff to Amazon'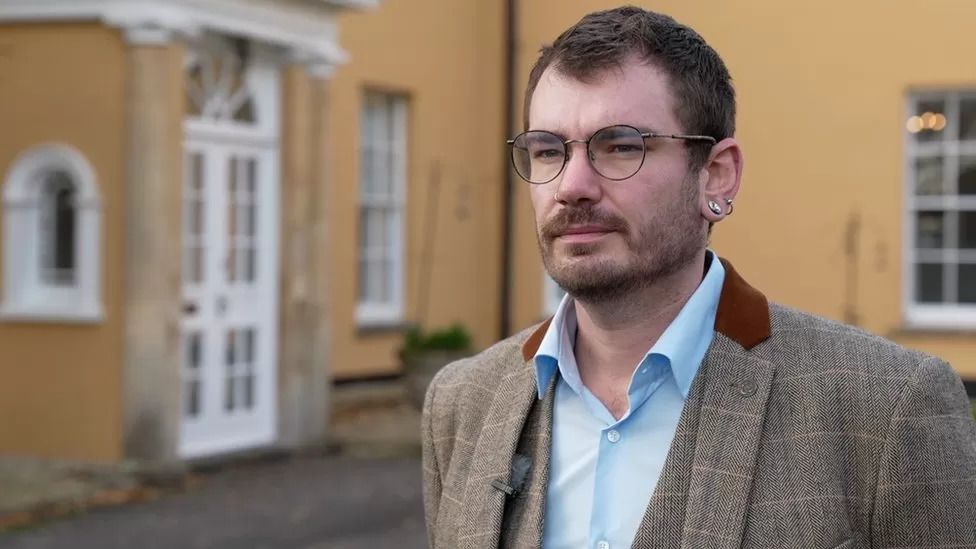 Josh Hawker says his business has limited scope to boost salaries

Josh Hawker, a director at care home company AbleCare, says the firm has been struggling to recruit for a few months now, despite its overall wage bill rising by 10%,

AbleCare, which runs six care homes around Bristol and South Gloucestershire, is also finding it difficult to retain staff, with carers tempted away by high pay offers outside of the sector that the business cannot compete with.

"I'm getting really fed up with reading resignation letters that say: 'I love my job, I don't want to go, I love looking after the residents but I have to put my family and myself first,'" Mr Hawker says.

"They're getting offers of 20 or 30% higher than we can possibly pay, to go and work at places like Amazon and the big supermarkets. What can you say to them? What can you say other than 'fair enough'?", he says.

The company has done what it can to raise pay, and has started to offer health insurance as an incentive for staff. But facing rising costs, the business has limited room to boost salaries.

Neil Carberry of the Recruitment and Employment Confederation trade group said the latest figures showed the "exceptional growth" in demand for new workers seen this year was at an end.

But he added: "Despite increased levels of employer caution, vacancies are still at historically high levels - it is still a good time to be looking for work. Unemployment remains at record lows, while employment is still below February 2020 levels."

Gareth Vale, director of operations at ManpowerGroup, said falling real-terms wages were hurting households.

"With average total pay... not keeping pace with inflation, some people are looking to work more hours or take on an additional role to supplement incomes to keep pace with rising costs. Employers will need to keep an eye on this in terms of staff wellbeing and the impact it could have on overall productivity and growth."