Ukraine's first lady Olena Zelenska has met the Princess of Wales ahead of the funeral of Queen Elizabeth II.
Sunday's audience at Buckingham Palace took place shortly after Ms Zelenska visited Westminster Hall to see the Queen lying in state.

World leaders and dignitaries have been been arriving into London ahead of the funeral of the late monarch on Monday.

US President Joe Biden also saw the lying in state and said the "world is better" because of Queen Elizabeth.

The Queen is lying-in-state until Monday morning, and people have been queuing for hours to see the coffin.

Ms Zelenska's visit to the UK comes after her husband, President Volodymyr Zelensky, signed a book of condolence for the Queen at the British embassy in Kyiv.

The UK's ambassador in Kyiv, Melinda Simmons, said she was "deeply honoured" by the president's gesture "given all else that is happening in [Ukraine] at this time".

Ms Zelenska previously met Catherine and Prince William during an official visit to the UK in 2020 with her husband.

Large crowds applauded as President Biden and his wife Jill drove through the gates into the Houses of Parliament to see the Queen's lying in state.

President Biden said Britons "were fortunate to have had her for 70 years - we all were".

He also joined other world leaders in signing a book of condolences at Lancaster House.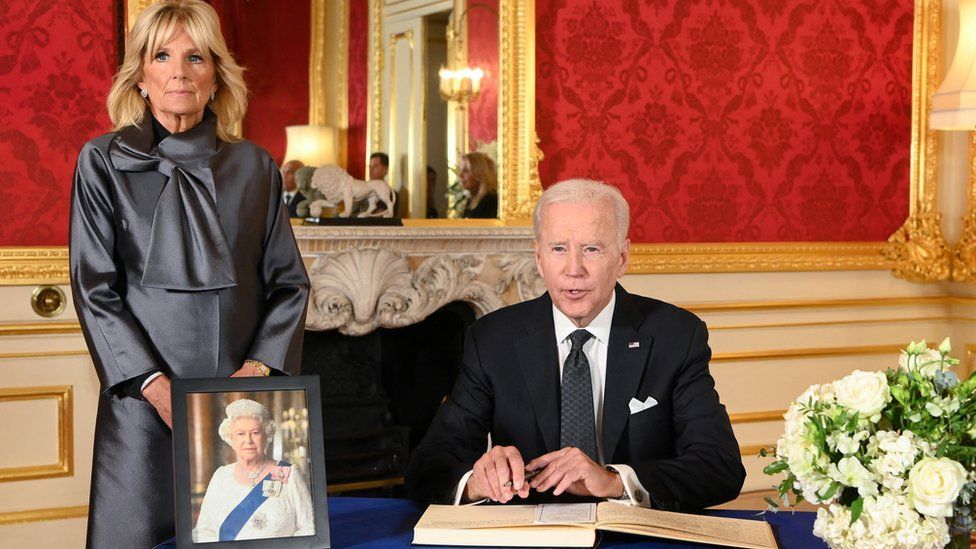 US President Joe Biden signed a book of condolence at Lancaster House

Leaders from across the Commonwealth, of which the Queen served as head for the entirety of her reign, will also attend the funeral, including Canada's Justin Trudeau, New Zealand's Jacinda Ardern and Australia's Anthony Albanese.

Other world leaders to have accepted invitations to the funeral include Irish Taoiseach Micheal Martin and President Michael Higgins, German President Frank-Walter Steinmeier, Italian President Sergio Mattarella and French President Emmanuel Macron.