Prince Harry has warned the United Nations general assembly of a "global assault on democracy and freedom".
The Duke of Sussex appeared to include in that the overturning of abortion rights in the US, where he now lives.

He spoke of "the rolling back of constitutional rights here in the United States".

At a UN event honouring Nelson Mandela, Prince Harry also highlighted the "havoc" of climate change and the "horrific war" in Ukraine.

"How many of us feel battered, helpless, in the face of a seemingly endless stream of disasters and devastation?" said Prince Harry, in his keynote speech in New York.

"This has been a painful year in a painful decade," said the duke, in a sombre address to the UN.

Along with the global damage caused by the pandemic, climate change and the Ukraine war, Prince Harry warned of the damage of misinformation, which he said was "weaponising lies".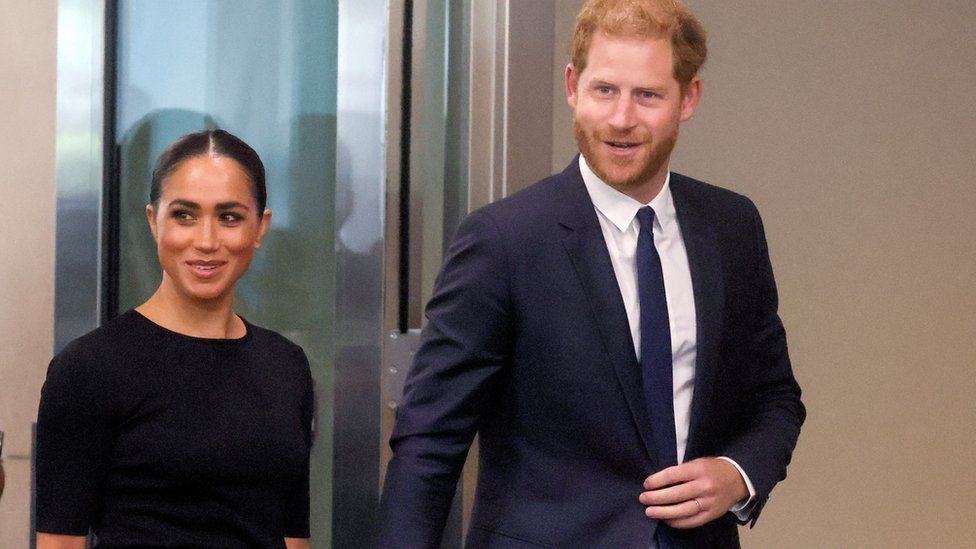 Meghan accompanied Prince Harry to the UN building in New York for his speech

He mentioned the "rolling back of constitutional rights", which seemed to refer to the US Supreme Court's ruling last month that there was no constitutional right to abortion in the United States.

Prince Harry, who was at the UN building in New York with his wife Meghan, Duchess of Sussex, said climate change would mean more extreme weather "wreaking havoc on our planet".

"Our world is on fire again. And these historic weather events are no longer historic. More and more, they are part of our daily lives, and this crisis will only grow worse," said the duke.

He called on representatives at the UN to provide a "daring, transformative" response, but warned of the barrier of "powerful interests".

Such "multiple converging crises" were creating a sense of injustice, said the duke, in which "ordinary people around the world are experiencing extraordinary pain".

The duke's address marked Nelson Mandela International Day, a day celebrating the legacy of the South African leader, who spent 27 years in prison for his opposition to apartheid.

Prince Harry said he had a photograph on his wall of Nelson Mandela with his mother, Diana, Princess of Wales, taken in Cape Town in 1997, which had been given to him by the late Archbishop Desmond Tutu.

He described the former President Mandela, who died in 2013, as a "man who had endured the very worst of humanity, vicious racism and state-sponsored brutality".

The prince said that Nelson Mandela remained a great inspiration and an example of resilience and optimism, hailing him as "not only a man of conscience, he was a man of action".