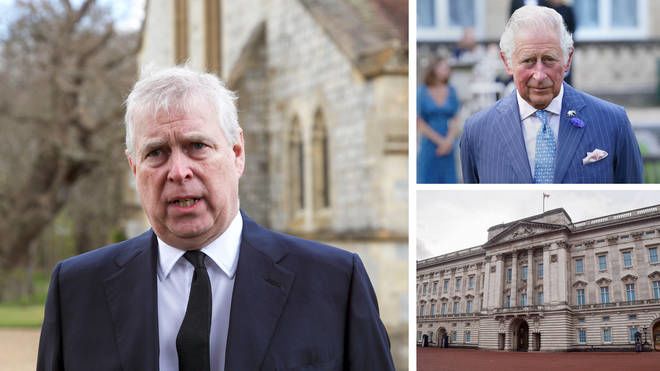 Prince Andrew has been 'thrown out' of Buckingham Palace by King Charles and must look for somewhere else to live in London
Prince Andrew has been told 'there is no longer any place for him at Buckingham Palace' and must look for a new place to live if he wants to stay in London.
A £369 million, ten-year long renovation is under way at the Palace, which includes Andrew's suite, known as the Chamber Floor.

It's the latest blow to be dealt the Duke of York, who also had his Buckingham Palace offices closed down last year.

"The King has made it clear that Buckingham Palace is no place for Prince Andrew," a royal source told The Sun.

"First his office closed last year and now his sleeping quarters.

"Andrew loved having a suite at Buckingham Palace where he was not only set up for marital life with Sarah Ferguson but used it as a bachelor's pad after his divorce.

"He brought back a string of new girlfriends to his home in the Palace — even model Caprice. A bachelor's flat in St James's Palace doesn't have the same allure for a single man."

It comes amid rumours Prince Andrew has plans to launch a £10m legal challenge against Virginia Giuffre after he settled a case with her over her sex claims.

The Duke of York, who was stopped from using his HRH title after reaching a reaching the settlement with Ms Giuffre last year, has always denied her claims and did not accept culpability.

It is expected he will argue that an infamous photo showing him standing with Ms Giuffre and Ghislaine Maxwell is fake.

The prince has been given renewed hope after Ms Giuffre, 38, withdrew separate sex abuse allegations against lawyer Alan Dershowitz, after saying she "may have made a mistake".

A royal source said: "Andrew has always insisted he is innocent and finally wants to prove it in a US court.

"He was pressured into settling the case to avoid overshadowing the Platinum Jubilee and has paid a heavy price, personally and professionally."

The cost of Prince Andrew's settlement with Ms Giuffre is not known, though reports suggest it was around £3million.

The duke could use money he reportedly inherited from the Queen to fund his legal challenge, as well as from the sale of his Swiss ski chalet.

US lawyers told the Mirror, however, that Andrew can "forget" about the legal challenge.

Lisa Bloom, who represents several of Jeffrey Epstein's victims, said it is "not going to happen".

She said: "Prince Andrew signed his name to a settlement. And now he wants out? Forget it. Not going to happen. Nor should it, because the pain he would inflict on Virginia."