A number of towns in rural mid Wales are holding Pride events for the first time.
The aim is to to celebrate the lives of lesbian, gay, bisexual, trans and queer people who live in the countryside.

It is 50 years since the Pride movement began in London and its parades now attract thousands every year.

But these smaller events want to increase visibility of LGBTQ+ people in rural areas and tackle loneliness and isolation.

Ivy Taylor lives in Llandrindod Wells, Powys, and said she did not realise being trans was even possible while she was growing up.

She only knew that she felt alone, and had to leave.

"[There are] so few trans people in this area, who are living openly and authentically that I almost didn't realise that it was a possibility, that it was something I could do, that there was a more authentic version of myself that existed that I could embrace," she said.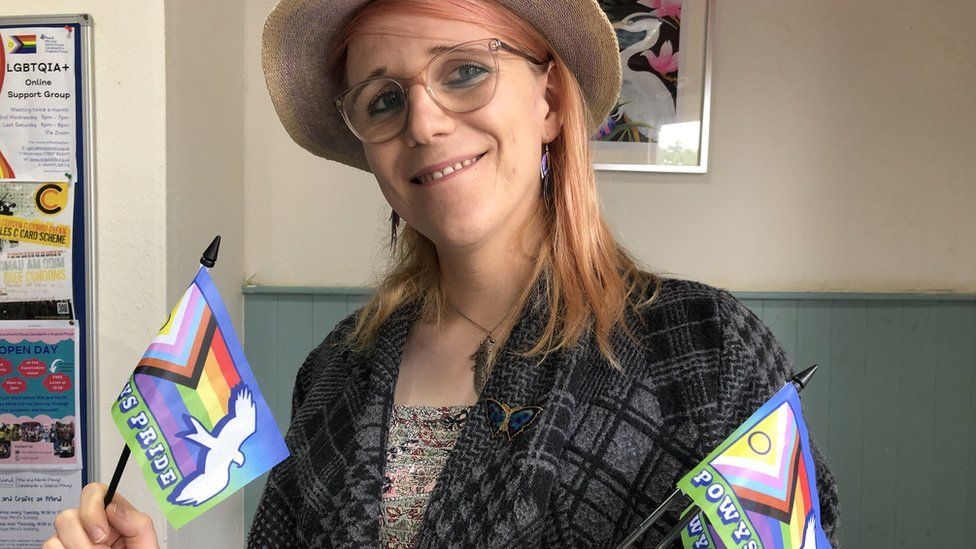 Ivy Taylor said she doesn't believe rural areas are homophobic, there just aren't enough people to build communities

Living in Brighton for several years helped her discover who she really was. But she wanted to return to her roots in rural Wales where she feels she has found her true self and wants to help others.

'Be who you are without judgement'

"I think there is a sort of misconception that rural areas are more homophobic or transphobic or less accepting, that hasn't been my experience at all," she said.

"I would say that the issue is largely population density. There are fewer people so it's harder to build those communities."

Ivy is one of the organisers of Llandrindod Wells Pride which will be held next weekend.

She said she feels relieved and grateful to see how many shop windows have been dressed in rainbow colours to welcome the Pride event.

"Pride is helping to bring together an otherwise very atomised and disparate community… letting them know that it is safe and accessible and they can just be who they are entirely without judgement."

Isolation is something farmer Andrew Powell, who grew up on a family farm in Caerphilly, also experienced.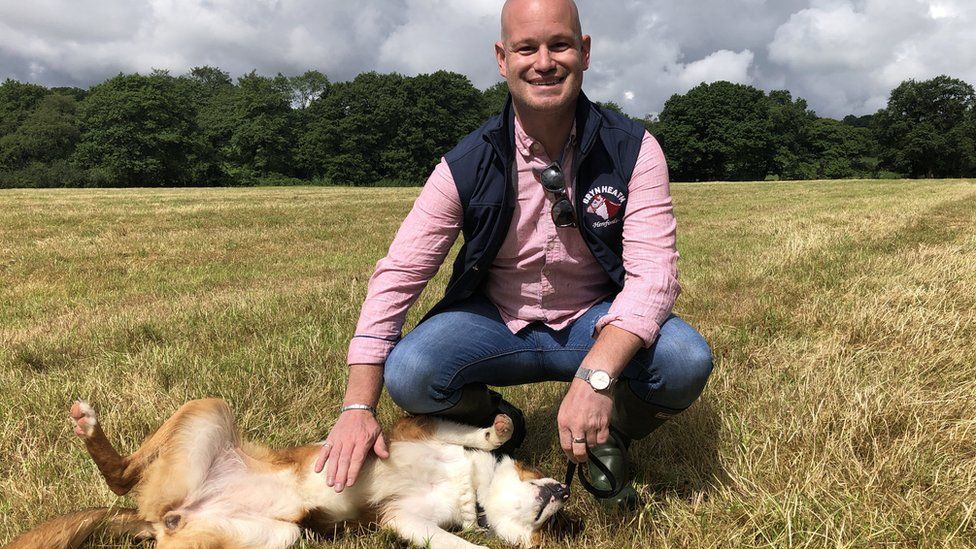 Andrew Powell said seeing role models like rugby referee Nigel Owens in the public eye is "great"

"I think it was isolation I felt a lot, I didn't have anyone to look up to that was like me, someone to talk to, to understand things," said Andrew.

He is part of the charity Agrespect which works to raise the visibility of the LGBT community in the countryside.

'Huge steps forward'

Andrew attends Young Farmers Clubs (YFC) events, but said it was hard being in such a social setting while feeling so lonely, although he felt things were improving.

"There was the juxtaposition of being in a very social group, but also feeling isolation and lonely most of the time," he said.

"We've got people like Nigel Owens president of national YFC which has been a great thing having someone openly gay in the public eye."

Andrew said he saw this year's rural Pride events as a hugely positive development, and the fact that the Llandrindod Wells event was happening at the same time as the Royal Welsh Show, in nearby Builth Wells, was the icing on the cake.

"A lot of people can't get to Cardiff to Pride, a lot of farming families only go to the Royal Welsh Show, it is the only time they leave the farm," he added.

Hay-on-Wye has already had its Pride event, but organiser Graham Nolan was scared no-one would come when he sent out the notices. He said he could not have been more wrong.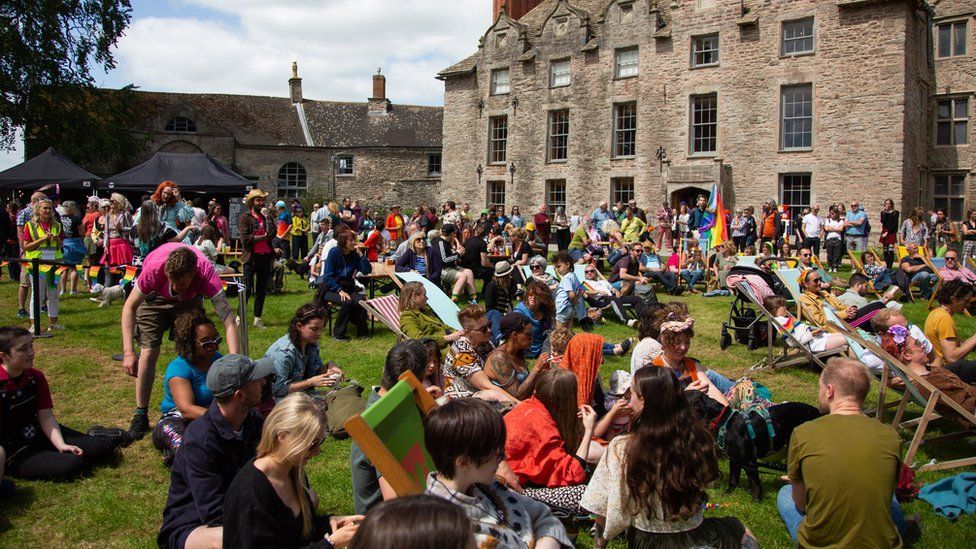 "The whole town really showed up," said Hay Pride organiser Graham Nolan
"The event blew us away! We were not expecting the kind of numbers we had," said Graham.

"It was like when you are a little kid and you think no-one is going to come to my party and then suddenly everyone comes.

"It was incredible and the whole town really showed up, the sense of allyship, the sense of community that was created by the event was spectacular, we are pinching ourselves that we still managed to pull it off."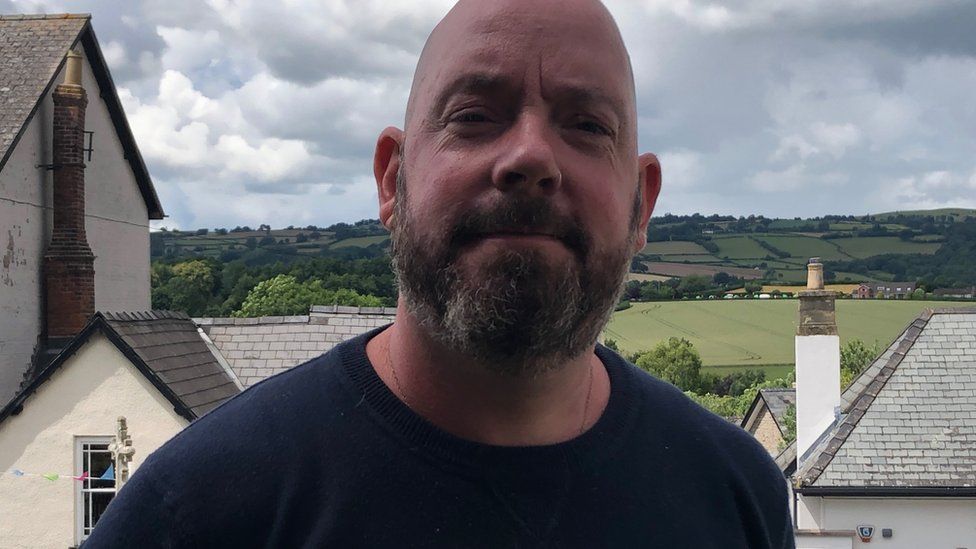 Graham Nolan plans to hold many more Pride events in the future

"It was such an amazing response, a mother, who I'd never met before, stopped me and broke down in the street saying how important it was for her young person that this event happened," he added.

"Our legacy going forward is how to create more events," he said, adding: "Our work will continue and there will be a 2023."

That's a view Shaun Griffiths in Llandrindod Wells agreed with. He said before he got involved in Pride he could go for a month without seeing another gay person.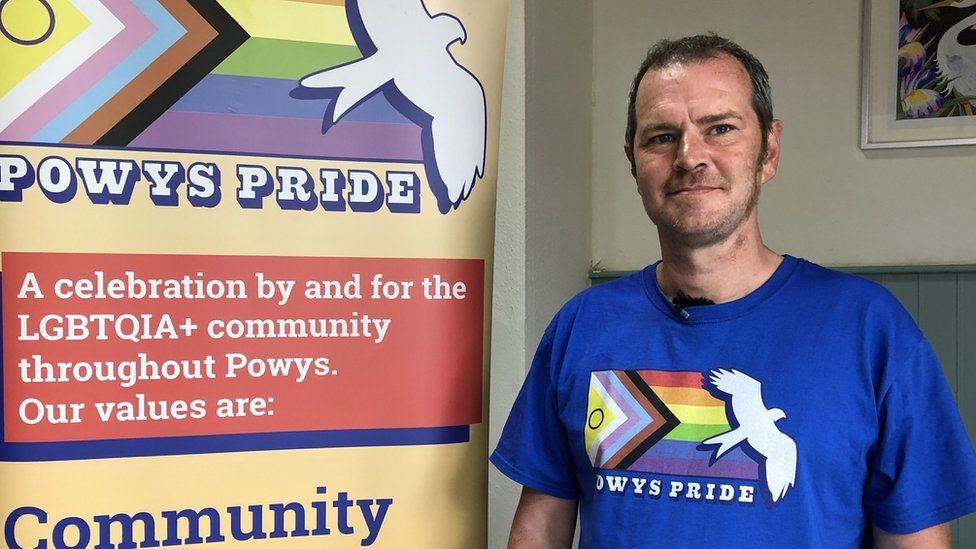 Shaun Griffiths said a Pride event in the town will be one of the most important moments of his life

As mid and north Powys LGBTQIA+ peer support worker for the mental health charity Mind, he's seen first-hand the impact such isolation can have on mental health .

He said the Pride event in the town will be one of the most important moments of his life.

"This has probably been the most wonderful journey I've ever been on, it's going to be amazing and I am really excited to see where this will lead us to in the future."
Many towns are to highlight the LGBTQ+ lives to celebrate Pride for the first time