It is the mid Wales landmark that started out as a joke and lasted for 20 years.
Now, it is making a comeback.

Up until last November, there was a billboard for Llandegley International on the A44 in Powys between Rhayader and Kington.

But drivers who followed the directions to Terminal 1 or 3 ended up not at an airport, not even an airfield, but just a field on the outskirts of the village.

The sign was taken down last year when the man who spent £25,000 keeping it in place decided he would try to make it an official landmark.

Nicholas Whitehead launched a crowdfunding campaign with the slogan "give us a sign".

Six months later, a brand-new one has appeared.

The airport's "founder" said he was delighted.

"When the sign came down we gained thousands of followers on Facebook. There was so much support for getting another, I felt sure the crowd-funder would work," he said.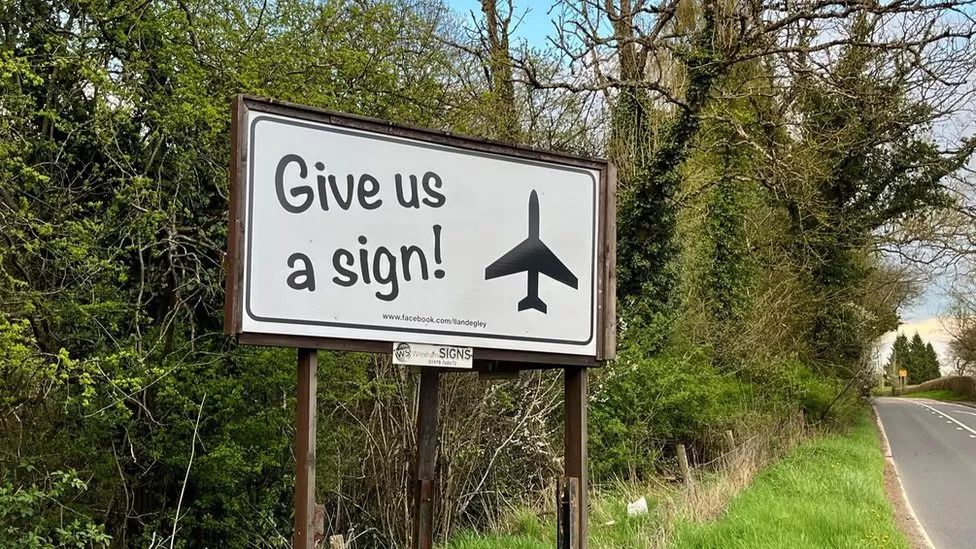 Nicholas Whitehead launched a crowdfunding campaign to fund a new sign

"In a time of austerity, no local authority would want to pay for this, so we tried to raise all the money ourselves. We only needed £1,300 and we raised £2,000."

The extra money will be donated to the Wales Air Ambulance, which Mr Whitehead said he was happy to support given the aviation connection.

Mr Whitehead was a journalist and editor for the Brecon and Radnor express, a writer on Radio 4's comedy sketch show Week Ending and once worked with Monty Python's Terry Jones.

With a strong sense of the absurd, he created the fictional airport in 2002.

"It started off as a wild conversation with friends one evening. We thought of renting a sign for something that wasn't really there, possibly a project that didn't exist, and we settled on the airport."

He soon realised the plan was possible.

"I approached Wrexham Signs, who own the billboard, and expected them to say, 'you can't do that'. But apparently, you can," he said.

"As a journalist, you find that whatever you do, someone, somewhere, is going to get upset about it. But Llandegley International is the exception. People love it."

In the sign's original location near Crossgates, it cost about £1,500 per year to maintain. But thanks to the crowd-funding, a new one has been installed to the east of the village.

The Richards family offered to put the sign outside their farm near Llandegley, where it can stay permanently.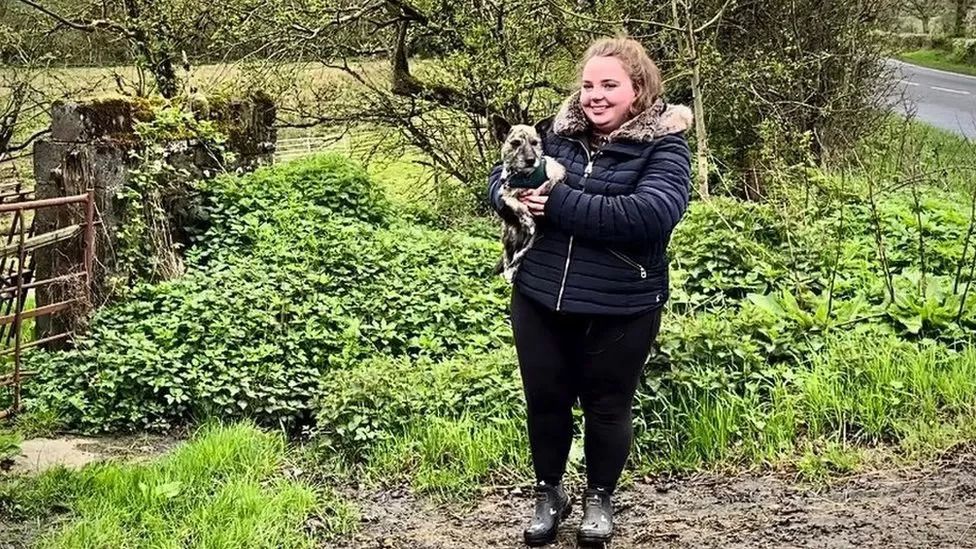 Holly Richards says the sign has become a "talking point" once more

Holly Richards jumped at the chance to help out: "We were sad to see it go, so at the first chance of having it back we were happy to put it on our land.

"Since the sign has come back the social media response has been great. It's become a real talking point once more."

Fencing contractor Fred Morris put up the new sign and described it as a bit of a folly: "When you tell people where you come from, they ask 'have you seen the sign for the airport?' People play along with the joke."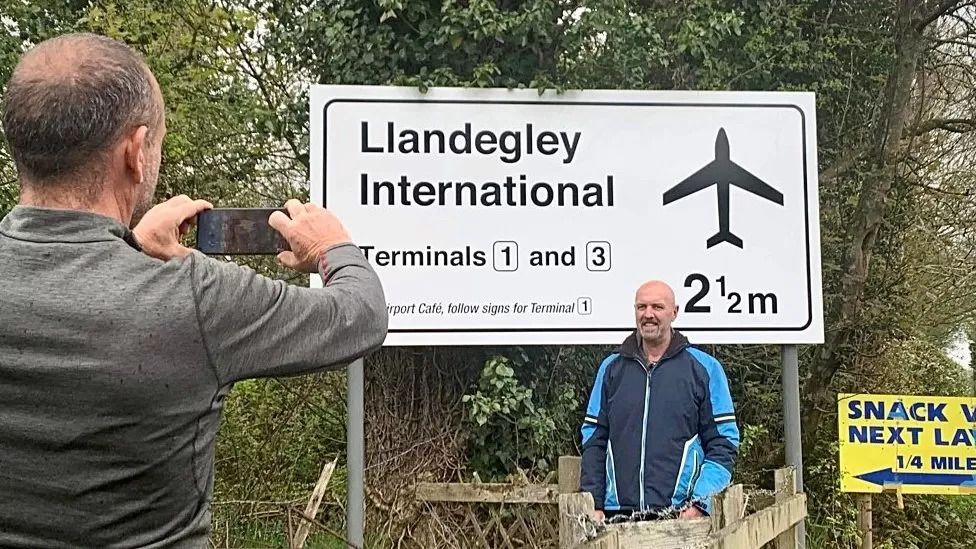 The sign has become a popular spot for photos and selfies, though people are warned to be careful

Mark Lythgoe co-owns a nearby roadside snack van and said it had been great for business.

"We've had a lot of people asking where the airport is," Mr Lythgoe said. "We're thinking of renaming the van the international departure lounge. It's all a bit of fun."

The airport has taken off on Facebook. Thousands of followers enjoy updates about Llandegley's impressive environmental credentials, and engage in flights of fancy about the "top secret" Terminal 2.

Mr Whitehead now keeps the old sign in his garden in Wembury, Devon.

He said the airport had helped him to see a more positive side to social media.

"There's been an outpouring of love. People have said the Llandegley International Facebook page is one of the best things on the internet, because there's no unpleasantness," he said.

When asked if he thought the airport was real, he said: "It exists in the same way songs exist. If you set fire to the scrap of paper on which Paul McCartney wrote Yesterday, that wouldn't destroy the song.

"The song exists as a shared experience; it's indestructible. It's the same with the airport."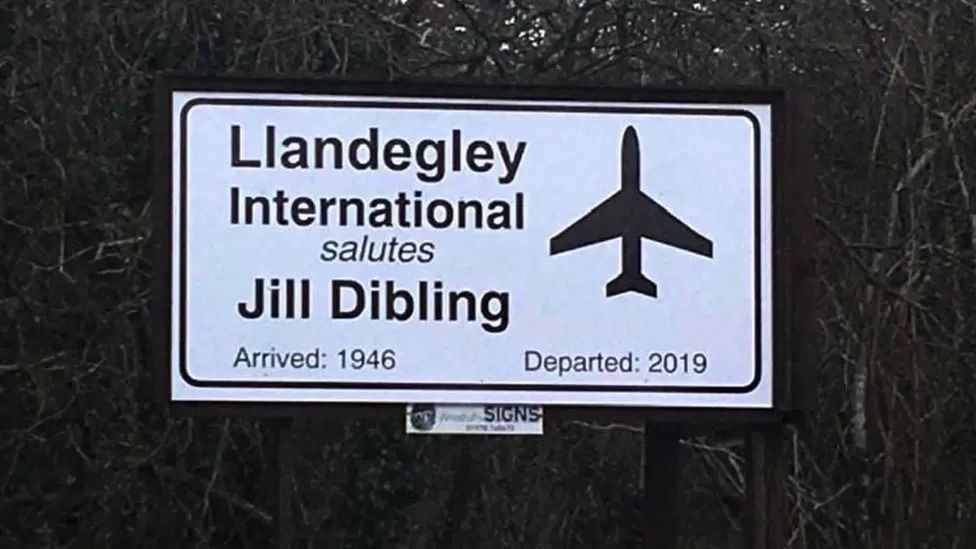 The sign was altered in 2019 in memory of long-time fan of the airport, Jill Dibling

With a permanent sign in place and a big online fanbase, Mr Whitehead said he hoped to gain official recognition for the quirky institution he founded.

"It's not exactly a national monument - but it is a national treasure. It has become an item of Welsh heritage."

For now, he is happy Llandegley International is on the road again.