Labour and some Tory MPs are demanding immediate answers on whether Boris Johnson attended a drinks event in the Downing Street garden during lockdown.
In heated scenes in the Commons, Labour deputy leader Angela Rayner said the PM "can run, but can't hide" from scrutiny over the May 2020 gathering.

And Scottish Conservative leader Douglas Ross said Mr Johnson must quit if found to have broken Covid rules.

The PM has declined to say whether he went to the drinks.

He will face MPs for what is likely to be a volatile session of Prime Minister's Questions on Wednesday.

On Monday, ITV published a leaked email from Mr Johnson's principal private secretary, Martin Reynolds, inviting 100 staff to "socially distanced drinks in the No 10 garden" on 20 May 2020 - when lockdown rules in England banned large outdoor gatherings.

The invitation encouraged people to "bring your own booze" and "make the most of the lovely weather".

Witnesses have told the BBC the prime minister and his wife Carrie were among about 30 people who attended the drinks.

An inquiry - led by senior civil servant Sue Gray - is under way into this event and other gatherings that took place on government premises during 2020.


"We should get rid of him…. We should own the situation. We are the Tory party. We are not delivering good governance."

That stinging verdict from a Conservative MP does not, at least not yet, seem to represent the consensus among the party's ranks on what to do about the current situation in Downing Street.

But the goodwill-to-all-men moment the Christmas holidays promised is very much over.

The subject of conversation among Tories on Tuesday was not the government's planned menu of policy fare for the week, but whether or not the moment had arrived when Boris Johnson, election-winner, had become Boris Johnson, discredited liability.

Standing in for Mr Johnson in the Commons on Tuesday, minister Michael Ellis said he expected Ms Gray's work to be "swift".

But he warned it could be "paused" if the Metropolitan Police - which says it is in contact with the government over reports of alleged breaches of Covid rules - decided to carry out its own investigation.

Mr Ellis added that it was not for him to "pass judgement or to pass sentence" before Ms Gray's findings were known.

But Labour MPs lined up to recount stories of constituents who had suffered during the pandemic and to accuse the government of hypocrisy.

Ms Rayner said it was disappointing that Mr Johnson was not there in person to respond, adding: "But his absence speaks volumes, as do his smirks on the media.

"The public has already drawn its own conclusions. He can run, but he can't hide."

Liberal Democrat leader Sir Ed Davey asked: "Will the minister set out what he thinks should happen if a Conservative MP is found to have flouted and broken a Covid law?"

And DUP MP Jim Shannon was brought to tears when speaking of the death of his mother-in-law during the pandemic.

SNP Westminster leader Ian Blackford called on Conservative MPs to "force [the PM] from office" if he did not "do the decent thing" and resign.

Few Tory MPs turned up in the Commons to support Mr Johnson, but one who did, Suzanne Webb, said: "The time of the House is better spent at this moment in time, as we recover from this pandemic... debating how we can build back better and level up."

But Scottish leader Douglas Ross told the BBC he felt "fury" over what had happened, adding that Mr Johnson should resign if he "broke the law".

"People gave up so much and they're now seeing at the exact same time, potentially, those at the top in No 10 were enjoying the weather and having a drink in the garden," he said.

"I can't answer the question 'was the prime minister there?' He can, and the public deserve that answer."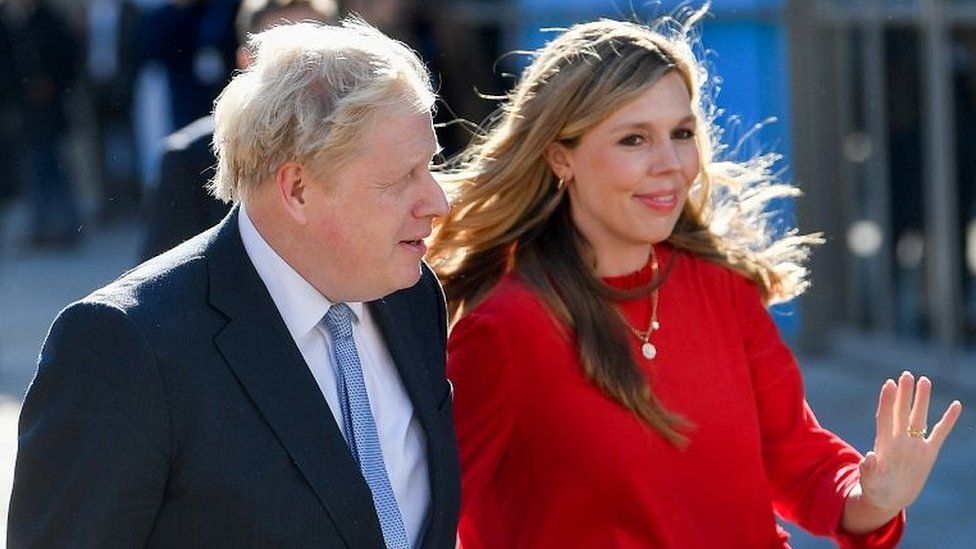 Boris and Carrie Johnson are alleged to have attended the lockdown drinks gathering in the Downing Street garden

Tory MP Nigel Mills told the BBC: "The idea that during the worst lockdown - when you could only see one other person - that the people organising the rules were having a party is just unacceptable. It's indefensible."

"I think if [Mr Johnson] knowingly attended what he knew to be party, then he can't survive that."

Conservative former minister Johnny Mercer tweeted about the drinks gathering: "It's humiliating, and does not reflect the majority of my colleagues who 'at least try' and lead by example."

Another ex-minister told the BBC that Mr Johnson "tries to lie his way out of everything", while another said: "Boris is finished."

The PM's official spokesman refused to comment on claims surrounding the drinks event while the investigation was taking place, but he added that the prime minister retained full confidence in Mr Reynolds.

Labour leader Sir Keir Starmer is expected to attend Prime Minister's Questions on Wednesday, having missed last week's session because of a positive Covid test.
Watch: Labour deputy leader Angela Rayner tells the Commons that Boris Johnson can run but he can't hide
A DUP MP cries while questioning the government over claims it broke lockdown rules