A petrol station boss has appealed for calm amid continued high demand for fuel after panic buying hit Wales.
Mohammed Ali, who runs the Murco garage in Ferndale, Rhondda Cynon Taf, said "chaos" continued on Saturday despite insisting there was no fuel shortage.

A tanker has already resupplied his station after he ran out on Friday despite rationing fuel to £15 per car.

Several supermarkets closed their petrol stations in Wales and beyond on Friday due to demand.

Disruption continued on Saturday, including at Tesco Extra, Bridgend, Asda stores in Merthyr Tydfil and Cardiff north, along with Sainsbury's in Wrexham and at the well-known "Black Cat" garage at the junction of the A55 and A470 in Conwy.

North Wales Police urged people not to form long queues and "unnecessary obstructions" in roads and said petrol stations in the area had reported "no disruption to deliveries at the majority of sites and fuel deliveries are expected to continue as usual".

A shortage of drivers has hit deliveries but ministers and industry leaders insist there is no shortage and they have urged people not to panic buy.

The UK government is planning a temporary scheme to make it easier for foreign lorry drivers to work in the UK.

Mr Ali said the rush on fuel started after the media had "blown things out of proportion".

"We had a delivery at six o'clock in the morning and we opened at seven... and it's already chaos over there," he told BBC Radio Wales Breakfast on Saturday.

"There is no need for this. There is no such thing as a fuel shortage," he said.

The Road Haulage Association estimates the UK is short of about 100,000 HGV drivers with existing shortages made worse by the pandemic and Brexit.

Jason Edwards, boss of Edwards Coaches in Llantrisant, said he was receiving daily calls from other companies asking for help to cover school bus contracts due to a shortage of drivers.

He said the problem had arisen due to a rise in drivers' pay while companies were running fixed-term school bus contracts with an agreed cost.

Mr Edwards also said drivers and vehicles had to leave an hour early to get to schools on Friday due to the traffic outside petrol stations.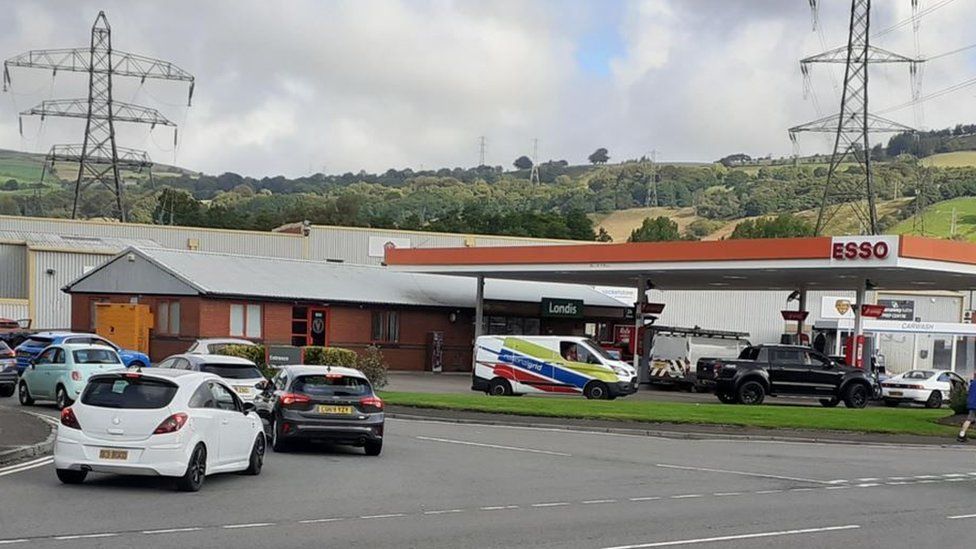 "Unless the Department of Transport... allow European travellers temporary work permits, this is not going to go away - it's going to get worse," he said.

A Downing Street spokesperson said: "We have ample fuel stocks in this country and the public should be reassured there are no shortages."

The spokesperson said the UK government was looking at introducing temporary, time-limited measures.

"We are moving to a high wage, high skilled economy and businesses will need to adapt with more investment in recruitment and training to provide long-term resilience," the spokesperson said.