Mounting delays at the Passport Office have forced would-be holidaymakers to queue for hours to receive their documents during Monday's heatwave.
Officials have previously said that people should allow 10 weeks for approval of a new passport.

But many of those who spoke to BBC News in London said they had been waiting much longer.

The Passport Office said 98.5% of the 3 million recent applications were completed within 10 weeks.

Those queueing in the heat on Monday were handed bottled water by staff.

Long queues had formed around London's Passport Office on Monday - one of seven national centres - with a number of people having been there for hours.

There were two separate queues - one for those with appointments, and one for those without.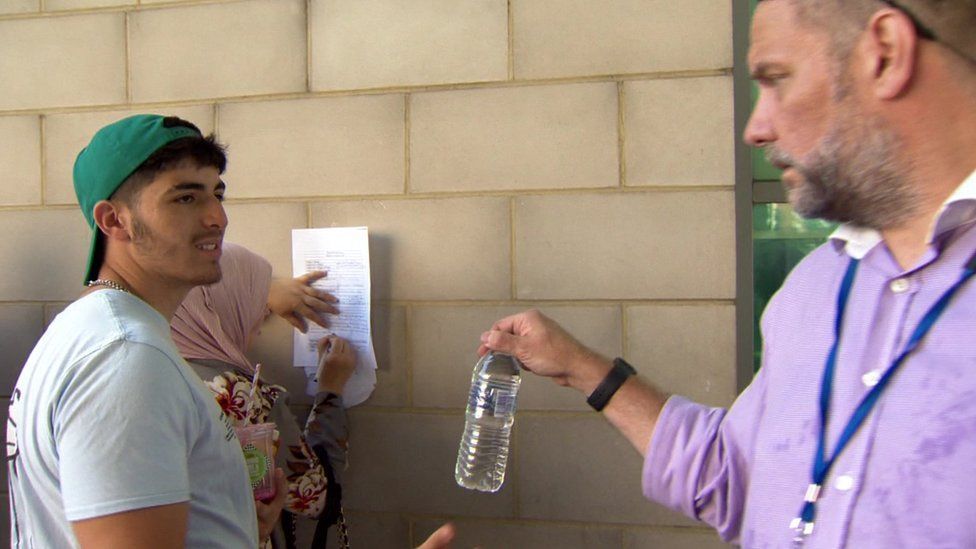 Staff hand out bottles of water to help people in the queue deal with the heat

Many of the people who spoke to BBC News had been waiting longer than the 10 weeks flagged by officials as the expected response time.

They spoke of their frustration at having to attend London's Passport Office with just days before they are due to leave the country.

Shehraji Nessa, a nursery manager, said that she had been waiting for two hours outside the building in Victoria.

She had made an online application on 8 May, but is yet to receive her passport.

"I'm due to fly out next Monday and I'm worried I'm going to lose out on my family holiday," she said.

Some, like Baleegh Nawaz and Kevin Siu, have queued outside the office multiple times as they aim to get their passports.

"They don't really give you any answers," said Baleegh. "They usually tell you to come back if there's 48 hours or less before your flight.

"I've got a flight tomorrow to catch. It's an emergency case, I need to get my passport".

Kevin said that he had applied for his passport on 26 May after his passport was stolen, but that this was his third time queuing outside the building.

"But today is an extra hot day, so you can see that people are suffering especially elderly men."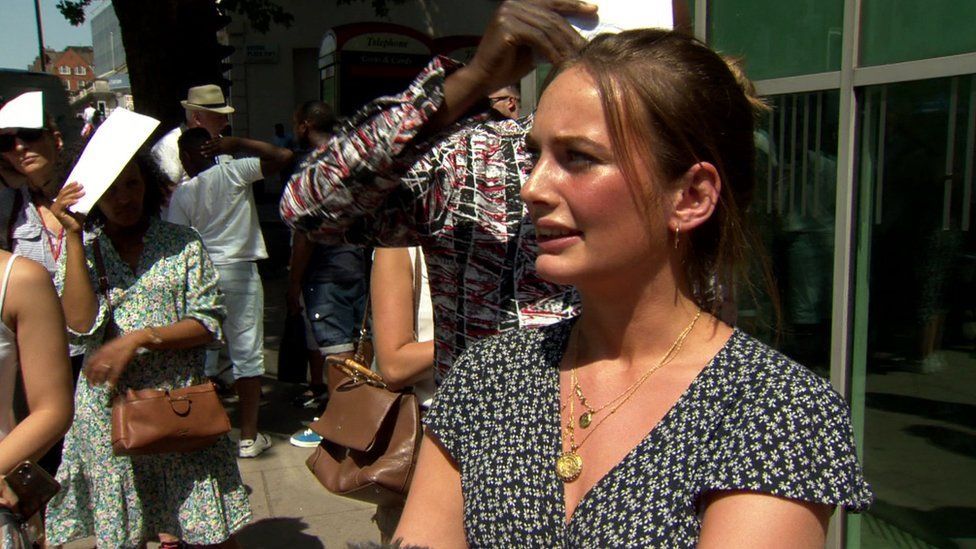 Charlotte Evans says she might have to spend her birthday alone, as she is still waiting for her passport

Charlotte Evans, a healthcare assistant, had been waiting for an hour after growing frustrated as she did not get anywhere when phoning the passport helpline.

"I thought the only option I had was to come. I'm meant to be going on holiday on Saturday with my family for my birthday, but I might be spending my birthday alone now".

A HM Passport Office spokesperson said: "Between March and May, we processed approximately three million applications, and 98.5% of applications were completed within 10 weeks. But we cannot compromise security checks and people should apply with plenty of time prior to travelling.

"For the small percentage of customers whose applications take longer than ten weeks, there is an expedited service at no additional cost to help ensure that they receive their passport ahead of their travel."