Weddings are allowed to go ahead on the same day as the Queen's state funeral but some couples have been worried their plans might be derailed. Christie Seale and Jake Finn from Rochester are determined to stick to their arrangements.
When Christie, 27, and Jake, 30, confirmed their venue months ago, they were sure that the wedding they had talked about for five years would finally take place.

It was the couple's fourth attempt at tying the knot after their wedding, originally planned for June 2020, was postponed because of the coronavirus pandemic.

"It was devastating," Christie said. "Our invites had already gone out. We got the rings engraved with our original date, which they still have because they can't be changed and we're not in a position to buy new rings."

The wedding was then postponed for a second time the following year and then moved again after Christie found out she was pregnant with baby Hallie.

'It's been so long'

The pair met in 2013 through a mutual friend and have been engaged since 2016.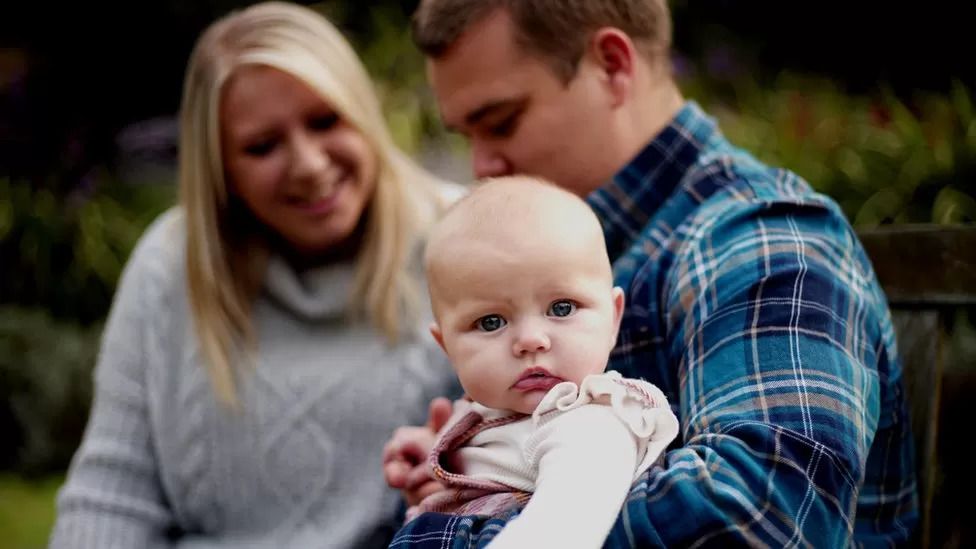 Baby Hallie will have a special dress for the occasion

Jake said: "We were getting to the point where we were losing interest in it."

"We were so excited, but after disappointment and disappointment again, we just wanted to get married," Christie added.

When the couple discovered their ceremony would be on the same date as the Queen's funeral, they immediately contacted organisers to find out if their big day could still happen.

"It's like, what do we do if it could even go ahead? Do we change it slightly? If it couldn't, what would our options be?" Christie said.

"There's so much planning. We've got over 50 day guests and about 150 in the evening. It's a lot of people to then disappoint if we did change anything."

"It could have a knock-on effect. It's not just us - it's the suppliers, our honeymoon, the guests," Jake added.

A handful of venues have shut for the bank holiday, but others are allowing pre-booked ceremonies to go ahead - like the couple's location, the Orangery in Maidstone, Kent.

What's the official guidance?

Weddings don't have to be cancelled or postponed on the day of the Queen's state funeral.

The government said organisations may want to adjust event timings and that the bank holiday will "give as many people as possible the opportunity on the day of the state funeral to mark Her Majesty's passing".

The Local Government Association said disruption to weddings and funerals should be "minimised".

In Jake and Christie's case, the Orangery said staff were confident the wedding plans would proceed smoothly.

A delicate balance

Christie wants respects to be paid for the Queen at the wedding.

"My mum and auntie love the Royal Family, so if we weren't getting married they would be at home watching [the funeral] - and I would be too," she said.

Acknowledging the days historic events is something wedding planner Holly Poulter, creative director at Revelry Events says is "wise". But she warns that it's a delicate balance.

"Be mindful that not everyone in your wedding party will feel the same way about the Royal Family, so it may be best to make some of the tributes optional - for example, a station set up where guests could light a candle for Her Majesty."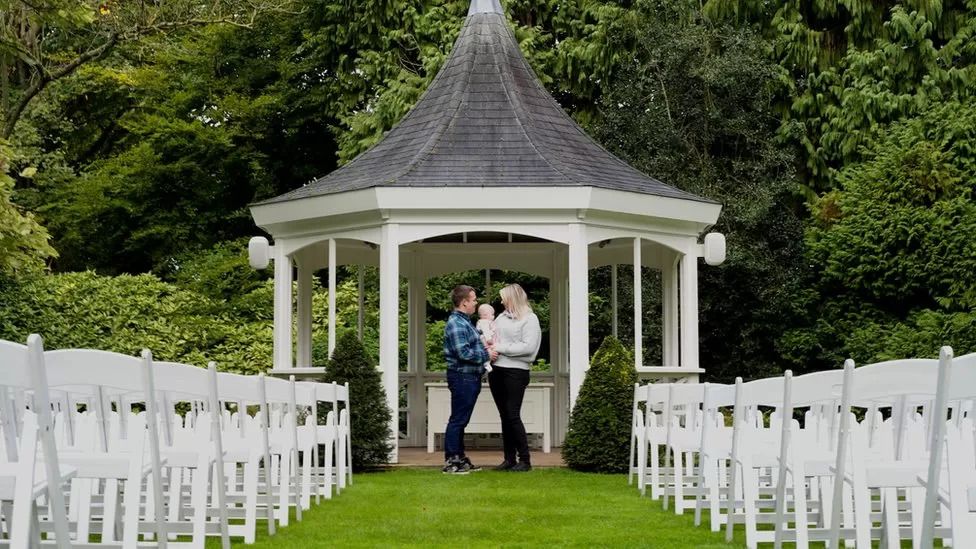 The Orangery is continuing with booked occasions

"There are spots all over the UK where floral tributes can be left, so you could opt to donate your wedding flowers to the displays. With the plan to compost the tributes, this would be a touching way to honour her."

Jake and Christie have given lots of thought to how they'll pay tribute to the Queen on the day.

A minute's silence will be held at the reception "for everyone who isn't there". And the Queen's death will be referenced in the speeches, alongside the couple's relatives who have died.

"We can announce the people we've lost - and we've now lost our monarch," Jake said. "Life and death is both celebration and mourning."