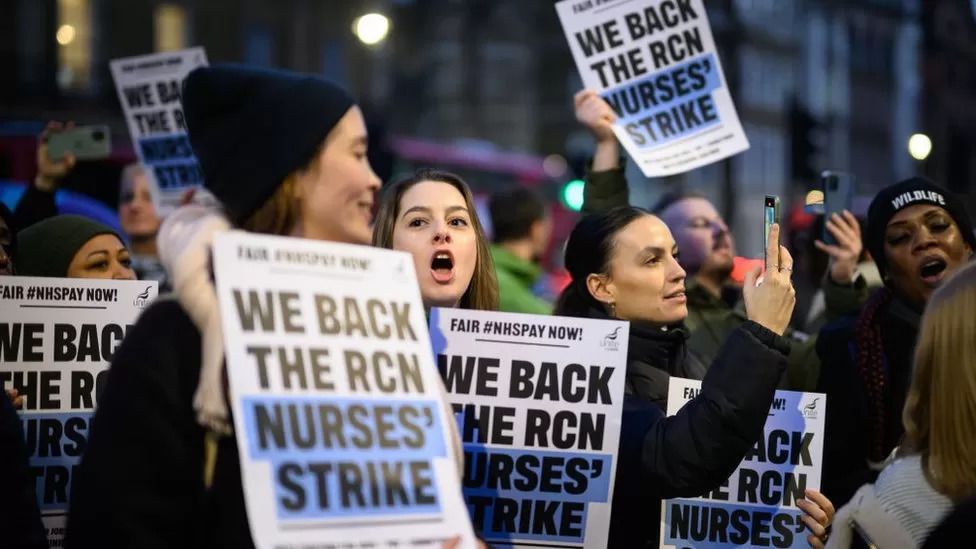 Nurses' strike: Union says next one will be twice as big
More nurses will be asked to strike next month in a bid to raise pressure on the government, union leaders warn.
The Royal College of Nursing (RCN) says if progress is not made in negotiations by the end of January the next set of strikes will include all eligible members in England for the first time.

It comes as ministers push for new laws on strike days.

Nursing staff from more than 70 NHS trusts in England are set to take industrial action this week.

The RCN has said nurses should receive a pay increase of 5% above inflation this year, which at the peak rate of inflation would have equated to a 19% rise, although reports have suggested it would accept 10%.

The government says the demands are unaffordable and pay rises were decided by independent pay review bodies.

General secretary Pat Cullen described Rishi Sunak's position in their negotiation deadlock as "baffling, reckless and politically ill-considered".

She said: "The prime minister gave nursing staff a little optimism that he was beginning to move, but seven days later he appears entirely uninterested in finding a way to stop this.

"Nursing staff just wanted to be valued and recognised.

"Without, they will keep leaving in record numbers with consequences for patients that Robert Francis documented in painful detail."

A Department for Health and Social Care spokesman said: "We have accepted the recommendations of the independent NHS Pay Review Body in full and have given over one million NHS workers a pay rise of at least £1,400 this year.

"This is on top of a 3% pay increase last year when public sector pay was frozen and wider government support with the cost of living."

On Friday, Mr Sunak said he hopes to "find a way through" the deadlock with unions to avert further industrial action.

The government also wants to bring in controversial legislation that would impose a legal duty of minimum service levels on strike days for workers in health, education, transport and several other sectors.