Rishi Sunak is to hold face-to-face talks with the European Commission president in a bid to finalise a Brexit deal for Northern Ireland.
The PM and Ursula von der Leyen said they will meet in the UK on Monday discuss the "complex challenges" of the Northern Ireland Protocol.

The UK wants to change the protocol, which sees some goods checked when entering from the rest of the UK.

Dominic Raab earlier said Britain and the EU were "on the cusp" of a deal.

Rishi Sunak and Ms von der Leyen said they had "agreed to continue their work in person towards shared, practical solutions for the range of complex challenges around the Protocol on Ireland and Northern Ireland".

A deal has been expected for days, with recent talks focusing on its presentation and delivery.

Both Tory and Labour MPs have been told by their respective whips to come to Parliament on Monday.

The Northern Ireland Protocol was agreed under former PM Boris Johnson as part of the process of the UK leaving the European Union.

It sees Northern Ireland continue to follow some EU laws so that goods can flow freely over the border to the Republic of Ireland without checks.

Instead, goods arriving from England, Scotland and Wales are checked when they arrive at Northern Irish ports.

Critics, including Northern Ireland's Democratic Unionist Party (DUP), feel this undermines the nation's position within the rest of the UK as well as impacting trade.

The DUP has complained about what it calls a "democratic deficit" with Northern Ireland being subject to EU rules while not having a say on them.

Deputy Prime Minister Mr Raab earlier told the BBC the government had "made great progress" in its talks with the EU.

He said the EU had "moved" on some issues, saying: "If there are any new rules that would apply in relation to Northern Ireland, it must be right that there is a Northern Irish democratic check on that."

He said one approach could be an "intelligence-based" rather than "tick box" approach for goods "which effectively means, they look at what is happening in the Republic with goods that go to Northern Ireland in case there's a risk of them going into the wider single market - and if we can achieve that, it will be a massive win."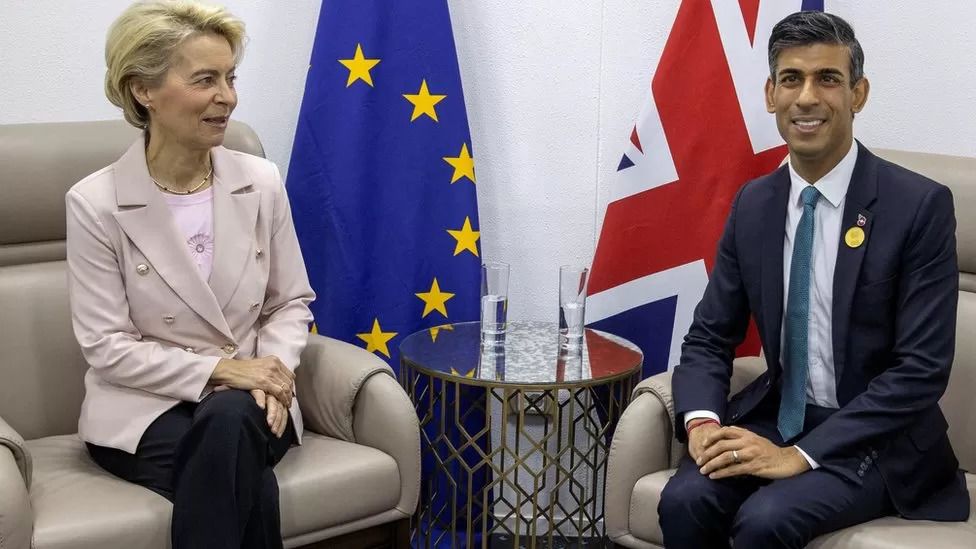 Ursula von der Leyen will travel to the UK for Monday's talks

Taoiseach (Irish Prime Minister) Leo Varadkar said he had been in contact with Ms von der Leyen on Sunday and "very much" welcomed her meeting with Mr Sunak.

He tweeted: "We should acknowledge the level of engagement between the UK Gov, the European Commission and the NI parties in recent months."

His deputy, Micheal Martin, said there had been "very significant progress", adding "a great effort" had been made to resolve issues.

"I would hope it can be brought to a conclusion, but that's a matter for the UK and EU negotiating teams to call," he said.

The government has not confirmed if MPs would get a vote on any deal, but said they would be able to "express" their view.

Mr Sunak has been under pressure from some Conservative MPs over the role of EU law and the European Court of Justice in settling trade disputes.

Mark Francois, who heads the European Research Group of Eurosceptic Tory MPs, earlier said EU law needed to be "expunged" from Northern Ireland, bringing it in line with England, Scotland and Wales.

He told Sky News on Sunday that he had yet to see the detail of the deal and it would be "incredibly unwise" to bring in any new deal without giving MPs a vote.

"If they've got a deal they're proud of, show us the text. Let us run it by our lawyers. Let us fully understand what it means. Then, at that point, we might be ready to vote on it."

DUP leader Sir Jeffrey Donaldson has previously said: "The objective in London and Brussels should be to get this right rather than rushed. The wrong deal will not restore power sharing but will deepen division for future generations."

But former Prime Minister John Major urged Conservative and DUP MPs to not let concerns over the European Court of Justice get in the way of easing trade and restoring the devolved government in Northern Ireland.

He told BBC Radio 4's Westminster Hour: "Their involvement would be tiny... occasional involvement of the ECJ really ought not to stop an agreement being made.

"They talk of democracy. Democracy is thrown away when that [Northern Ireland] Assembly is not sitting. We need them back."

What is the Northern Ireland Protocol?

The Northern Ireland Protocol is a trading arrangement, negotiated during Brexit talks. It allows goods to be transported across the Irish land border without the need for checks.

Before Brexit, it was easy to transport goods across this border because both sides followed the same EU rules. After the UK left, special trading arrangements were needed because Northern Ireland has a land border with the Republic of Ireland, which is part of the EU.

The EU has strict food rules and requires border checks when certain goods - such as milk and eggs - arrive from non-EU countries.

The land border is a sensitive issue because of Northern Ireland's troubled political history. It was feared that cameras or border posts - as part of these checks - could lead to instability.

The UK and the EU agreed that protecting the Northern Ireland peace deal - the Good Friday agreement - was an absolute priority.

So, both sides signed the Northern Ireland Protocol as part of the Brexit withdrawal agreement.

It is now part of international law.