It is almost six years since Nazanin Zaghari-Ratcliffe was first detained by the Iranian authorities in April 2016.
Since then there were repeated attempts to secure her release - all failed. So why is she now on her way home?

The basic answer is London-Tehran relations are better than they have been.

The International Revolutionary Guard and Iran's judiciary no longer feel they need Mrs Zaghari-Ratcliffe for leverage in relations with the UK.

She was a diplomatic pawn held hostage by the Iranian authorities to put pressure on London.

If Tehran wanted to make nice, they would treat her well, give her access to medical help, perhaps increase the frequency of visits, possibly even allow her a temporary furlough from jail.

If Tehran wanted to exert pressure on London, then her conditions might worsen and privileges might be withdrawn.

Paying debt 'a huge difference'

The UK paying the historic £400m debt for tanks sold but not delivered will have made a huge difference.

For years, the Foreign, Commonwealth and Development Office (FCDO) claimed the two issues were not connected. But in practice, the Iranians made them one and the same issue.

Some in the FCDO had wanted to pay the debt but were prevented initially by reluctance within the Treasury and the United States, fearing it would reward hostage-taking and even fund terrorism.

There were also fears the US would penalise any British financial institution that paid the money to the Iranian defence ministry in breach of international sanctions.

There is also the sheer relentlessness of the families' campaigning and the UK's diplomacy.

At first there were mistakes, such as Boris Johnson's false claim that Mrs Zaghari-Ratcliffe had been training journalists in Iran, a claim that prompted Iran to level fresh charges.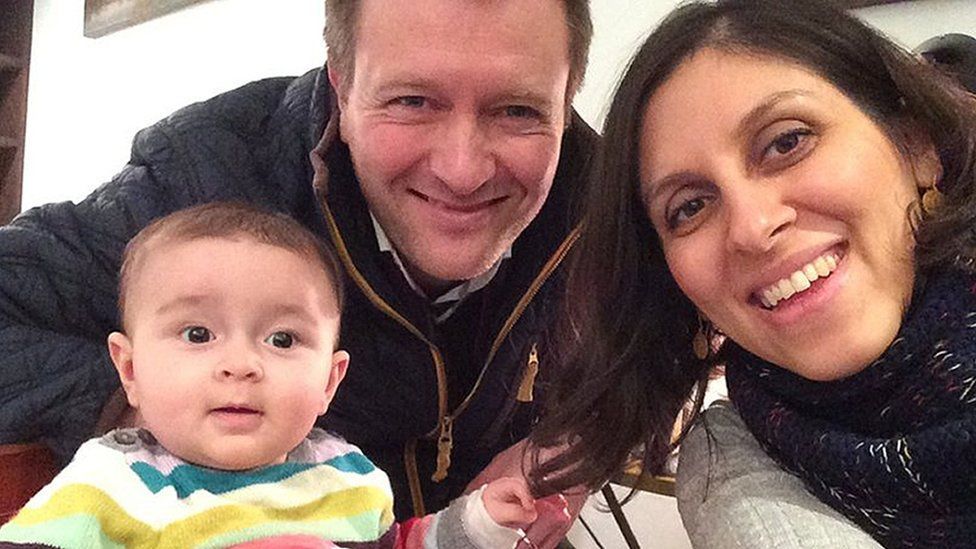 Nazanin Zaghari-Ratcliffe (right), pictured with her husband Richard and daughter Gabriella, who is now seven, was first detained by Iranian authorities in April 2016.

But the tireless campaigning by Nazanin's husband, Richard Ratcliffe, and others kept up the pressure on the UK government.

And that was reflected by the work of British diplomats behind the scenes, refusing to let Iran forget about the case.

There was almost a deal to release the detainees last year. It fell through. But since then British diplomats have visited Iran several times to try to reach a fresh agreement.

Iranian officials at their Ministry of Foreign Affairs were frequently frustrated that this dispute got in the way of the rest of the UK-Iran relationship.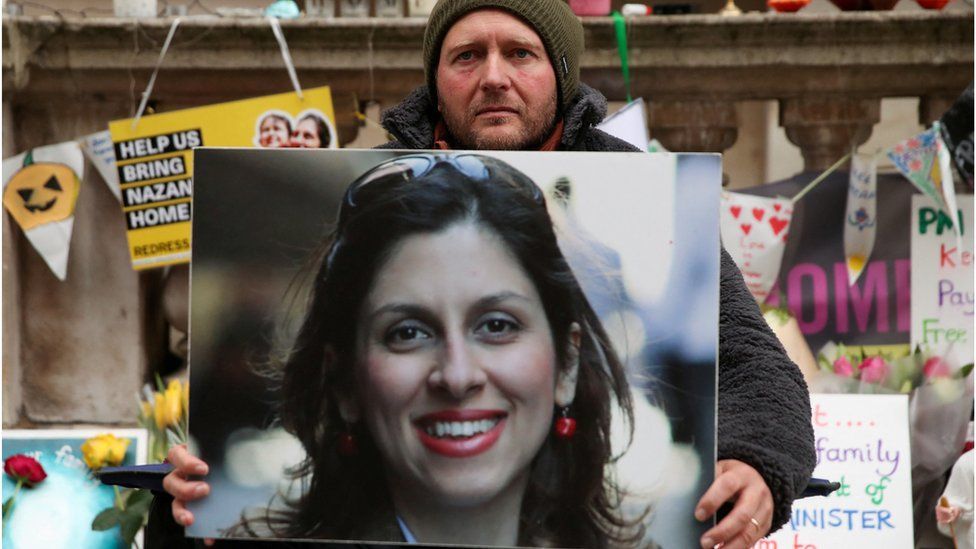 Mr Ratcliffe campaigned for his wife's release, including by going on hunger strike outside the Foreign, Commonwealth and Development Office last October.

But the Iranian diplomats were not in charge - the IRGC and the judges were.

Eventually, enough people with the Iranian government seemed to have realised that a permanently hostile relationship with the UK was not in Tehran's best interests.

That might apply directly to the talks taking place in Vienna, designed to revive the agreement under which Iran limited its nuclear activities in return for seeing economic sanctions lifted.

A new deal?

Iran's economy has been suffering, Iran clearly wants to agree a new deal, better relations with the UK might make that happen.

The deal has still not been agreed but diplomats say agreement is getting close.

And in recent weeks, during the Ukraine conflict, Britain and Iran's interests have also come closer together.

If sanctions can be lifted and Iran can start selling its oil again, that could help reduce global energy prices.

That is in the interests of both the UK and Iran. In that context, both sides might want to clear the diplomatic decks and make a deal more likely.