Labour seek to turn heat on PM after he orders probe into Tory party chairman's tax settlement with HMRC
Rishi Sunak is under pressure to reveal whether he knew about embattled Nadhim Zahawi's tax affairs when he appointed him to his Cabinet.

The Prime Minister has ordered his independent adviser on ministerial interests to probe the Tory party chairman's tax settlement with HM Revenue and Customs, stating that "clearly in this case there are questions that need answering".

But he faced fresh questions over the affair on Monday as Labour demanded to know when Mr Sunak knew about Mr Zahawi's tax issues.

The furore centres around an agreement that Mr Zahawi reached with the taxman over the sale of shares in the polling company YouGov, which he co-founded.

Mr Zahawi is believed to have paid a penalty as part of the deal reportedly reached when he was chancellor, taking the total estimated settlement to around £4.8 million, though the figures have not been confirmed.

Mr Zahawi claimed that his "error" over the YouGov shares was "careless and not deliberate". But his future as party chairman has been cast into doubt by Mr Sunak's move.

Labour also sought to turn up the heat on Mr Sunak.

Deputy leader Angela Rayner told MPs on Monday afternoon: "We may have a carousel of ministers but it's the same old excuses every single time.

"Reports that the then chancellor of the exchequer agreed a settlement with HMRC, including a penalty, raise serious concerns, not just about that case but standards in this entire Government."

Ms Rayner asked when Mr Sunak knew about the issues connected with Mr Zahawi, adding: "Why was it kept secret? Is there no system in place to prevent a person being actively investigated for unpaid tax being appointed to run the UK's tax system? Maybe it's that absurd that no-one would ever think it would happen."

Cabinet Office minister Jeremy Quin said the Prime Minister would have had "full disclosure" regarding Mr Zahawi's interest, as disclosed when he appointed him Conservative Party chairman.

On a visit to Northampton hospital, the Prime Minister said: "Integrity and accountability is really important to me and clearly in this case there are questions that need answering.

"That's why I've asked our independent adviser to get to the bottom of everything, to investigate the matter fully and establish all the facts and provide advice to me on Nadhim Zahawi's compliance with the ministerial code.
"I'm pleased that Nadhim Zahawi has agreed with that approach and has agreed to fully co-operate with that investigation."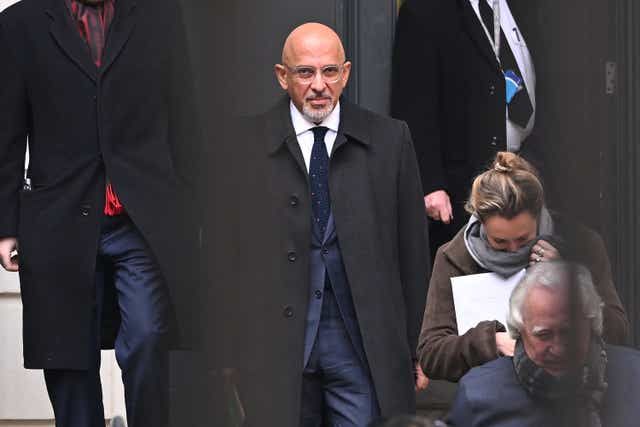 Nadhim Zahawi leaves Conservative Campaign Headquarters
Mr Sunak's decision to order the inquiry appeared to be at least partly based on him seemingly not knowing before the weekend that Mr Zahawi had reportedly paid a penalty as part of his settlement with HMRC.
Asked if the PM had not known about the alleged penalty before the weekend, the Prime Minister's official spokesman said: "That is my understanding."
The investigation will in the "first instance" examine whether Mr Zahawi properly declared his tax situation, according to the ministerial code.
But it could also look into the settlement with HMRC itself and the accuracy of statements made by the party chairman to the media about his tax affairs.
The spokesman added that the Prime Minister had been "assured" by the Cabinet Office before Mr Zahawi's appointment that there were no "outstanding issues" which meant he should not have given him a Cabinet post.
The row came as it was revealed the public appointments watchdog is to investigate the selection of BBC chairman Richard Sharp amid concerns over his role in helping
Boris Johnson
secure a loan.
William Shawcross, the commissioner for public appointments, said he is to review the way competition for the post was run to ensure it was in compliance with Whitehall rules.
Earlier Mr Sharp announced that he was referring his appointment to the nominations committee of the BBC board following claims of a possible conflict of interest.
On Mr Zahawi, the Prime Minister said the ethics adviser, Sir Laurie Magnus, had been requested to "fully investigate this matter and provide advice to me on [his] compliance with the ministerial code".
He added that on the basis of his findings "we'll decide on the appropriate next steps".
Mr Sunak confirmed Mr Zahawi would continue in his role as Conservative party chairman.
"As is long-standing practice, he will continue to play the role he does," he said.
In a statement, Mr Zahawi said: "I am confident I acted properly throughout and look forward to answering any and all specific questions in a formal setting to Sir Laurie."
But Labour called for Mr Sunak to sack his party chairman.
Shadow business secretary Jonathan Reynolds told Sky News: "The position to me is completely untenable. I don't think the excuses are compelling... and the sums of money here are not small."
Mr Sunak is also facing scrutiny over his decision to re-appoint
Dominic Raab
as Deputy Prime Minister and Justice Secretary.
Mr
Raab
is facing a series of bullying claims from his earlier time in Cabinet which are being investigated by senior lawyer Adam Tolley KC.
The Deputy Prime Minister denies any wrongdoing.
But senior Tory MP Tim Loughton said he would have to "take the consequences" if more emerges about his tax affairs. The former minister added that he believes Mr Sunak "will take the appropriate action" if more damaging details emerge about Tory party chairman Mr Zahawi's tax settlement with HMRC.
Former Downing Street communications chief Sir Craig Oliver said Mr Zahawi is "hanging on by a thread" in his post.
"The problem for Nadhim Zahawi at the moment is it doesn't all add up."
Earlier Mr Zahawi had sought to end questions about his tax affairs by releasing a statement.
When YouGov was set up, Mr Zahawi reportedly did not take any shares in it but a 42.5 per cent shareholding was allegedly received by Balshore Investments, a Gibraltar company held by an offshore trust controlled by his parents.
He admitted that questions were raised about his tax affairs when he was being appointed Chancellor.
Mr Zahawi said: "Following discussions with HMRC, they agreed that my father was entitled to founder shares in YouGov, though they disagreed about the exact allocation," he said.
"They concluded that this was a 'careless and not deliberate' error."