Holborn, King's Cross and the Shoreditch "triangle" were on Tuesday named by cyclists as the most dangerous junctions in London.
The London Cycling Campaign was holding a meeting in Parliament to demand urgent changes to road layouts to improve safety for cyclists and pedestrians as it launched the second phase of its dangerous junctions campaign.

It listed 22 junctions that were often "so hostile" that they posed a threat to users and acted as a major barrier to "active travel" in the wider area because Londoners were "too fearful to walk or cycle there".

A total of 47 cyclists have been killed and 198 seriously injured at the 22 junctions in the last decade, according to the campaigners.

This includes eight cyclists killed, most recently Dr Marta Krawiec and Shatha Ali, and 13 seriously injured at the Holborn gyratory.

The King's Cross gyratory has seen three cyclist deaths and 15 serious injuries over the same period. The Shoreditch triangle – bounded by Old Street, Curtain Road and Great Eastern Street – has seen one cyclist death and 27 serious injuries.

Simon Munk, campaigns manager at London Cycling Campaign, said: "We're asking for urgent action right now, at three major junction clusters: King's Cross, Shoreditch Triangle and Holborn.

"We're also tracking a much longer list of junctions that are dangerous and known to be for years, decades even, to ensure politicians and officers act to fix them quickly. We need local businesses and stakeholders to take an active role in improving their local areas for staff, visitors and residents."

Other junctions on the list of 22 include Trafalgar Square, Hyde Park Corner, Victoria station, Camberwell Green and the area in front of Clapham Common station.
Dr Ashok Sinha, chief executive of London Cycling Campaign, said: "We must fix these junctions not just to save lives, but to also help people be more active by cycling and walking more, reducing air pollution and carbon emissions."
Last month Camden council announced further plans to transform the Holborn gyratory, including an "X-shaped" pedestrian crossing beside the Tube station and reducing traffic to a single lane in Procter Street, with a separate bus lane and a two-way protected cycle lane.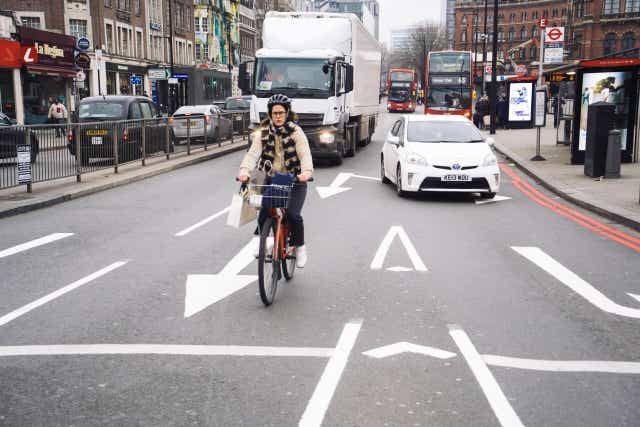 Intimidating: the hostile road layout beside King's Cross station
At King's Cross, the London Cycling Campaign wants protected cycle tracks, better pedestrian crossings and wider pavements. TfL recently removed a "pop up" cycle lane on Euston Road, installed during the pandemic, due to concerns it was slowing buses.
Transport for London, which had to curtail its spending on road safety schemes during the pandemic, said it would spend about £150m a year to make walking and cycling safer, including limiting more roads to 20mph.
But it is having to try to do "more with less" – its pre-pandemic budget for active travel and "healthy streets" was about £230m a year.
Latest figures from TfL reveal six people have been killed cycling in London so far this year but the number of serious injuries has been falling and is now similar to pre-pandemic levels, despite more people using bikes to get around.
Between July and September, 209 cyclists were seriously injured, down from 253 in the same period last year and 306 in 2020, and almost the same as the 216 in the pre-pandemic year of 2019.