Sadiq Khan has described the Metropolitan Police as a force facing "real challenges" and "real problems".
London's Labour mayor told Sophie Raworth on BBC One's Sunday Morning that evidence of "systemic sexism, racism, homophobia, discrimination, misogyny" had emerged in recent months.

While he "recognised the dedicated, decent, brave officers" on the force he said its new commissioner would need to work at restoring trust and confidence.

The role has yet to be filled.

Stephen House became acting commissioner when Dame Cressida Dick quit in February after Mr Khan said he had lost confidence in her leadership.

Her departure followed a series of scandals, including the murder of Sarah Everard by a serving policeman and her handling of racist and homophobic messages shared by a group of officers at Charing Cross police station.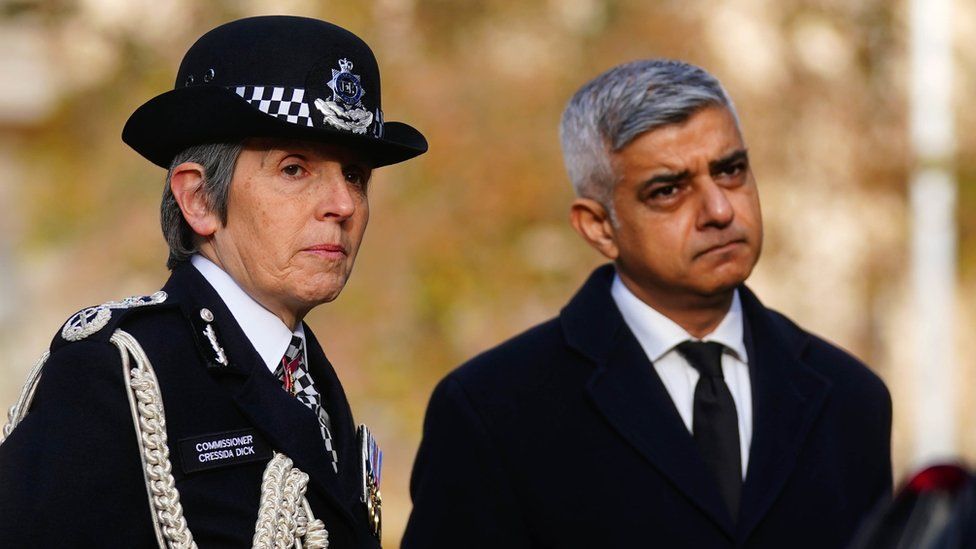 Dame Cressida Dick resigned after Sadiq Khan criticised her handling of racist, misogynist and homophobic messages shared by a group of officers

Mr Khan said: "One of the reasons why i lost confidence in the previous commissioner was my lack of confidence in her plan to address the two big issues.

"Addressing the systemic racism, sexism, homophobia, misogyny, but also the trust and confidence required from our public.

"That's one of the things that they will be checking the new commissioner for."

When asked if the Met Police was a "failing force", Mr Khan said: "We're losing trust and confidence, so if that's the criteria of measurement, you could say so.

"But actually, in relation to crime going down... we're making huge progress.

"The police have made really good progress in the last six years in reducing those crimes but I can't escape the fact that too many people on our city haven't got the confidence they should have in our police service."

Last year, the Met announced an independent review of its culture and standards would be led by Baroness Casey of Blackstock.

The force said the review would examine its vetting, recruitment and training procedures, as well as looking into cases of sexual misconduct and sexual abuse allegations where those accused remain in the Met.

"This significant piece of work is part of a range of measures that aim to help restore the trust of Londoners in the aftermath of the horrific murder of Sarah Everard by a Metropolitan Police Officer and other cases that have undermined trust," the force said at the time.