There was the content of the prime minister's speech. And then the context of its delivery.
And context is everything. This is a party that has been close to ripping itself to shreds in the last few days.

It was a conference that was a showcase of dysfunction and division, from the cabinet down. Indiscipline within government, mutiny beyond it.

Let's explore both in more detail - both what was said publicly and what I was told privately.

Firstly, there was the ruthlessly successful campaign to get a new prime minister to junk her planned tax cut for the highest earners in England, Wales and Northern Ireland.

Spearheaded by prominent former supporters of Liz Truss's leadership rival Rishi Sunak, yes, but with broad support including among people in government.

A crushing, humiliating, authority sapping U-turn that left the prime minister weakened and vulnerable.

Vulnerable to further mutiny, which followed within hours.

Because then came the debate about benefits - whether all such payments should go up in line with wages or the more expensive option of inflation, exposed deeper disagreement, because it exposed indiscipline within government.

The Commons leader, Penny Mordaunt, another rival of Liz Truss over the summer, said she supported a rise in line with prices, even though the government's official position was that it hadn't decided.

So much for cabinet collective responsibility. A strong prime minister would sack a cabinet minister for such insubordination.

Ms Mordaunt remains in post.

"She should be called in on Monday morning and sacked," one senior party figure who voted for Ms Truss told me.

Their face etched with anguish, they were astonished and depressed by the early weeks of her time in Downing Street.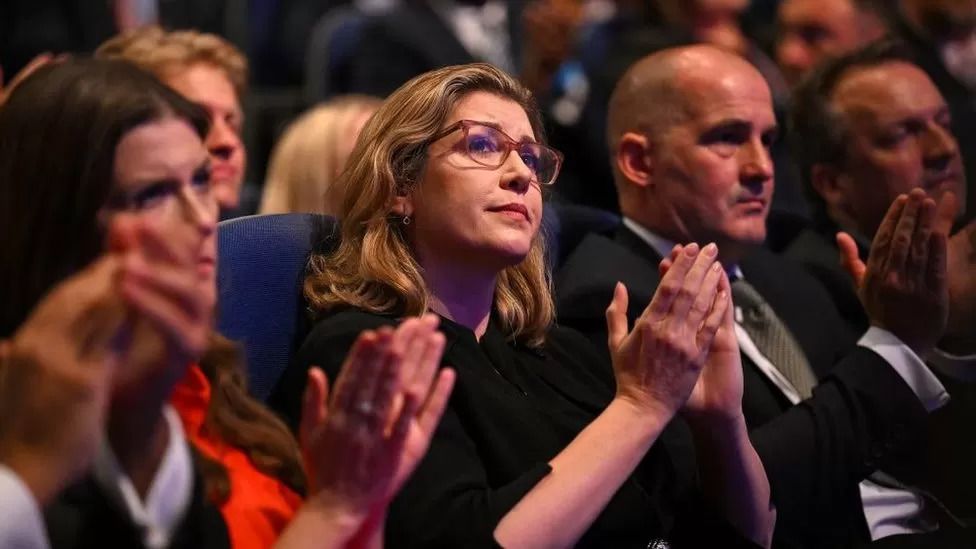 Collective responsibility? Cabinet members Michelle Donelan, Penny Mordaunt and Jake Berry watched the speech together

But another senior figure, a current cabinet minister, disagreed. Ms Mordaunt is too big a figure to fire when the government is so weak, it could start of a snowballing chain of events that could bring the prime minister down, this minister speculated.

And make no mistake, fears of this government's collapse run to its highest levels.

"People need to calm the [expletive] down!," said another cabinet minister.

The only crutch that gives those at the top reprieve from their gloom is a view that another leadership race would be ridiculous and, for a party languishing so far behind in the opinion polls, an imminent election would amount to a death wish.

But there is a growing fear among some Truss supporters that there is a doom-laden fatalism among too many Conservative MPs, an assumption that defeat at the next election is close to inevitable.

"They say it'd be good for us to have a stint in opposition! It drives me mad," one said.

One party veteran said the root of the worries was fundamental and depressing - a concern Ms Truss isn't in control and doesn't know what she is doing and that that is a perception that might stick.

Those around the prime minister are shaken by the turbulence of the last few days and glad this conference is over.

The speech itself was short and had no new policy ideas. A case of once bitten, twice shy, methinks.

But remember too this is a prime minister barely known by the wider electorate, still seeking to introduce herself - and it was this she sought to do in her Birmingham speech.

Character-shaping moments that give her drive, such as being handed an air hostess badge on a plane as a child, when her brothers were given pilot badges, for instance.

And a framing of her central objective, improving economic growth, by attempting to bind her political opponents together as an "anti-growth coalition." Expect to hear that phrase again.

The problems the government confronts are colossal. Economic growth, or the lack of it, is just one of many.

Gripping them would stretch a united outfit - the Conservatives are a long way from that right now.