It can be hard for the Liberal Democrats to make themselves heard at the best of times, but recently the party has been particularly unlucky.
For two years running the Lib Dems have been unable to gather in person for their annual conference, while other parties' events went ahead - robbing them of a guaranteed moment in the media spotlight.

The aftermath of the Covid-19 pandemic in 2021 and the death of the Queen this year left them with little choice but to cancel the biggest event in their calendar.

This weekend, party leader Sir Ed Davey is touring Lib Dem target seats and will make a speech in London in an attempt to renew his offer to voters.

But languishing a distant third in opinion polls and with only 14 MPs, where does the party sit after months of political turmoil at Westminster?

Beyond the blue wall?

Party insiders point to a run of by-election wins and bold policy pitches as proof the Lib Dems are able to punch above their political weight.

A surprise victory in the Conservative seat of Chesham and Amersham in June 2021 was followed by wins in other Tory strongholds - North Shropshire later that year and Tiverton and Honiton in June.

The Liberal Democrats hope to replicate this across the so-called 'blue wall' of Conservative-held seats with more affluent and higher educated populations that voted largely to remain in the EU.

Top of the list is Wimbledon, where the party lost by just 628 votes in 2019. The Lib Dems report plenty of anti-Conservative sentiment on the doorstep in the leafy south London enclave which returned a Labour MP in 1997 but has been held by the Tories since 2005.

One campaigner was told by a life-long Conservative voter they regretted supporting the party in 2019 and were "ready for change", summing up similar sentiment from others.

But conscious of becoming pigeon-holed as a political refuge for liberal Conservative voters fed up with the direction under Boris Johnson, Liz Truss and now Rishi Sunak, the Lib Dems are keen to stress their electoral ambitions extend beyond the south of England.

In Greater Manchester, for example, the party is looking to build on second place finishes in 2019 in Cheadle and Hazel Grove, where it recently took control of Stockport Borough Council in this year's local elections.

Common among the party's target seats is a high proportion of home ownership, leaving voters in these areas exposed to the impact of recent interest rate rises.

Recent polling conducted on the party's behalf suggested a majority of Conservative voters blamed the government for rising mortgages, compounding the Lib Dems' message that the blue wall is being "hit hardest" by the knock-on effects of an increase in interest rates.

In the aftermath of the tax-cutting mini-budget delivered by Kwasi Kwarteng in September, a poll found two thirds (68%) of people who had voted Conservatives in 2019 said the government would be to blame if mortgage bills subsequently increased.

That poll of 2,240 adults aged 18+ was conducted by Savanta ComRes between 30 September and 2 October.

Sir Ed Davey is expected to make a call for homeowners struggling to pay their mortgage to be better protected in a speech to party activists in London on Sunday.

Lib Dems hope the move will influence the political debate around an issue facing millions of voters in a similar way to the party's calls for a windfall tax on oil and gas companies and an energy price freeze this winter.

Similarly, the party hopes to capitalise on a sense of frustration among voters that key public services are "broken", as one senior party figure put it, with their call for guaranteed GP appointments within a week in England.

Weak points?

Eye-catching policies may gain the Lib Dems some attention and allow them to punch above their political weight, but their prospects at the next election may have as much if not more to do with the fortunes of their opponents as it does their own offering.

Senior Lib Dems considered the Conservatives to be vulnerable on the economy while Boris Johnson was prime minister and sought to "hammer home" the impact of the rising cost of living.

The turmoil that marked Liz Truss's time in No 10 may have fuelled their attacks on government incompetence, but will the same tactics work against the new man in charge?

The Lib Dems claim not to be fazed by Rishi Sunak as prime minister, citing what they see as his slowness to act as chancellor on the cost of living crisis and controversy around Suella Braverman's re-appointment as home secretary as potential weak points.

Labour's lead in opinion polls has widened as popularity plummeted for the Conservatives, but the Lib Dems' standing has remained largely stagnant.

Some in the party argue that anti-Conservative sentiment can only be a good thing for the Lib Dems and increase the party's chances of unseating Tory MPs at the next election.

Furthermore, insiders claim Labour's apparent popularity among voters helps the party too, removing the 2019 "fear factor" of a Jeremy Corbyn government which may have prevented some Conservative voters switching to the Lib Dems in blue wall seats.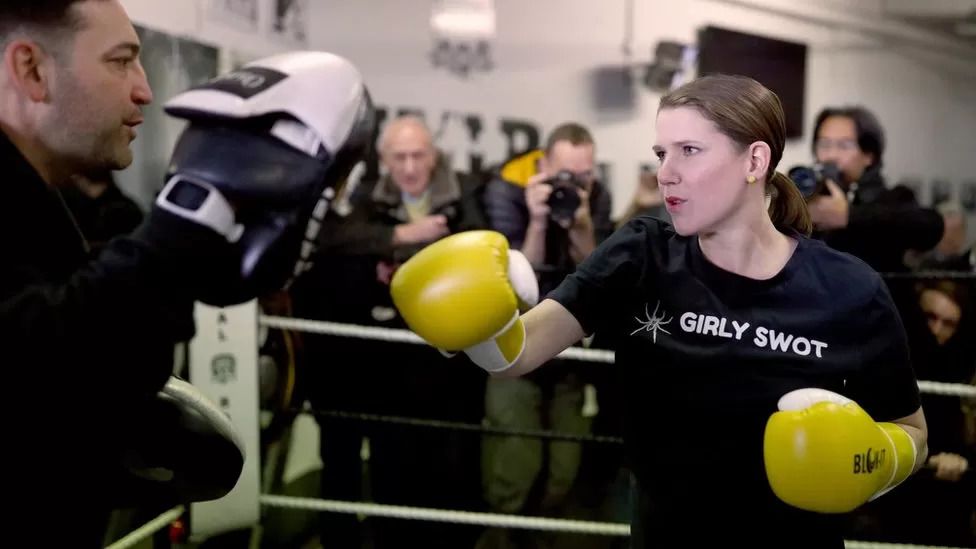 Jo Swinson was the last Liberal Democrat leader to fight a general election

Sir John Curtice, president of the British Polling Council, said the Liberal Democrats would "probably pick up Labour voters in places where they're second".

But he added that the economy was "never ever their strong point" and voters may struggle to identify the party's position on major issues.

"I'm just not sure enough people know what the hell they stand for," Sir John said.

That may not worry the Lib Dems as much as it might.

At the 2019 general election the then party leader Jo Swinson touted herself as the UK's next prime minister and talked of winning "hundreds of seats".

Her successor is unlikely to make a similar pitch, instead seeking to make the most of hostility towards the Conservatives and argue that electing Liberal Democrat MPs in seats where Labour is unlikely to win is the only way to remove them from government.
Sir Ed Davey celebrates his party's win in the Chesham and Amersham while breaking down a model blue wall