"There are no coups, there are no plots," a cabinet minister confides about conversations with colleagues. After a year of almost unparalleled political skulduggery, that is a pretty decent gift to go under Rishi Sunak's Christmas tree.
But at the risk of being Scrooge, is the season of apparent peace and goodwill really a triumph, or a sign of something else? This member of the government suggests there is no dodgy manouvreing going on, not because Number 10 has conquered all, but after years of arguing amongst themselves and wasted opportunity, "nobody cares any more" - ouch! The mood inside the Tory Party is "defeatist". Another cabinet minister admits the party is "in the last chance saloon".

During 2022 two powerful myths have been shown to be just that. First, Boris Johnson's legendary ability to survive serious scrapes and scandals was exhausted. Whatever your own view of what some saw as the Tories' joker king, his exit has transformed the landscape. It has deprived the party of not only their best campaigner, but a leader who could dominate the headlines at the drop of a hat. On a good day - which became vanishingly rare - this was a massive asset.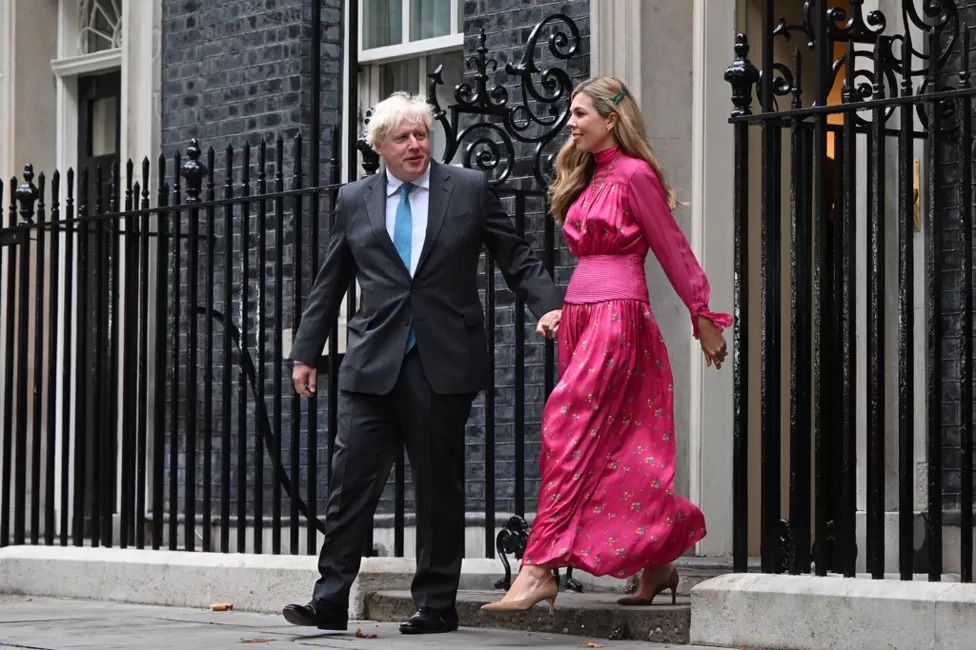 Boris Johnson and wife Carrie head to meet Queen Elizabeth II to formally resign as prime minister
Second, the assumption that it would be impossible for Keir Starmer to turn Labour around in a single term looks flimsy now. The leader does publicly, and regularly, warn against complacency in his ranks. But Labour's front bench is starting to look like a group of people who believe they'll be the ones at the cabinet table, and whizzing around in ministerial cars, in 18 months or so. Both of those shifts are profound and have affected the Conservatives' sense of themselves - the man who was their winner has gone, and their rivals look more like an outfit that could do it.
What could also make some Conservatives maudlin over the Christmas sherry is a building sense of wasted opportunity, what one party veteran even calls starkly, "years of political failure". One minister says: "The Boris years were a massive missed opportunity and an aberration."
Another senior Conservative goes back further in time, to the Theresa May administration in the chaotic aftermath of the Brexit vote - whether social care, housing, planning, energy, "all of the challenges that needed to be addressed [weren't], instead we got into no majority, then neuralgia and parliamentary stalemate". The Conservative party's own disagreements created its own headache.
It would be ludicrous to forget the role of the pandemic in later years, and then, of course, Russian tanks across the Ukrainian border. Rishi Sunak's government, like Liz Truss's administration, and
Boris Johnson
before, have had to confront a set of epic problems that have confounded governments across the west.
But just because the job is hard, that doesn't mean it is inevitable that a political party screams at itself about who should do it. Having three prime ministers in a single year is no party's political dream. And many of the problems that Rishi Sunak has had to grapple with were on the to-do list for his predecessors long before the pandemic, or the conflict in Ukraine.
It is an extraordinary political achievement for any party to have stayed in office for so long. But there is a question being asked more loudly in the Conservative Party about what was it is all really for. Theresa May's hopes of making big changes to the country were killed off by her losing her majority, then the Conservatives losing their minds in their wild Brexit disagreements.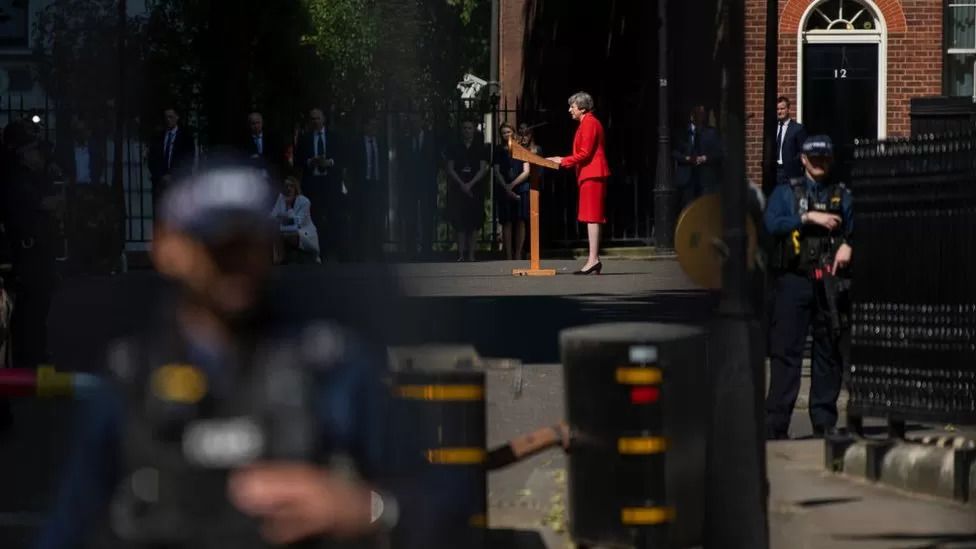 Theresa May resigned after a backlash from her own MPs against her Brexit plan

Boris Johnson's promises were scuppered by the realities of the pandemic, but his exit was forced by a succession of his own messes. Liz Truss temporarily excited her backers with bold goals, but the screeching pace of her plans left them in flames. One saddened former minister says: 'We've wasted the mandate… covid is partly responsible, but when you get an 80 majority what can you show for it? There are a lot of people now who can't see a way through."

Yet, several government ministers tell me they are happier than they have been for years. That seeming Christmas calm is allowing them to do their jobs, without the daily drama. Rishi Sunak's pleasing some of his colleagues, including some of those who didn't back him, for his attention to detail, and overall approach. They tell me that he actually reads the documents he is given - I wonder who they could be comparing him with? He's been busy inviting backbenchers to meetings around the cabinet table, hosting World Cup matches with beer flowing for colleagues, trying to avoid the bitterness inside the party of recent years.

There are dividends. Some politicians, like many of the public, were thoroughly fed up of the endless soap opera in SW1. One minister tells me, "We had to remove the chaos," and is profoundly relieved that they can "get on with governing now".

Several cite the prime minister's plans to stem the arrivals of small boats on the south coast as evidence of him getting to grips with issues. A senior minister tells me the "Labour vote is soft" believing, the election is "absolutely all to play for". But for the public, the end of political shenanigans matters far less than the very real problems going on in so many areas.

A calmer atmosphere in Westminster doesn't pay the bills, a more peaceful political environment doesn't get you to A&E, Conservatives being nicer to each other after years of tearing each other apart doesn't put food on the table. There is plenty of Tory relief that the litany of political crises of recent years has stilled, but real-life crises are here and all too obvious. And the political pressures is still real, with the Conservatives woefully behind in regular polls. One former minister says: "Stabilising in the 20s is no use to man nor beast."

It's our last show of 2022 on Sunday, when we'll try to make sense of what has happened. It's anyone's guess as to how things will develop in the next few months. We know that Rishi Sunak wants to spell out more of what he stands for early in the new year. Expect a highly anticipated, much vaunted "big speech" soon.

There are rumblings on the right that he needs to demonstrate more "proper Conservative" values after what has been described as one former minister as "soggy blancmange" so far. It is also likely that Liz Truss will appear to try to account for what went wrong but claim her credo still has merit.

It is the end, for now, of many years of political frenzy. A pause after years of successive prime ministers being consumed by events, and internal problems. But Rishi Sunak may be plagued by problems not of his own making, and the calm he has created may not be enough to keep the Conservatives in power.