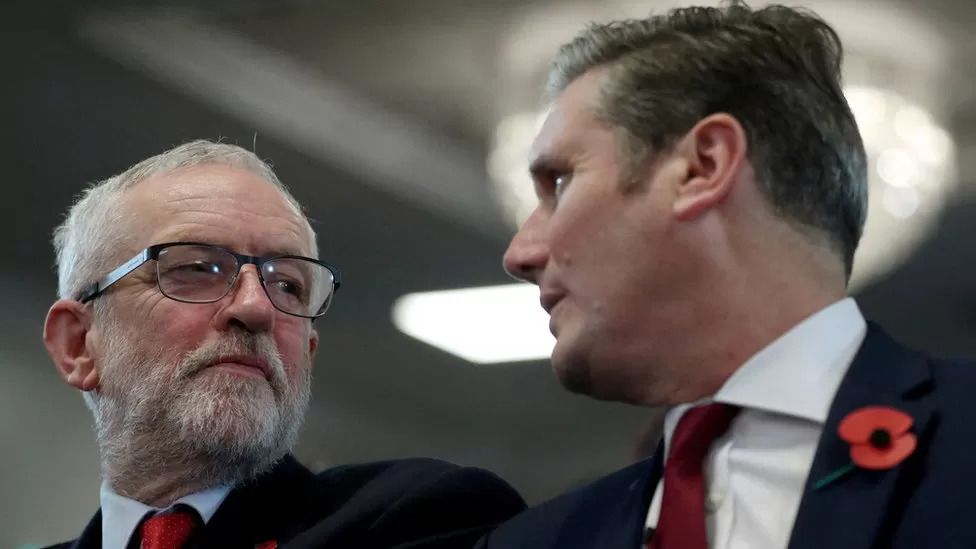 Jeremy Corbyn: Starmer move flagrant attack on democracy
Former Labour leader Jeremy Corbyn has condemned Sir Keir Starmer's decision to bar him from standing for the party at the next general election, calling it a "flagrant attack" on democracy.
Mr Corbyn said it was up to local party members to choose their candidate, not Labour leaders.

The Islington North MP, who sits as an independent, was suspended as a Labour MP in 2020 in a row over antisemitism.

Sir Keir said Labour had changed, and people who did not like it could leave.

In a statement posted on Twitter, Mr Corbyn said: "Keir Starmer's statement about my future is a flagrant attack on the democratic rights of Islington North Labour Party members. It is up to them - not party leaders - to decide who their candidate should be.

"Any attempt to block my candidacy is a denial of due process, and should be opposed by anybody who believes in the value of democracy."

He described Sir Keir's move as "a divisive distraction from our overriding goal: to defeat the Conservative Party at the next general election".

The BBC understands that Mr Corbyn is still likely to seek the Labour Party nomination in Islington North, forcing party bosses to formally block him from being a Labour candidate.

Mr Corbyn has previously declined to comment on speculation he might stand against Labour as an independent candidate and his latest statement did not address this issue.

But former shadow home secretary Diane Abbott, one of his longest-standing allies, said he had "no intention of standing as an independent", having been a member of the Labour Party since he was 16.

Earlier Sir Keir had confirmed for the first time that his predecessor as party leader would not be allowed to represent Labour at the next election, saying the party had changed and "we are not going back".

He was speaking at a news conference in east London, after Britain's equalities watchdog said Labour had improved how it handled antisemitism complaints.

In 2020, the Equality and Human Rights Commission found Labour, under Mr Corbyn, had been responsible for unlawful harassment and discrimination.

But a new report by the watchdog said it was now satisfied sufficient changes had been made.

Sir Keir said this was "an important moment in the history of the Labour Party" but "not one for celebration". He stressed it was "not the end of the road" and promised "zero tolerance of antisemitism, of racism, of discrimination of any kind".

Labour was "unrecognisable from 2019 and it will never go back… if you don't like that, if you don't like the changes we have made, I say the door is open and you can leave", he added.

Momentum, the left-wing campaign group set up to support Mr Corbyn when he was Labour leader, has also called for local members in Islington North to be allowed to decide their candidate.

The group said in a statement: "We... will not allow ourselves to be driven out of the party. What we've witnessed today is an attempt to dishearten and demoralise us.

"The door might be open - but we're not leaving."

Mr Corbyn was suspended as a Labour MP by Sir Keir for saying, in his response to the 2020 EHRC report, that the scale of antisemitism within Labour had been"dramatically overstated" by his opponents and much of the media.

He also said antisemitism was "absolutely abhorrent" and "one antisemite is one too many" in the party.

He was readmitted to the wider party after saying concerns about antisemitism had been neither "exaggerated nor overstated", but he remains barred from representing Labour in Parliament.

Mr Corbyn led Labour to defeat in the 2017 and 2019 general elections but remains a popular figure with many on the left of the party. From 2016, Sir Keir was a key member of his shadow cabinet, speaking for the party on Brexit.