Dozens of people have been evacuated from their flooded homes and thousands have been left without water after two water mains burst in north London.
About 60 firefighters were called to Belsize Road in Camden at about 02:50 GMT when homes were deluged with about 50cm (1.6ft) of water.

London Fire Brigade (LFB) said 24 people were led to safety and a hub was set up at Swiss Cottage Library.

Thames Water apologised after multiple postcodes were left without water.

Twenty people were rescued from basement flats and three adults and a child from properties.

The fire service said in total of about 100 properties were affected by "significant" flooding.

Video footage on social media shows firefighters evacuating residents in the flood, including people in pyjamas carrying pets.

One fire officer is heard alerting colleagues to a pregnant woman.
Cody Dolcy-Grant, who lives in Hilgrove Road, at the end of Belsize Road, said she woke up to scenes "like the river Thames" outside her home.
The 27-year-old said: "I wasn't aware of the situation until 07:00 when I went to the toilet, realised the toilet wasn't flushing and no water was coming out of the taps.
"My road was flooded... when I opened the front door it was like a horror scene.
"Fire engines up my whole road, police, ambulance, and then I looked to my left and it was like the river Thames outside," she added.
Ms Dolcy-Grant lives on the second floor of her building so her home was not flooded but she said she had no running water on Saturday.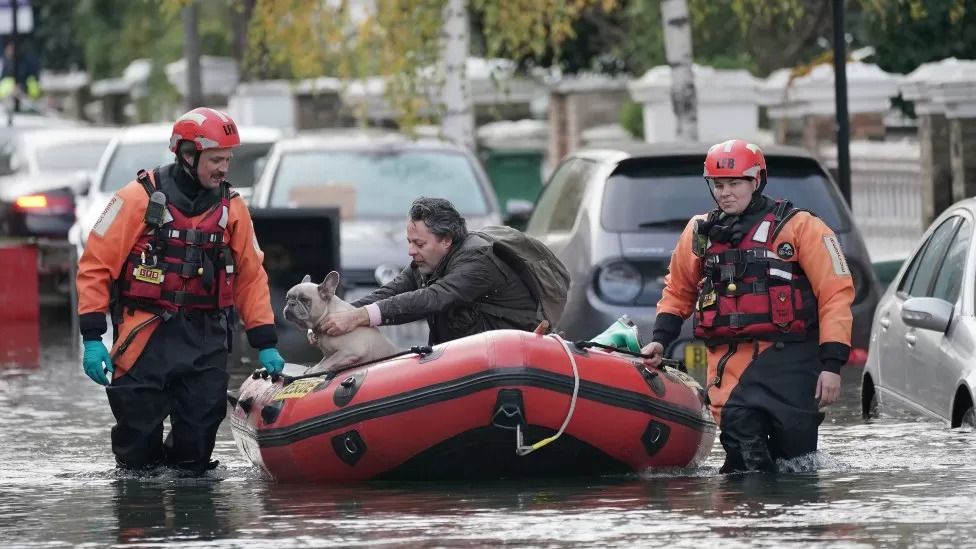 Stefano Calcagni and the two dogs he was caring for were evacuated from a property
Stefano Calcagni was dogsitting for a friend in a first and second-floor property in Belsize Road when he woke to a text telling him about the floods on Saturday morning.
The 48-year-old was evacuated by boat with the dogs on Saturday afternoon.
Mr Calcagni said: "The water level was halfway up the door to the basement flat.
"It's owned by a couple, I saw them leave through the window as they couldn't get out the door," he added.
LFB said crews would remain at the scene of the flooding for a number of hours and significant road closures were in place.
It said one main had been isolated but a smaller main was still leaking. Crews advised people to avoid the area.
Thames Water said houses in north-west London, in the postcodes of NW2, NW6, NW8 and NW10 were affected, with homes left with no or low water.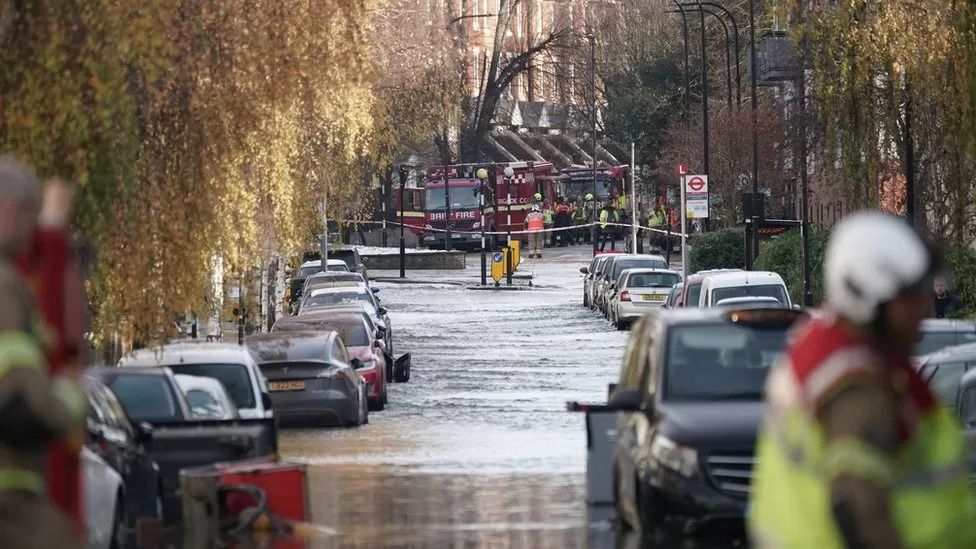 Multiple postcodes in London were left without water after the mains burst

By Saturday evening the company said water pressure in the area was starting to return and will continue to do so overnight.

It said staff were visiting homes in the Belsize Road area to see if there was anything else it could do to help.

It added loss adjustors were in the area to assess damage and help residents.

A spokeswoman said: "If your home has been flooded, we're so sorry, we know this must be very distressing," adding that "getting water supplies back on is our top priority".

Thames Water said it was supporting the most vulnerable people and was sending bottled water to them.

Temperatures plummeted to lows of -7C (19F) in parts of London on Saturday morning, the Met Office reported.